Looking for affordable gucci loafers dupes? You have to see these incredible look-alikes for the gucci loafers and mules too!
*this post contains affiliate links*
The Search for The Best Gucci Loafers Dupes
Gucci is an iconic brand but because of it's popularity and iconic status the gorgeous designer shoes, bags, and clothing comes at a high price. It's no wonder people are constantly on the search for look-alikes that come in at a lower price point but still have that stunning Gucci vibe.
If you've always dreamed of owning a pair of classic Gucci loafers but it just doesn't fit the budget, don't fret, you've come to the right place!
We've scoured the fashion world for high quality Gucci loafers dupes, and have come up with some fantastic options that are definitely more budget-friendly. Oh, and we've found some incredible Gucci mule dupes too as they are very similar in style to the loafers .
The Gucci Loafers Dupes List:
On this list you'll find loafers that are Gucci's most popular styles as well as a couple of the mules/slippers. While none of these dupes look exactly the same (some come incredibly close!), they do have a very similar look and the overall Gucci vibe.
The Classic 'Brixton' Gucci Loafers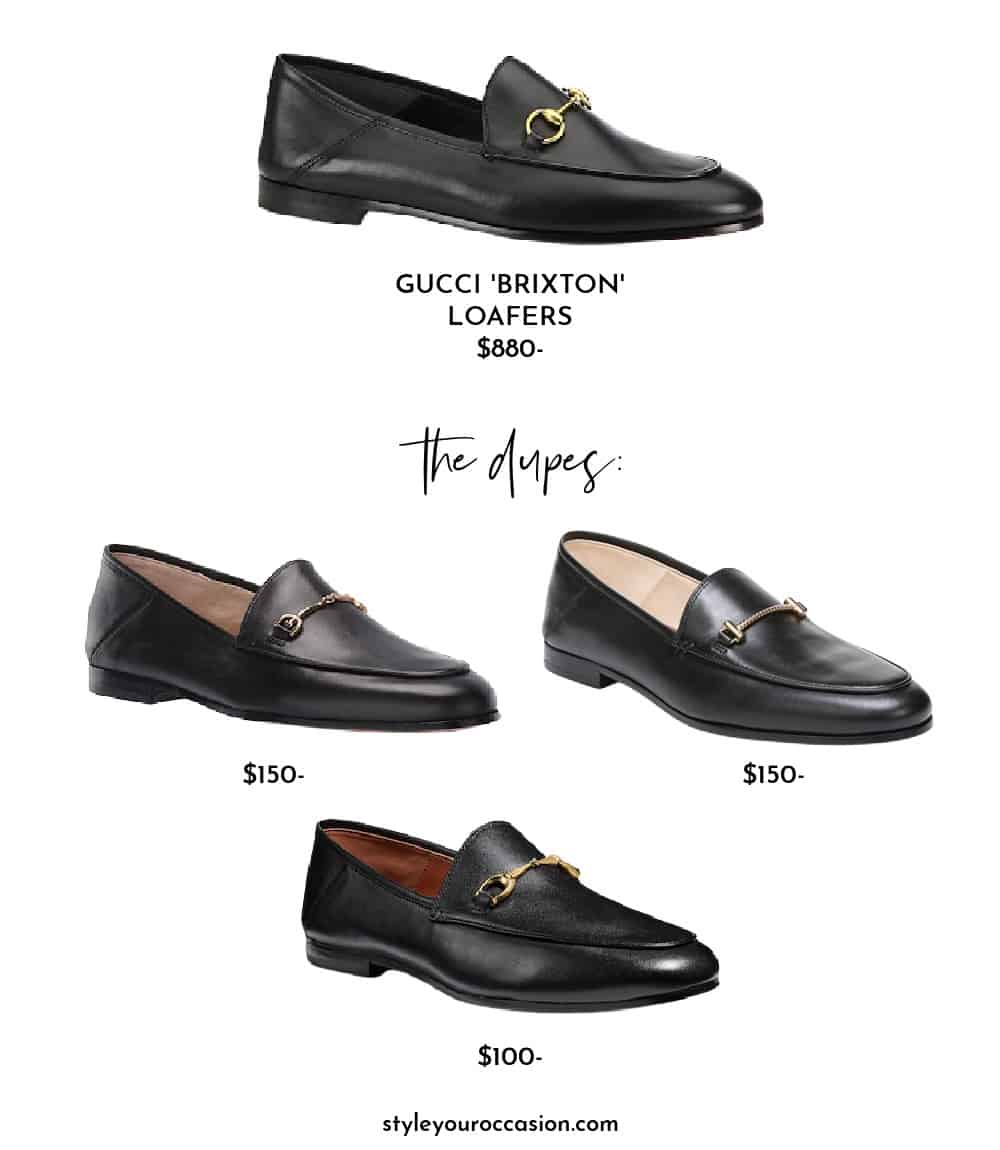 One of the most iconic pieces from Gucci is the classic Brixton loafer. These gorgeous shoes have been seen on so many fashion influencers and celebrities. Coming in at a price tag around $880 (or more), they are definitely an investment. The leather, sleek shape, and horse-bit embellishment on the vamp makes these loafers distinguishable and noteworthy.
We've scoured the footwear world and have found 3 (+2!) suitable dupes with similar features that we think you'll love:
Sam Edelman LORAINE Loafers // $150 –
Sam Edelman LIOR Loafers // $150 –
Coach HALEY Loafers // $100-
Honorable Mentions:
Franco Sarto TAMRA Loafers // $50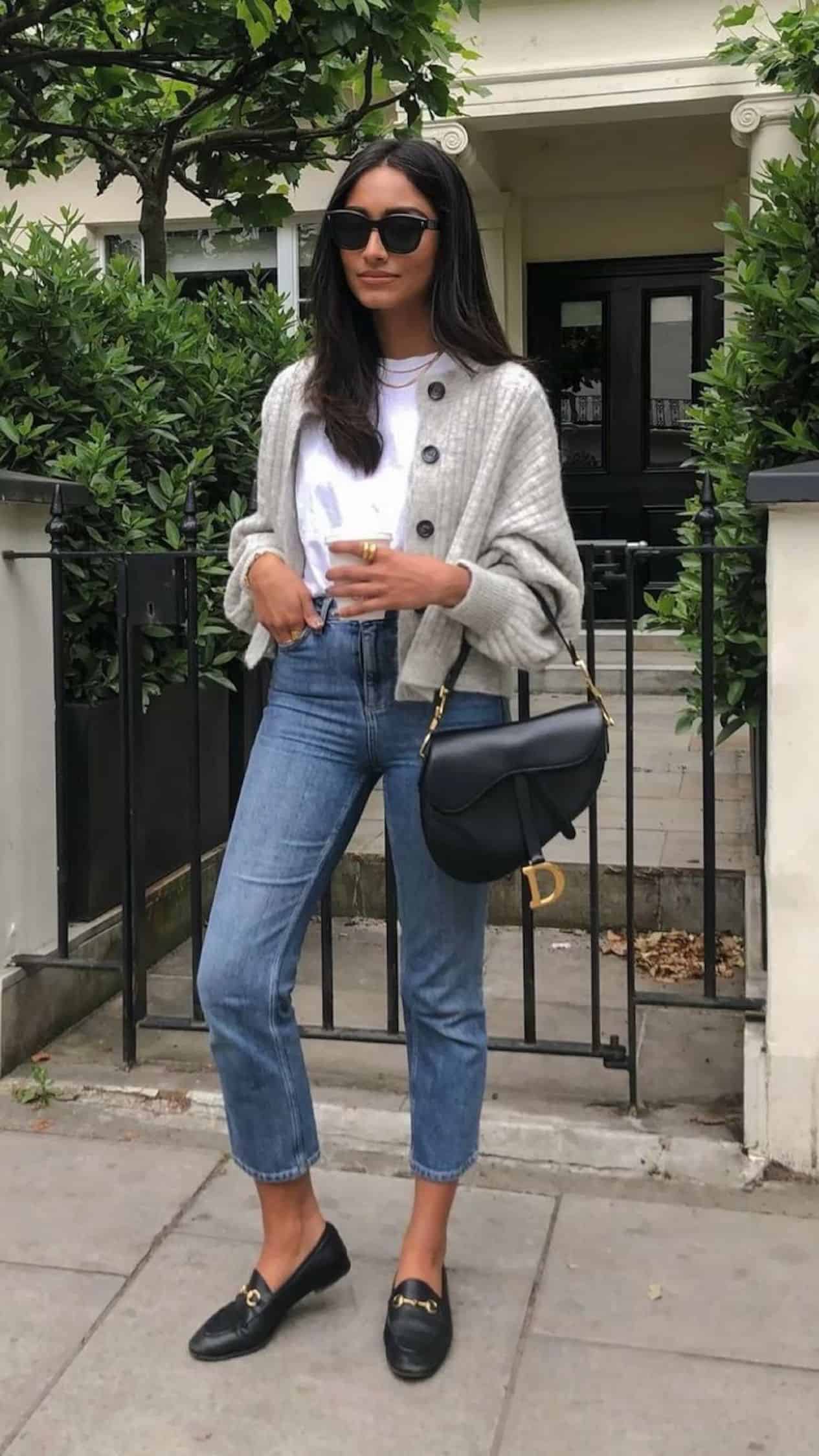 Gucci Princetown Mules/Slippers Dupes
The next look-alikes on the list are the Princetown loafer/mules dupes. The mule version of the brixton loafers comes in multiple colors and have an open back making them the perfect slip-on. They come at a price tag of $820, so you don't save much by losing the back half of the shoe!

These shoes are gorgeous and super versatile, and can be worn in so many ways, dressed up or down. They are chic and classic and the dupes we found have the same vibe.
Sam Edelman LINNIE Mules // $140- (see them in white here)
Tory Burch JESSA Leather Mules // $298-
Amazon Fashion Buckle Mules // $25-
Gucci Fur-Lined Mules

Next on the list is this surprisingly good dupe from Amazon for the Gucci Princetown Fur-Lined muleswhich come in at just under $1,000 a pair.
The Fur-Lined Mules from Amazon have a similar look with the black leather (although it's faux), horse-bit embellishment, and faux fur on the heel.
While they are nowhere near the same quality as the Gucci originals (of course!), they are a great budget look-alike at just $50 that can be styled in many ways.
Gucci Lug Sole Loafers:
The lug sole style has been gaining tons of popularity over the past couple of years and this chunky version of the Gucci loafer has been seen on celebrities like Dakota Johnson.

These loafers make a statement and cost around $1,100 a pair. They are worth saving up for as most Gucci items can be easily consigned after you've gently worn them and are ready to move on.
The dupes have that same chunky appearance with the lug-sole, black leather, and horse-bit detailing on the vamps.
Sam Edelman LAURS Leather Loafers // $150-
Tory Burch JESSA Lug Sole Loafers // $378-
There you have it! A handful of incredible Gucci loafer dupes and mule dupe look-alikes that will definitely make you feel chic and stylish, even if you can't get your hands on the real Gucci loafers…yet!
Be sure to pin the photo below to save this list for later and check out our other Look For Less/Designer Dupes posts below!
Pin me:
More Posts You'll Love:
Best Birkenstock Dupe: 17+ Look-alikes
11+ *Really Good* Valentino Dupes
18+ Modern Womens Gucci Loafers Outfit Ideas
10+ Chic Gucci Belt Bag Outfit Ideas
17+ Chunky Loafers Outfit Ideas
Chanel Slingback Dupe: 9+ Stunning Look-alikes For *Way* Less
7+ Best Louis Vuitton Dupe Bags
Cartier Love Bracelet Dupe: 10+ *Stunning* Options You'll Love
Bottega Veneta Dupe: 5 Look-alikes You Need To See
8 Chanel Dupes You Absolutely Have To See
3 Balmain Blazer Dupes You'll Go-Gaga-Over
8+ Must-Have Jenni Kayne Dupes