Did you just get your first pair of Gucci loafers (or have them on your wish list) and are wondering how to style Gucci loafers? Get elevated, classy, and modern womens Gucci loafers outfit ideas to inspire you!
*this post contains affiliate links*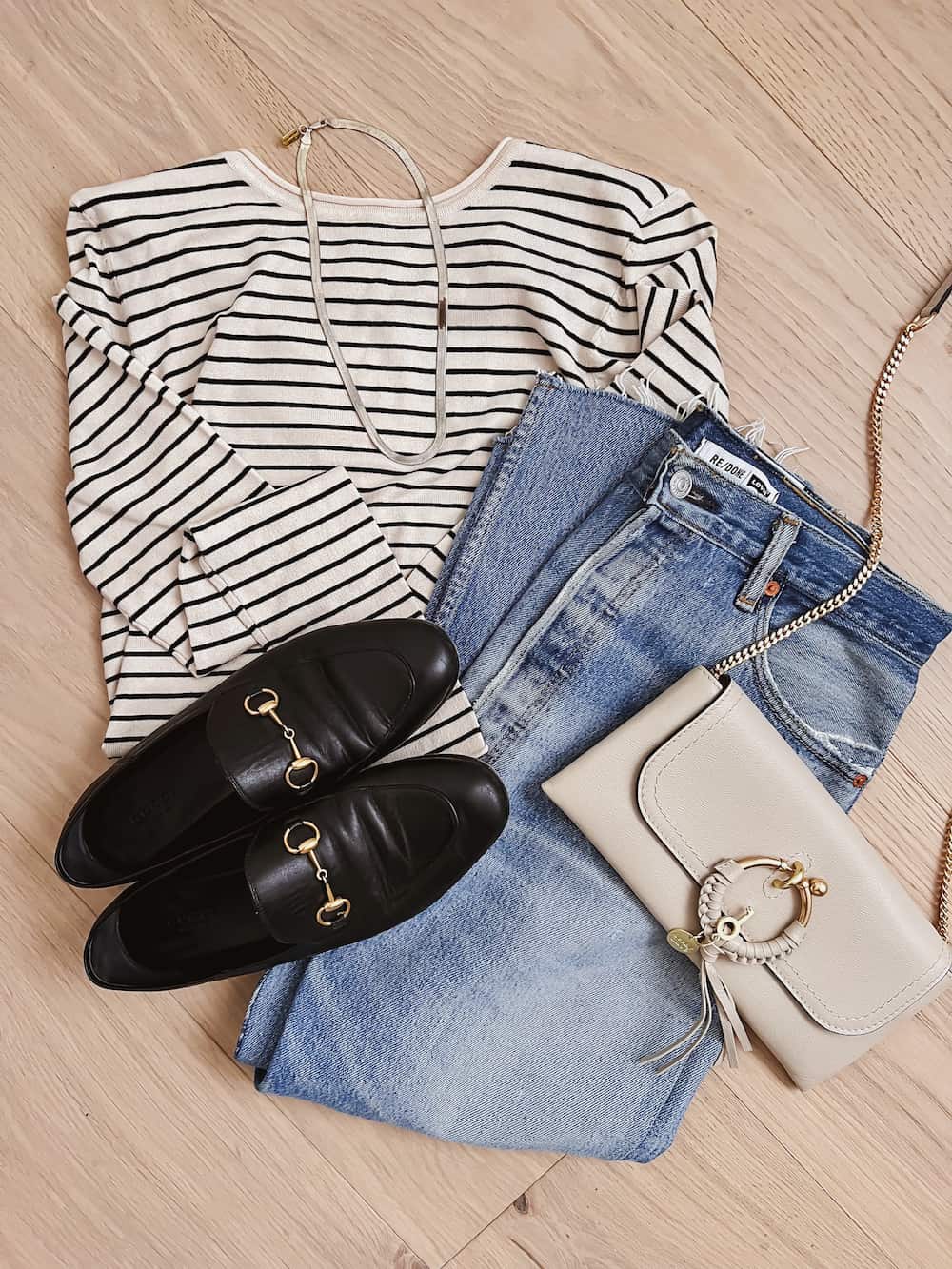 How To Style Gucci Loafers
You've likely found this post because you are in one of the following three categories:
The proud new owner of a shiny pair of Gucci loafers. Congrats!
Planning to buy or expecting to receive some Gucci loafers very soon. Fingers crossed.
Are trying to decide whether you should take the plunge and get a pair. Read on!
No matter which category you fall into, you are guaranteed to find some great inspiration for how to style Gucci loafers here. And, if you fall into the last category, we are quite certain you'll be ready to take the plunge after seeing how incredibly versatile these gorgeous loafers truly are.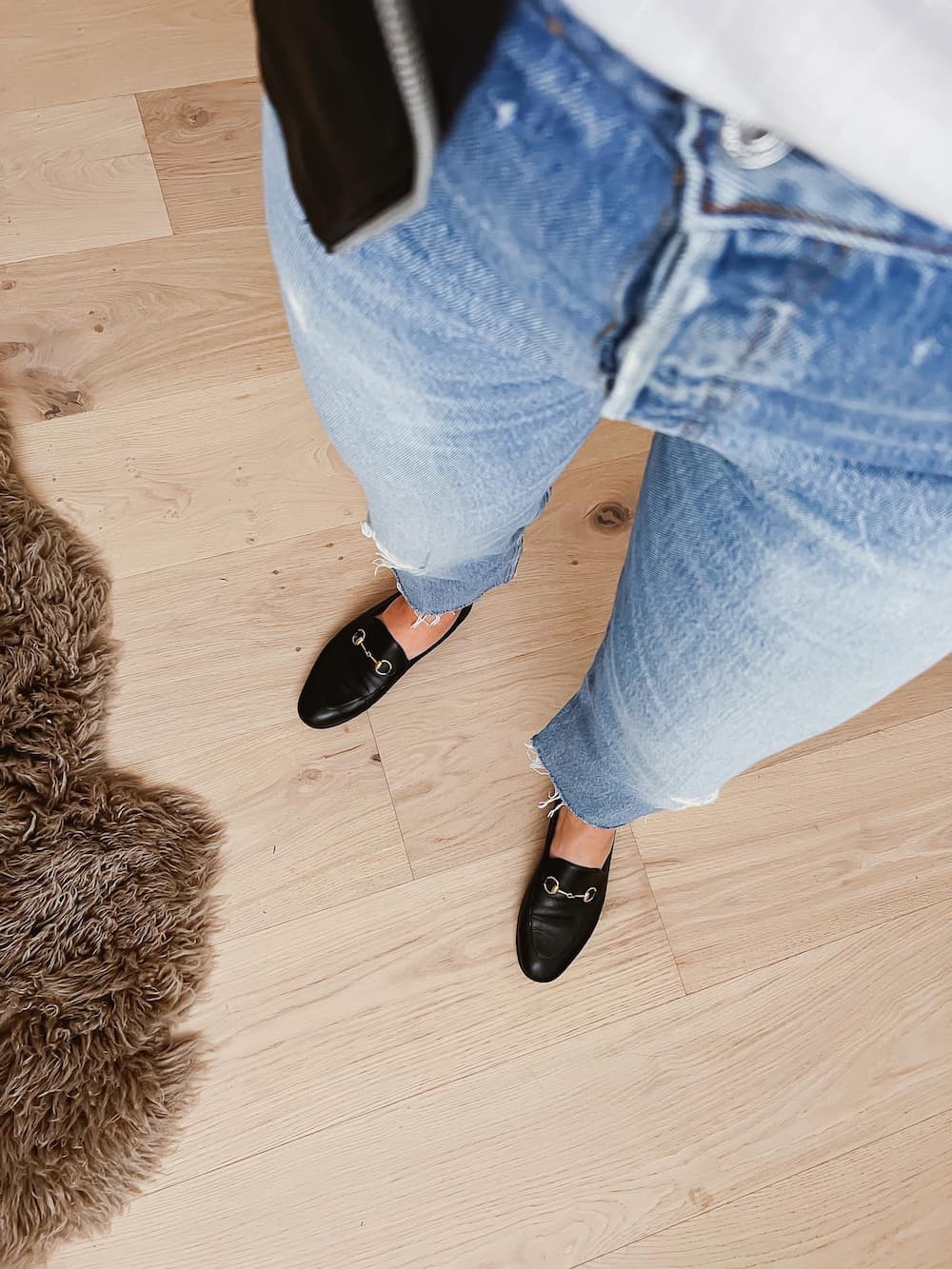 Gucci loafers have gained even more popularity over the years for a few reasons; they have an iconic designer brand name, they are extremely versatile and well-made, and they have taken social media by storm as many of the most popular fashion influencers are often seen sporting a shiny pair of Gucci loafers from fashion week to everyday wear.
These shoes are iconic and for good reason. They feel like butter on your feet and elevate any outfit they are worn with.
Chic Womens Gucci Loafers Outfit Ideas

Here at Style Your Occasion we've created a plethora of chic, minimal, and modern womens Gucci loafers outfit ideas with the Gucci Brixton loafers (our fave style!). And, we've also scoured the fashion world for more ideas to show just how easy it is to wear these shoes.
From casual to more formal options, you'll find great inspiration below.
1. Classic stripes and ecru pants.
get the look:

A classic pair of black Gucci loafers (the Gucci Jordaan loafers and Gucci Brixton loafers are our fave), look excellent paired with other neutral basics.
Here we've styled them with ecru jeans, for an elevated look, and a chunky striped wool sweater. The black shoes and black sweater creates the 'sandwich effect' which adds balance to the overall look.
The oversized teddy 'mom-bag' from Studio Noos is a great addition to the outfit, giving it a laid-back vibe proving that moms can definitely wear Gucci loafers too!
2. Elevated basics.
get the look:

Pair classic Gucci Brixton loafers with black denim or black trousers along with a simple crewneck sweater for a minimalistic look that is both classy and chic. The beauty of Gucci loafers is that they can instantly elevate a basic outfit and make it look more expensive.
If Gucci loafers are a big investment for you, keep in mind that you don't need to spend a ton of money on your entire wardrobe. A few key splurge pieces (most often footwear and accessories) can easily add a polished look to budget-friendly basics.
3. Midi skirt + oversized denim jacket.
get the look:

This laid-back yet chic outfit shows how easily Gucci Brixton loafers are worn with a skirt or dress. Because they are so sleek in their design, they look great with more feminine pieces.
The neutral midi slip skirt, knit camisole, and oversized denim jacket have an overall casual feel, but can easily be dressed up by swapping the denim jacket for a blazer.
Another idea is to pair a midi-length slip dress with a cropped leather jacket and Gucci loafers for a dressier look that is great for an evening out.
Of course! Even though Gucci loafers are designer pieces, they can be worn outside of formal occasions. You can easily dress them down and wear them with a more casual ensemble. For example, Gucci loafers look excellent with basic jeans and a t-shirt, and they elevate the entire outfit.
Below are three causal outfits that pair Gucci loafers with vintage-wash jeans.
4. Gucci loafers + mom jeans.
get the look:

Good news! You can wear your favorite pair of jeans with your Gucci loafers and instantly feel like a chic Parisian. Throw on a striped top and wrap a knit sweater over your shoulders to complete the look.
This Gucci loafers outfit is laid-back, chic, and definitely has a French woman vibe. Oui s'il Vous plaît!
Add in a designer bag, like the Gucci Horsebit 1955 shoulder bag (we are drooling over!), or the more budget-friendly A.P.C. Grace Bag, and you'll never have felt so chic in jeans. Trust us.
5. Quilted jacket + vintage jeans.
get the look:

This is a perfect look for fall (and spring!) that you'll wear again and again. When the weather is cooler, layer an oversized quilted jacket over a basic top, and slip on your favorite pair of vintage-wash jeans.
We went with our favorite brand for vintage jeans, Re/Done here. The look is casual and subtle but has an overall polished feel because of the sleek Gucci loafers.
6. The everyday outfit.
get the look:

Black leather loafers look great as part of a simple outfit of minimal basics. They shine as the star of the show, and this outfit is no exception.
A black leather jacket, basic white tee, and vintage-wash jeans make the perfect casual look for everyday activities. Additionally, this style can easily be taken from day to night with the right accessories.
7. Monochromatic mix.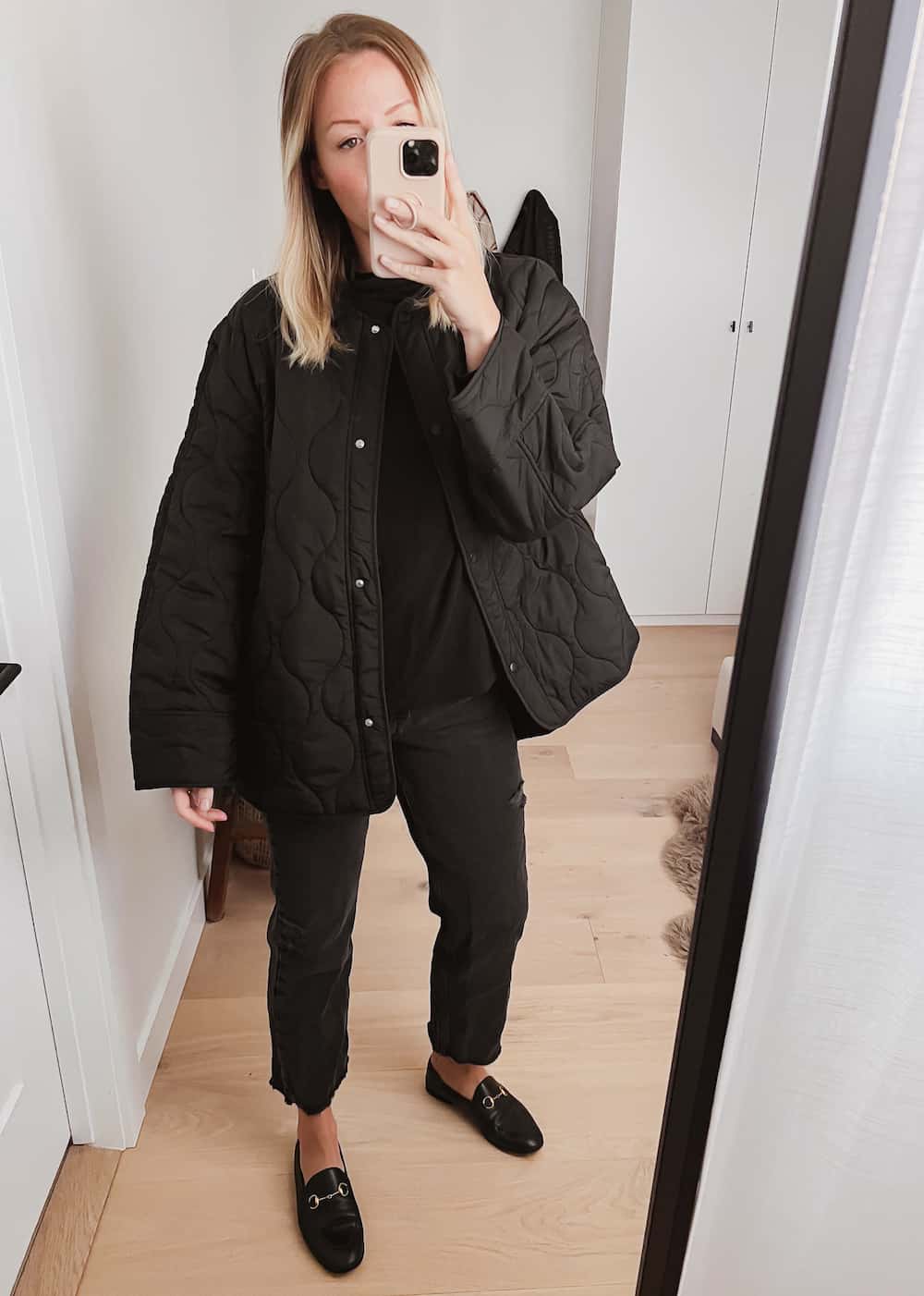 get the look:

When it comes to outfits, we love a monochromatic look. There's something so chic about a monochromatic color palette, especially when in neutral tones.
With this womens Gucci loafers outfit, the loafers really pop. Everything else is subdued in all black, and the shiny loafers elevate the whole look.
If an all-black ensemble is a little too dark for you, go with off-white pants, an ivory sweater, and white Gucci leather horsebit loafers instead to brighten the whole look.
8. Gucci loafers + leggings.
get the look:

For both work and everyday wear, leggings with Gucci loafers are surprisingly chic. Ankle-length leggings or stirrup leggings, look polished when paired with Gucci loafers and a nice top or sweater.
Here we've combined a long cashmere turtleneck with a boiled wool shirt jacket over classic black leggings. The loafers elevate the entire look and add business casual vibes.
Are leggings business casual? Read this post to find out.
9. Quilted jacket, leggings + Gucci loafers.
get the look:

Swap the plaid shirt jacket for an oversized quilted jacket (this style is definitely having a moment right now), and you have a more casual outfit that is still chic and polished.
This is more of an athleisure look, but the loafers are a welcome change from basic sneakers (although this outfit would look great with these Gucci Rhyton sneakers!).
10. Knit midi dress + Gucci loafers.
get the look:

If heels are not your favorite footwear choice and you prefer a more comfortable option, slip on a pair of buttery leather Gucci loafers to wear with a dress for a nicer occasion.
The loafers and the dress here work so well together because the dress isn't an overly formal style. But, any little black dress is very versatile, and with a touch of dainty jewelry and the right bag, the look is suitable for many dressier occasions.
11. Leather pants + knit sweater.
get the look:

While faux leather leggings are still a great choice in our book, cropped leather pants have a more modern vibe. You can go with faux leather or genuine leather pants, but we recommend a cropped length that will showcase the loafers.
Paired with a chic v-neck knit sweater and a minimal herringbone necklace, this look is definitely one to try for fall or winter. For date night or holiday dinner at your family's house, this Gucci loafers outfit is très chic.
Gucci Loafers Street Style
We couldn't just share our own womens Gucci loafers outfit ideas in this post. There is so much amazing inspiration out there, we knew we had to share some of our top Gucci loafers street style looks from our fave fashion it-girls.
Have a peek below!
12. Cropped tweed jacket + denim.
get the look:

Claire Rose knows how to put together a polished outfit that screams chic. Here she pairs a cropped tweed jacket with classic Levi's and her Gucci loafers.
This outfit is perfect for everyday wear but has an elevated vibe that makes us want to try it out immediately.
13. Chilly weather Gucci loafers outfit.
get the look:

When in doubt, add socks. Just because the weather is chilly doesn't mean you can't wear your Gucci loafers!
We love how Lorna wears a simple pair of black socks with her Gucci loafers, jeans, and chunky knit turtleneck for a cozy look. Additionally, the long camel-color wool coat gives the whole outfit a classy appeal.
14. Taupe Gucci loafers + jeans.
get the look:

If lighter colors speak to you, this outfit from Hannah (aka. cocobeautea) is a perfect choice. She wears her Gucci loafers in taupe (this color is currently sold out, unfortunately, but you can find them secondhand here), with a pair of jeans and a taupe knit cardigan.
The outfit is classy, casual, and eye-catching. And, the Gucci loafers definitely complete the look.
15. Summer vibes.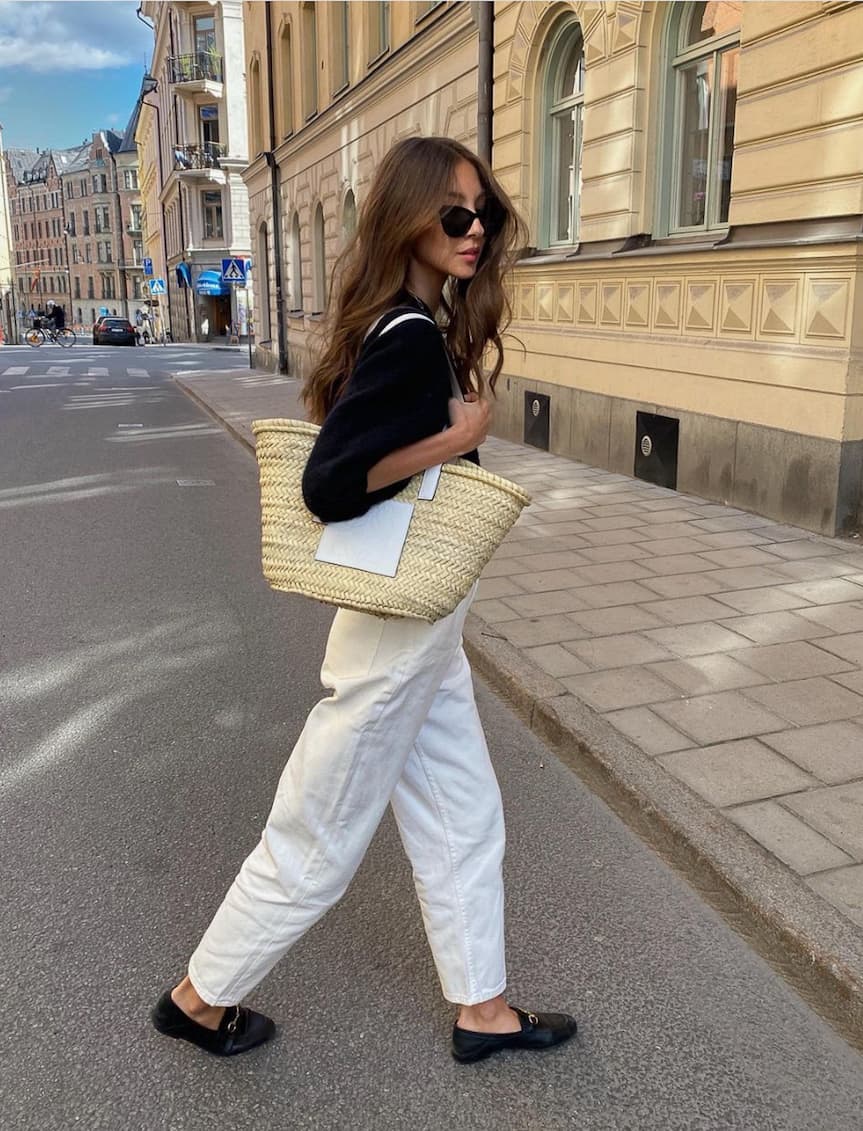 get the look:

Leave it to Felicia Akerstrom to create a perfectly chic outfit for the summer months with her Gucci Brixton loafers. She pairs the loafers with a pair of straight-leg off-white jeans, a basic black top, and the coveted Loewe basket bag.
We would wear this outfit again and again on summer evenings and right into the fall season!
16. Minimal in a blazer.
get the look:

There is never a time when a mix of understated basics looks bad. Julie proves this with her classic outfit of jeans, a white tee, an oversized blazer, and Gucci loafers.
We would wear this pretty much every day of the week. A coffee date? Yes. Brunch with friends? Yes. School drop-off? Yes.
You get the drift…
17. Sleek and sophisticated.
get the look:

There are those taupe Gucci loafers again, and they look nothing less than sleek and sophisticated with this stylish outfit on Emma Hill. She's not considered the queen of minimalist style for nothing.
We love this outfit for late summer, early Fall, winter, or spring. It's an all-year-round Gucci loafers outfit you'll wear again and again.
18. Trench coat + Gucci loafers.
get the look:

Another classic, is the trench coat. When combined with other wardrobe staples, a trench coat looks fantastic with Gucci loafers. We love how Patiness wears sheer socks (or perhaps tights?) with the loafers, for an added layer of warmth, but a sophisticated look.
A timeless outfit at its finest. We love!
19. Gucci fur loafers outfit.
get the look:

Although these are not technically loafers, we had to include a chic outfit with the Gucci Princetown fur mules. These are just a little bit 'extra' and we're here for it.
We love how the loafers are styled with more classic pieces here; jeans, a wool coat, a black sweater, and a leather tote bag.
Sophisticated and chic with a touch of fur flair.
Gucci loafers are a wardrobe staple to be styled in many different ways. You can wear them casually with jeans, a t-shirt, and a leather jacket. Or, you can wear them for a fancier occasion with a dress or a midi skirt and a camisole top.
Additionally, you can easily wear Gucci loafers for work or as business attire with trousers, a blouse, and a blazer. Or, wear them with leggings and an oversized sweater.
In short, these shoes are incredibly versatile. And, if you get them in solid black leather or another neutral tone, you'll find you can wear them with almost any outfit for almost any occasion.
We hope you have been inspired by these different Gucci loafers outfit ideas and feel confident when it comes to styling them!
More Style Guides You'll Love:
15+ Chic & Modern Gucci Belt Outfits
10+ Chic Gucci Belt Bag Outfit Ideas That Prove You Need One
9+ Seriously Good Gucci Loafers Dupes (& Mules!)
17+ Chunky Loafers Outfit Ideas + How To Style Chunky Loafers
17+ Leather Pants Outfit Ideas That Prove You Need A Pair
How To Look Expensive On A Budget
13+ Paris Outfit Ideas Inspired By The Chicest French Influencers