Looking for Love Shack Fancy dupes for less? We've got 10+ incredible Love Shack Fancy dress dupes you'll absolutely adore that won't break the bank!
*this post contains affiliate links*
10+ Love Shack Fancy Dupes
"LoveShackFancy" was launched in 2013 by former Cosmopolitan fashion editor Rebecca Hessel Cohen. Since then, the brand has skyrocketed to iconic status claiming a permanent place in the fashion world.
The original goal for LoveShackFancy's founder was to create pretty and feminine bridesmaid dresses with a laid-back vibe. But the collection has since expanded, and now boasts a variety of stunning silk dresses, gowns, and separates for women and girls.
If you have fallen in love with LSF but can't handle the sticker shock, we are here to help! We've sourced 10+ incredible LoveShackFancy dupes we know you'll adore!
LoveShackFancy has a romantic, vintage-inspired, feminine, and whimsical aesthetic that appeals to women and young girls alike. The brand's founder, Rebecca Hessel Cohen, has always held a vision that her dresses could be worn while "dancing barefoot in the garden under the moonlit summer night."
So, it's no surprise that the LoveShackFancy collection has a delicate ethereal and free-spirited vibe. You'll find dresses made of gorgeous colourful fabrics and pretty floral patterns. What's not to love?
The Love Shack Fancy Dress Dupes
Without further adieu, the Love Shack Fancy dress dupes you've been waiting for! Below you'll find some excellent look-alikes to some of Love Shack Fancy's most popular styles.
shop here:

If you are soon to be a wedding guest or simply looking for a stunning floral print summer dress, this Chicwish ruffle maxi dress dupe of the LSF Winslow dress is definitely worth looking at!
It has a bold pink color and ruffle details, along with a silver heart detail throughout similar to the sequins in the Winslow dress. It's definitely giving LoveShackFancy vibes, but at a fraction of the price!
shop here:

Perfect for a date night or flirty summer outfit, the Gwen dress dupe by Playa Lucia is definitely LoveShackFancy inspired. It has so many similar details to the original LoveShackFancy Gwen dress, it'll make you do a double take.
But, for less than half the cost, it's a steal of a deal for that gorgeous LSF look. This dreamy mini dress would be perfect for the spring or summer.
shop here:


We love a one-shoulder dress! The asymmetrical neckline is super flattering, especially for women with broad shoulders.
This look-alike dress from WAYF is perfect with its pretty floral pattern, mini length, and puff sleeve. It looks similar to the LoveShackFancy Altie dress and has the same feminine vibe.
We also like this dress from Cider as an alternative look-alike, as it has a ruched design and a pretty floral pattern.
shop here:

Next on the list of Love Shack Fancy dress dupes is an Etsy dress that looks almost exactly like the real Jessie dress (which is sold out everywhere) with a floral patchwork pattern and puff sleeves.
The Etsy store that sells the dupe is called RisingVegans and has an impressive 5-star rating with over 350 reviews. The reviewers mention that the store's dresses exceed expectations, so this option is definitely one to consider!
The store also makes another Love Shack Fancy dupe we didn't include on the list that you can see here (its style is very similar to the Jessie dress!).
shop here:

If you are looking for simple summer outfit ideas, you can't go wrong with white eyelet dresses. This pretty eyelet dress from Chicwish is a great alternative to the Nessie dress from LoveShackFancy at a much lower price point.
Pair this pretty dress with heeled nude sandals and a straw bag, and you'll be dressed for a sunny resort vacation or laid-back wedding reception.
shop here:

Another incredible dress dupe is this cute patchwork mini dress. It's a great look-alike to the LoveShackFancy Arlo dress which is currently out of stock at Revolve.
The look-alike is made by designer Yumi Kim and has a very similar patchwork pattern, yellow and blue floral print, and overall color scheme. Paired with heeled sandals and dainty jewelry, this would make the perfect summer outfit!
And, don't forget to add the perfect lip color with these Pillow Talk dupes!
shop here:

Next on the list of LoveShackFancy inspired looks, is this pretty floral maxi dress from Cider. At just $34 it's a total steal and it has a very similar vibe to the LSF Kendall Dress.
This flowing dress would be stunning for a wedding guest, summer vacation, or fancy dinner out. We love the deep v-neck and the shimmery floral material.
shop here:

If you love a pretty floral mini dress, you'll want to check out this Love Shack Fancy dupe from Goodnight Macaroon that looks a whole lot like the Audette dress, which is currently sold out.
It's feminine, flirty, and beautiful with its shirred waist, tiered skirt, and bright pink floral pattern. You'll definitely be turning heads with this dress… in a good way!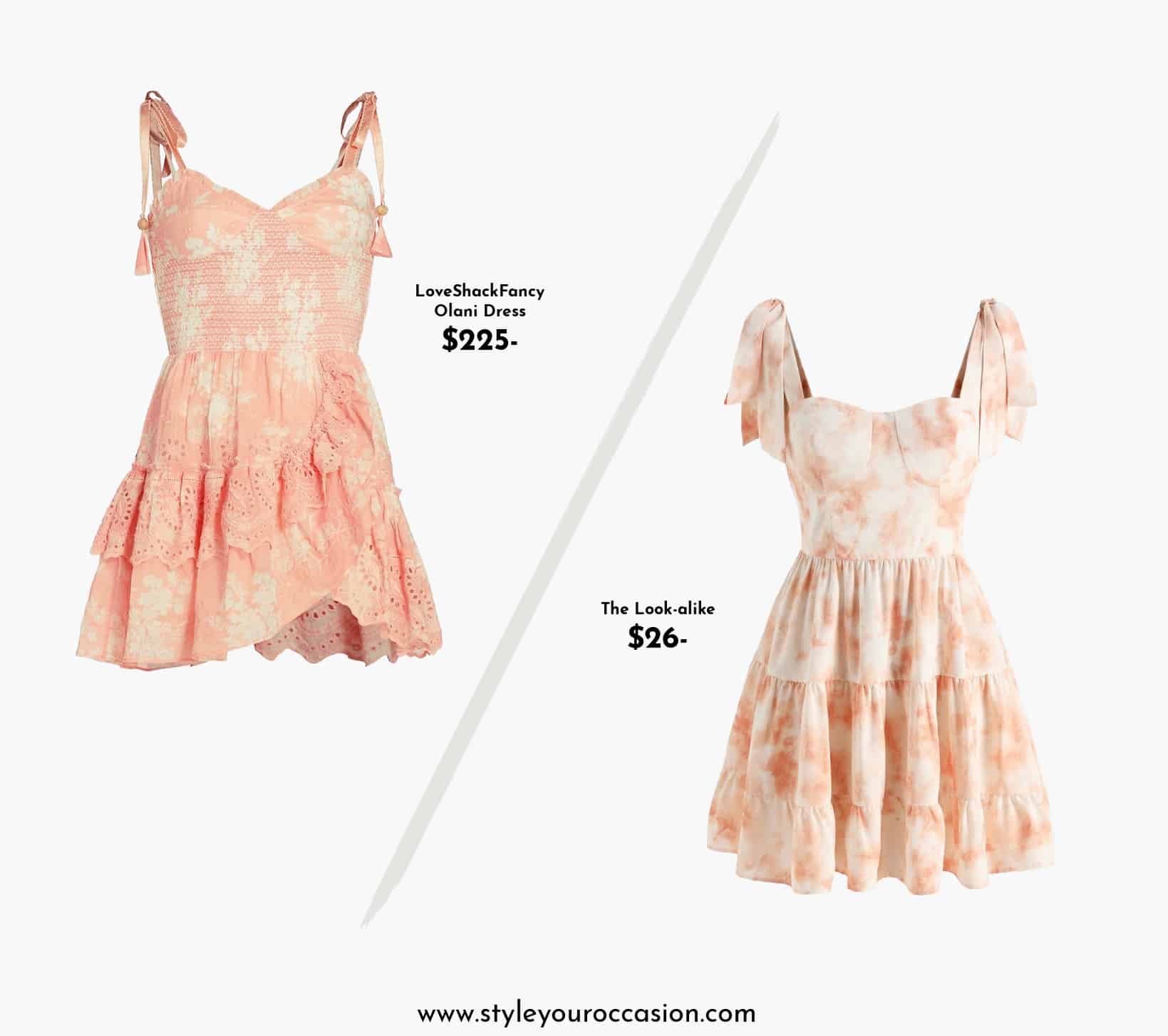 shop here:

Peachy perfection! This pretty dress from Cider is only $26 and has a very similar vibe to the LoveShackFancy Olani dress.
While the dupe doesn't have the floral pattern or eyelet detailing, it does have a tie-dyed pattern which can be seen on other LoveShackFancy dresses.
It also has a similar sweetheart neckline and tie-straps which give it a very similar look.
shop here:

The shirred detail is a common design feature you'll see on a lot of LoveShackFancy dresses, which is why we've chosen this floral dupe from Cider to add to our list.
At just $13 it's hard to say no to this cute summer dress that has a similar look to the LSF Trevor mini dress. Paired with simple white sneakers and a cute shoulder bag, you can easily wear this dress to a concert, date night, or fun day out with friends.
Love Shack Fancy Tweed Dupe: Skirt + Cardi Set
shop here:

Lastly, on our list of Love Shack Fancy dupes is a tweed dress from Sister Jane that is similar to the ever-so-popular LSF tweed sweater cardigan and skirt set.
This Love Shack Fancy dupe is perfect for those who want that sophisticated and feminine tweed look, without the price. For less than 1/3 of the cost, you can achieve the look and look great at your next High Tea!
No. While LoveShackFancy is an American-founded brand based in New York City, the clothing is made in India. Founder, Rebecca Hessel Cohen, told Forbes in a recent interview that she has "always been so proud we make our clothes in India".
She explained that the complicated artistry, weaving, and embroidery necessary to create the LoveShackFancy pieces would not be possible anywhere else. Rebecca has also made it a priority to support the Indian factories they use and give back to the people and surrounding communities.
You can read more on LoveShackFancy's Mission Statement here.
Final Words
We hope you have enjoyed this list of Loveshackfancy dupes and will be able to save up for the real thing one day! There are so many brands out there who carry gorgeous dresses, and we couldn't include them all in this post.
So, feel free to browse through more great look-alikes and LoveShackFancy inspired designs below!
More LoveShackFancy-Inspired Dresses:

More Designer Dupes Posts You'll Love:
11+ Really Good Golden Goose Dupes
6 Amazing Hermes Sandal Dupes: A Très Chic Look For Less!
3 Balmain Blazer Dupes You'll Go-Gaga-Over