Do you love the chic Chanel aesthetic but want the look for less? These 8+ 2023 Chanel dupes (including several Chanel flap bag dupe options) that are great quality, similar in appearance and style, and won't break the bank!
*this post contains affiliate links*
The Search for The Best Chanel Dupes
Ah, Coco Chanel, the woman who brought us the iconic brand – those interlocking C's that are so prominent and classic.
Owning a chic and authentic Chanel bag is a goal held by many. But, for most, that goal is out of reach. And understandably so since a genuine Chanel bag can easily cost upwards of $5,000 to $15,000.
If you've been dreaming of owning a Chanel bag but can't justify spending that much on one accessory, don't fret because you've come to the right place! We've scoured the fashion world for the best Chanel dupes, and we definitely didn't come out empty-handed!
Whether you're after a classic quilted flap purse, a stylish bucket bag, or a sleek tote, you can find a gorgeous and budget-friendly look-alike in our list of Chanel dupe bags below.
The Chanel Bag Dupes:
We've sorted our list into three sections – flap bags, bucket bags, and totes – making it easier to find what you're looking for. And while none of these dupes look exactly the same or have those iconic interlocking C's (that would be a big no-no), they'll still give you the designer look you want for a fraction of the price!
Chanel Flap Bag Dupe List:
The iconic Chanel flap bags have been a staple in the fashion world since their creation! Not only are these bags stylish and timeless, but they also have an elegant aesthetic that quickly elevates any outfit. And fortunately, we've found some gorgeous alternatives that give off that same refined aesthetic!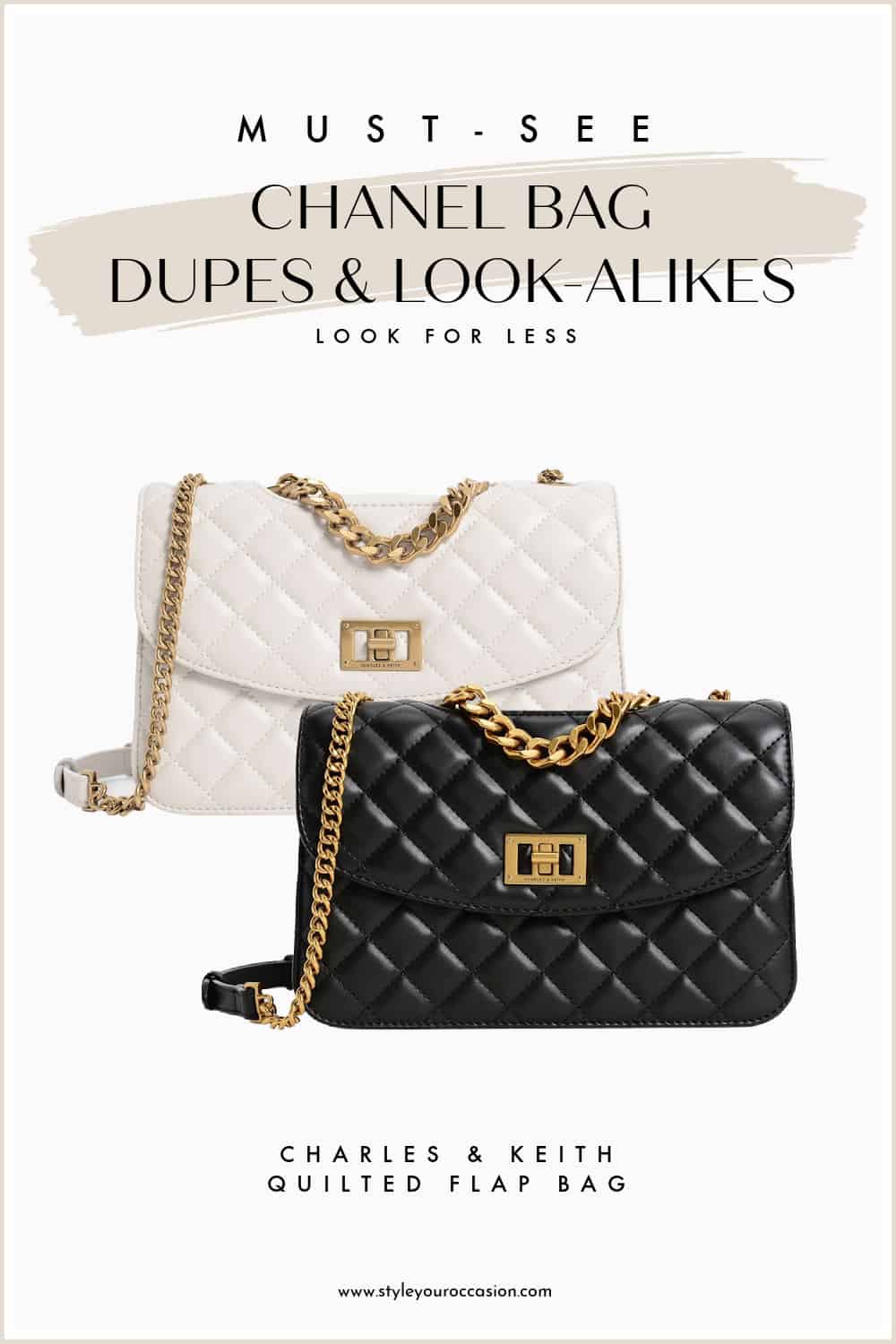 First up on our list of designer look-alikes is a Chanel flap bag dupe that is just as chic and sophisticated as the original!
This sleek Black Chain Bag from Charles & Keith has the iconic quilted texture that Chanel is so well-known for and gorgeous gold details that add a refined touch. It's large enough to carry all your daily essentials, and we love the removable and adjustable chain strap that makes this bag versatile enough to wear with any outfit.
One notable difference is that the Charles & Keith purse is made from faux leather, while Chanel bags are made from genuine leather. But this dupe still has a high-quality look and feel – plus, it's only $100!
Rebecca Minkoff has another fantastic Chanel dupe – the Chevron Crossbody Bag.
This stylish accessory has quilted black leather, a gold and black leather crossbody strap, and a gold turn-lock on the front. These details give this bag the same chic look as a Chanel handbag.
This dupe has a luxurious and stylish aesthetic and can be used as a clutch or a crossbody bag. Coming in at just under $300, this look-alike is a much cheaper alternative that will instantly upgrade your everyday looks!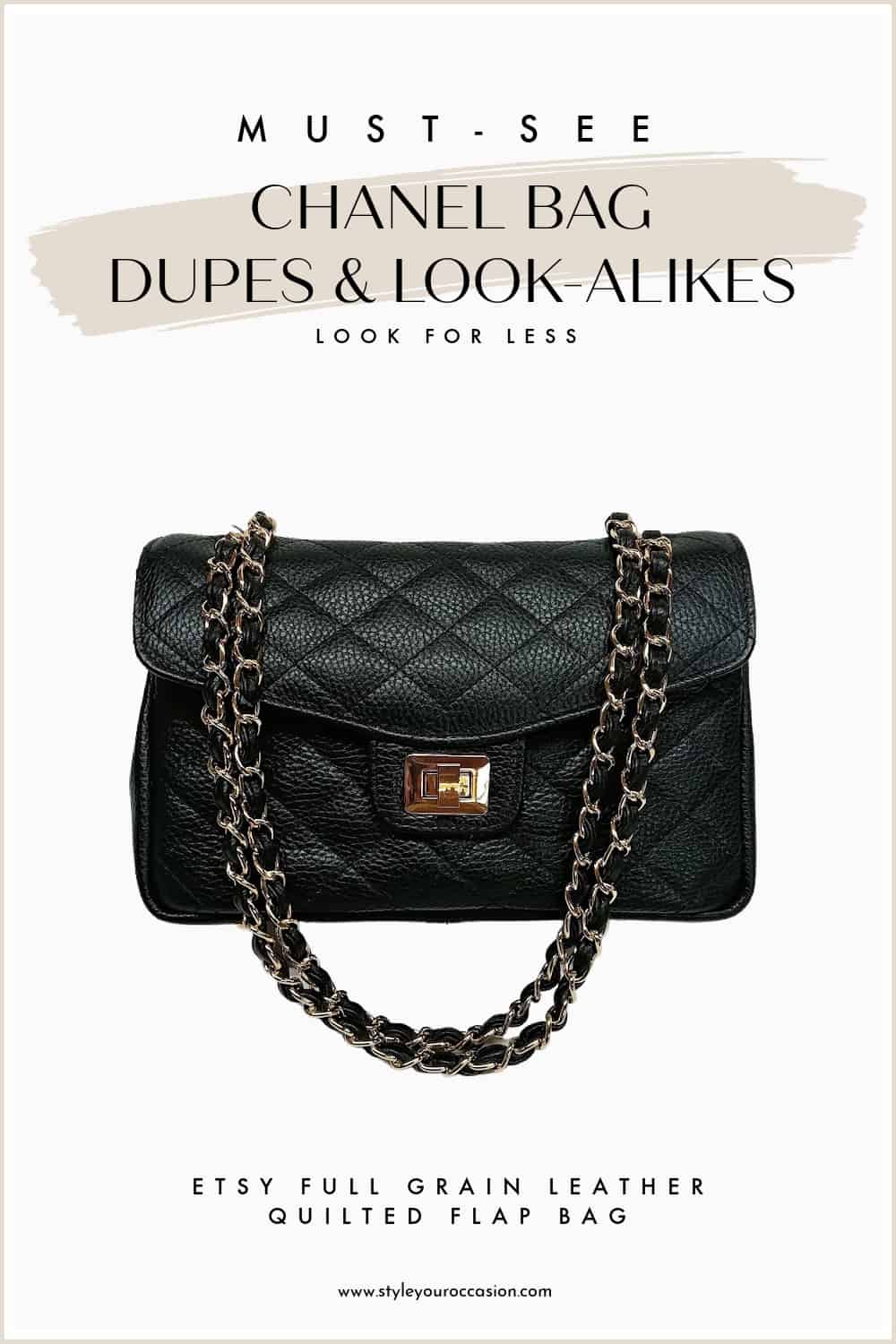 We are in love with this next dupe that comes from a highly-rated purse and bag shop on Etsy!
The Double Flap Genuine Leather Bag has a gorgeous design that emulates the same luxury aesthetic as designer handbags! The woven black leather and gold chain shoulder strap adds an elevated touch, while the quilted leather body has the classic look we want.
Something else we love about this bag is how you can customize it to fit the exact aesthetic you want. It's available in four different sizes, and you can choose what color you want for both the exterior and interior of the bag. And for less than $150, this is a deal that you'll definitely want to take advantage of!
We have another gorgeous Chanel dupe bag that comes from Etsy. The Genuine Lambskin Flap Bag has an all-over quilted design on black leather with shimmering gold details.
The gold chain strap is interwoven with a black leather strap and can be adjusted to be a crossbody or top handle length. You can use a gold metal ball to change the length of the purse strap, and this unique detail gives this Chanel alternative a distinct and high-end look.
This purse is also available in different sizes and colors, so you can choose the best design to fit your lifestyle. And of course, we can't forget to mention that this beautiful bag only costs a couple hundred instead of several thousand.
The last Chanel flap bag dupe on our list is the Small Quilted Leather Flap Bag from Simons. This chic handbag has the same look as a Chanel purse, except this dupe only costs $120.
Made in Italy, this gorgeous bag has an authentic leather exterior and cotton blend interior. The gold hardware and adjustable chain-and-leather strap are perfect details that give this purse a designer look. And while we love the classic black bag, the white and red versions are just as stunning!
Chanel Bucket Bag Dupes:
Chanel bucket bags have a simple yet sophisticated design, making them the perfect accessory for everyday wear. If you've wanted to snag a luxurious bucket bag to add to your wardrobe, the Chanel bag dupes below are definitely for you!
If you want a chic look-alike for the Chanel bucket bag, this Quilted Bucket Crossbody Bag from Amazon is a must! This Chanel bucket bag dupe has the same gorgeous diamond quilting as the original, giving it a timeless and luxurious look without the hefty price tag.
It's made from faux leather with a gold chain and leather strap for easy carrying. The crossbody strap is also adjustable to give you the perfect fit and allows you to carry this purse as a crossbody or shoulder bag. And something else we love about this bag is the drawstring closure on top, providing extra security for all your valuables and daily essentials!
If you prefer the look of smooth, untextured leather, the Charles & Keith Drawstring Bucket Bag is a perfect Chanel dupe for you!
While the Chanel bag is made of authentic leather and adorned with the signature interlocking CC logo, the Charles & Keith version boasts high-quality faux leather and subtle gold details that give off the same luxury feel.
This dupe has a gorgeous embellished top handle, plus a detachable, adjustable strap to turn it from handbag to crossbody. Like our other Chanel bucket bag dupe, this purse has a drawstring top to keep your important items safe throughout the day. And with plenty of room to hold everything you need, plus a versatile design that can be dressed up or down, this is the perfect accessory for any occasion.
Chanel Quilted Tote Bag Dupes:
A quilted tote is a beautiful, timeless bag you can wear anywhere from a lunch date to a weekend getaway. And these lovely Chanel tote dupes are an easy way to upgrade your style without breaking the bank!
If you've ever dreamed of owning a gorgeous Chanel tote bag but can't get past the price tag, we have a dupe for you. The Quilted Tote Bag from Amazon is a stylish purse with the same chic, designer look as the Chanel tote bag – and all for only $40!
This tote has quilted black leather and woven leather and chain straps, making it a very convincing look-alike. Plus, the durable faux leather ensures that this dupe will last you for years, so this bag is definitely a worthwhile investment.
Our next Chanel tote bag dupe is absolutely stunning! This Quilted Leather Tote from Etsy has the same classic look as the Chanel version, except this dupe costs under $200.
Made from genuine leather, the quilted texture and gold details instantly give this bag a luxury aesthetic. And we love how versatile this dupe is! It comes with two removable leather top handles, a leather and chain shoulder strap, and a detachable leather crossbody strap.
This Chanel alternative comes in various colors, and it also has metal feet to protect the bottom of your gorgeous bag, making it longer-lasting! This dupe truly has it all, and for a more reasonable price!
More Chanel Dupes You Need To See
While Chanel bags are one of our favorite things, we can't forget the other stunning pieces this brand creates! So if you're like us and love all things Chanel, we have some other incredible dupes you need to see.
The iconic Dad Sandals are all the rage right now! So if you're looking for chic sandals to add to your collection, you'll love our list of Chanel Dad Sandal look-alikes!
Or maybe you prefer shoes that are refined and elegant, and perfect for elevating any outfit? If so, we've got you covered too! Our list of gorgeous Chanel slingback dupes will make it easy to find classy and timeless heels that you can wear with any look!
No matter which Chanel bag you prefer, you can find a stunning dupe that will give you that high-end look. And you can use this list of Chanel dupe bags to find the perfect new handbag. Or you can take advantage of these prices and treat yourself to one of each!
More Designer Look-Alike Posts You'll Love:
Christal Sczebel is an entrepreneur, published author, and content creator. Over the past decade she has worked in the digital media field building successful websites for both food and fashion. She has a natural affinity for minimal, timeless fashion, neutral home decor, and styling.
Here on Style Your Occasion, Christal is the Editor-in-chief and brain behind the aesthetic. She hopes you love the this space and the inspiration you'll find!