Do you love the Golden Goose aesthetic but not the sticker shock? Learn where to find the best Golden Goose dupes in 2024, and see my top Golden Goose look alike sneaker picks!
*this post contains affiliate links*
Originally published November 14, 2022, Updated November 1, 2023
Best Golden Goose Dupes For 2024
Golden Goose sneakers have grown a cult following in the past few years in the fashion world. We've all seen them on celebrities and fashion influencers alike, and it's no wonder so many people have these kicks on their wish lists.
In fact, Vogue says "With their vintage aesthetics, including careful distressing by hand, they are a one-of-a-kind product that the French are obsessed with right now". Needless to say, I've been keeping a close eye on this designer sneaker trend and it doesn't seem to be going anywhere for 2024.
It's no secret that Golden Goose sneakers come at a cost. The GG 'Superstar' sneakers cost around $700 a pair. So if you don't have this kind of cash in your sneaker budget, don't fret! I am sharing where to find the best Golden Goose dupes and Golden Goose look alike sneakers and my top picks from these retailers!
Where To Find Golden Goose Look Alike Sneakers
I've scoured the fashion world to find brands and retailers with the best Golden Goose dupes out there. Read on to learn more and see my top Golden Goose look alike picks from these brands!
Vintage Havana is one of the best (and most trustworthy) places to shop if you are looking for affordable Golden Goose look alike sneakers, in my opinion. This brand sells a variety of shoes and several of the sneakers have undoubtedly been inspired by Golden Goose.
While scrolling through the Vintage Havana website, I found several genuine leather sneakers with a star detail on the side and a branded tag on the tongue (very reminiscent of the GG branding). While the Vintage Havana sneakers don't have the "dirty" and distressed look, that Golden Goose sneakers do, you could easily add this yourself. Here's a great tutorial I found on DIY distressing for sneakers.
After reviewing the many sneakers from the Vintage Havana collection, I narrowed it down to three great Golden Goose look alike options: the Grande Sneaker ($90), the Libby Sneaker ($140), and the Bounce High Top Sneaker ($99) (I've linked all of them below as well!).
shop Vintage Havana dupes:

I recommend scuffing these sneakers up on your own at home to get a more authentic Golden Goose vibe! I also love that Vintage Havana sneakers are high quality but a fraction of the price, and made with a mixture of leather, suede, and synthetic materials.
If you are looking for a Golden Goose sneakers dupe, I recommend checking out Steve Madden. This well-known (and also very trustworthy) brand carries a few great options that have a similar look to Golden Goose sneakers.
I've actually found several great designer dupes at Steve Madden in the past, including these Hermes Sandal dupes that I own and absolutely love!
When it comes to the Golden Goose dupes from Steve Madden, they all either have a star detail, metallic glitter accent, or some distressing. With a bold design and a reasonable price of around $100, these Steve Madden sneakers are a contender on my list!
Here are my top Golden Goose look alike picks: Rezza Sneaker ($89), Medal Sneaker ($99), the Starling Sneaker ($79), and Rezume Sneaker ($79) (which I've linked below as well).
shop Steve Madden dupes: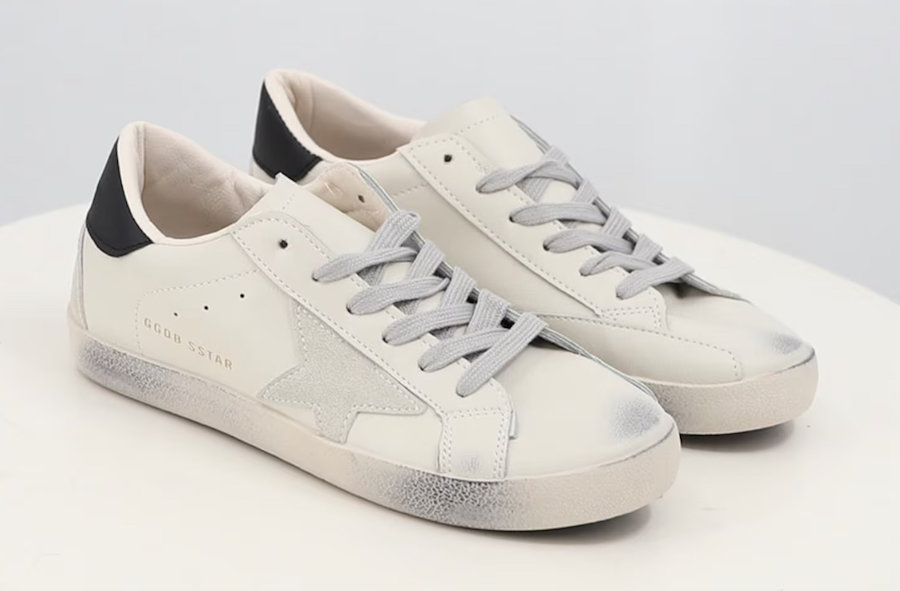 From my experience, Etsy is a goldmine for designer dupes. I've found everything from Celine bag dupes to Bottega Veneta dupes to Cartier Love Bracelet dupes on Etsy. And, when it comes to Golden Goose look alikes, these distressed sneakers are the best I found.
One thing I will say about Etsy however, is that you have to vet the seller before buying. In terms of trustworthiness, I've found that not all Etsy stores are legitimate. So it's important to ensure that the store has lots of sales and a high overall rating. Having several reviews of the actual item with customer images is even better, in my opinion!
These Golden Goose dupes have a good rating and there is also a customer review image of the sneakers.
Amazon is always a great place to search for designer dupes, and Golden Goose dupes are no exception. One thing I love about Amazon is that you can always count on the reviews. And many customers will share their images of the pieces they buy and give honest, unfiltered reviews.
So as I was searching Amazon for the best Golden Goose dupes, I made sure to delve deep into the review section for each pair! Here are my top picks from Amazon: Party Fashion Star Sneakers ($40), Room Of Fashion Sneakers ($50), Cosking Low Top Sneakers ($75), Satuki Women's Distressed Sneakers ($79).
shop Amazon dupes: