Do you or someone you love have an upcoming birthday and need some inspiration? Check out these birthday photoshoot ideas that will capture the memories and the fun!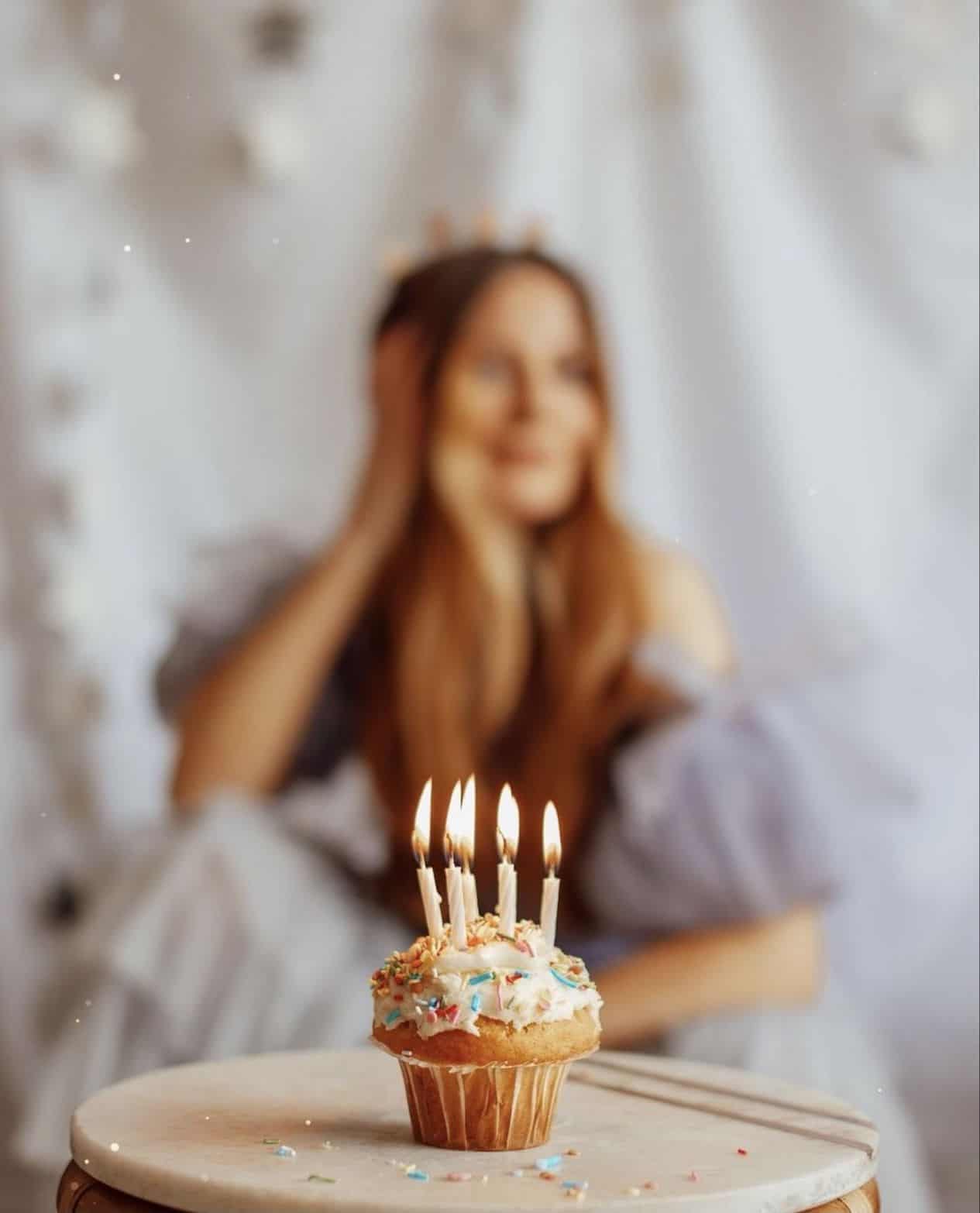 Cute + Classy Birthday Photoshoot Ideas
When it comes to birthdays it is always a great idea to snap some photos and with a little extra planning you can have a birthday photoshoot that will leave you with lasting memories of the day.
Birthday photoshoots aren't just for kids either, adults can do them too! They can be a great way to capture your special day and get you excited for the next year in your life.
15+ Birthday Photoshoot Ideas
Below is a list full of photoshoot ideas for birthday celebrations that range from minimal and super easy to create, and some that require a little more planning. All of the ideas below can work for both adults and kids, and will have you coming back to the birthday photos again and again.
photos: @mija_mija, @shanradford_photo
Confetti toss.
This is a super simple idea for a birthday photoshoot that can be kept really minimal or made into more of a colourful scene. You can easily do this photoshoot at home with a backdrop and a few packages of confetti.
The only downside is the clean-up, but a little mess is worth it for this one! Also, add some more fun to your little one's birthday with this Birthday Bingo printable.
photos: @samantha.heather, @signemengote
Flower crowns.
This is a great idea for a spring or summer birthday. Simply get a group of girlfriends together and adorn yourselves with beautiful flower crowns for a birthday photoshoot you won't forget.
For a kid-friendly idea, you can have the birthday girl wear a flower crown and get some photos against a blank backdrop, or outside in a garden if the weather is nice.
Champagne pop!
Every adult birthday should come with a bottle of champagne to pop, right?? It's a great way to celebrate the day and makes for a fun photoshoot idea! The best part is, you can easily do this at home and you don't need a whole lot of planning to make it happen.
Make it kid-friendly: Of course kids aren't going to be popping champagne for their birthday, so instead you could swap out the bubbly for a more kid-friendly beverage of choice like a Shirley temple that they can "cheers" for the photos.
photos: @opalbyopal, @babiekinsmag
Tropical vibes.
Weather you are a crazy plant person or you just have a love for anything tropical, this birthday photoshoot idea is fun and simple to set up.
If you already have a lot of plants in your house you can use them as the backdrop, or get some tropical leaves to use against a minimal backdrop. Another idea to is head to a conservatory or green house with tropical plants and do the photoshoot there with some white or green balloons!
photos: @rachmartino, @julieigophotography
Numbered balloons.
Make a statement with big shiny numbered balloons that either show the age you are turning or the year you were born!
There are so many photo opportunities to be had with these balloons which is why they make the perfect birthday photoshoot idea for kids and adults alike.
photos: @juliaberolzheimer, @littlemisstiggy
Flower fields.
This pretty and colorful birthday photoshoot idea is a perfect for spring or summer. Scout out a nearby flower field and go have fun with it!
If you want you can bring along a bunch of balloons to hold for some of the photos while you are in the flower fields to bring in that birthday feel even more.
photos: @lgphotofilms, @mayajstt
Bunches of balloons.
There's nothing that says "it's my birthday!" like balloons. All you need is a whole bunch of balloons and a simple background to make for an amazing birthday photoshoot. You can really go with your own personal style, choosing neutrals or pops of color.
For kids, I love the look on the right. It's so cute and fun, yet simple at the same time.
photos: @hanhaston, @100_layercake
Garden party.
Ok, if this isn't one of the cutest photoshoot ideas for birthday celebrations, I don't know what is! While it might take a little more work to set up, if you are already having a garden party themed gathering, all you need to do is hire the photographer.
To make it kid friendly, have the little ones at a small table in the backyard, with flower crowns, floral decor, and more.
Editorial style.
Go for a simple, editorial style photoshoot for you (or your little one's) birthday. It's a perfect way to celebrate your day and get some photos to capture all your beauty in a chic, vogue-style way.
All you need is a blank backdrop and a prop like a stool or lounge chair.
For kids have them sit on a lounge chair topped with a sheepskin and some balloons in the background for some really cute birthday photos.
photos: @louisesmit, @cuteheadskids
Matching outfits.
For adults, go with sleek and classy matching outfits (like these pastel color slip dresses) with your girlfriends for a memorable birthday photoshoot that you can feel all dolled up for.
For kids, this idea is great for twin birthdays or for a birthday photoshoot with siblings. So cute!
photos: @kasandra.richer, @ abigailcapelliniphotography
Cupcakes & candles.
Let the cupcakes be the focus for this birthday photoshoot idea and add some candles or sparklers for extra interest. This idea works for adults and kids and can create amazing and memorable photos.
You can also do this as an alternate to the popular "cake smash" for a baby and go with a large cupcake instead for less mess (and less of a sugar high!).
photos: @vogue, @100_layercake
Picnic party.
The beauty of a birthday picnic photoshoot is that you can make it super simple or add in tons of details. I love the minimal look of just a blanket on the ground, a picnic basket, and some finger foods and champagne for the adult version.
And for kids, making the whole party a picnic theme is a really fun idea. Plus you'll get some incredibly cute photos.
photos: bethsweitzer_, @hannahtace
Beach day.
Take your birthday to the beach for a cute and simple photoshoot to remember. All you need is some towels, a cute beach umbrella, and bring along a few balloons too for extra birthday fun.
This idea works great for both adults and kids and you'll also make a really fun day out of it. This is truly the perfect opportunity for cute and candid photos.
Minimal with flowers.
Sometimes simple is the best way to go for a birthday photoshoot. For this idea all you need is a simple, light colored backdrop, and a bunch of flowers. You can do different poses holding the flowers that are playful and fun. There are actually a ton of ideas on Pinterest for "poses with flowers" to get more inspiration.
To make it kid-friendly, have your little one holding the flowers. or lay the flowers all around and take some overhead shots.
Pool party.
Another one of my favorite ideas on this list is a pool party birthday photoshoot. I love the look above with all the balloons floating on the water to bring in that celebratory vibe.
Just don't forget the sunscreen!
Birthday Photoshoot Tips & Tricks:
Now that you are full of inspiration for your upcoming birthday photoshoot, here are answers to some more tips and tricks to help you further on your way.
When in doubt, add balloons.
If you are wondering if the photoshoot idea you like best coneys a birthday enough, just add balloons!
For example, if you love the look of the flower fields photos, but don't think it really says "birthday", just bring a few balloons and you'll tie in the birthday vibe easily.
Can I do these birthday photoshoot ideas at home?
Most of them, you absolutely can! Aside from a few, like the flower fields, beach day, and pool party where you need a specific environment, the rest are easily done in and around the home.
Find yourself a space in your house that can serve as a blank backdrop for the confetti toss, balloon photos, or flower photos, and you're set.
When to hire a photographer or DIY?
If you are comfortable around cameras and take photos often, you might be able to do the photoshoot on your own, especially if you aren't the birthday person.
If you are, you can always set up a tripod and use a shutter remote for ideas like the confetti toss, but you won't get a variety of angles.
But, there is a lot to be said about the benefits of hiring a professional photographer so you don't have to worry about the photos not turning out how you like. Plus you'll also be able to enjoy yourself rather than being the one behind the camera.
Which birthday photoshoot idea what your favorite? Be sure to pin the photo below to save this list for later!
Pin me:
More Photoshoot Inspiration You'll Love: