Looking for cute and casual leggings outfit ideas for fall and winter? I'm sharing my favorite go-to outfits with leggings for hanging out, running errands, school drop-off, and more!
*this article contains affiliate links*
Cute & Casual Leggings Outfits I Live In
As much as I love dressing up and wearing my favorite Levi's, the truth is that you'll often find me in leggings most days (or at least for part of the day). As a busy mom of two and someone who works from home, leggings are simply my go-to. But I like to still feel "put together" when wearing them!
If you can relate, you'll love my list of cute and casual leggings outfit ideas. These looks are comfortable and stylish, showing just how easy it is to put together a cute and effortless leggings outfit that's also chic!
While I often stick with my favorite black Lululemon Align Leggings, I also like to wear these brown Neiwai leggings and my grey Lululemon leggings. In my opinion, keeping it neutral is an easy way to look elevated and effortless in leggings!
1. Matching Set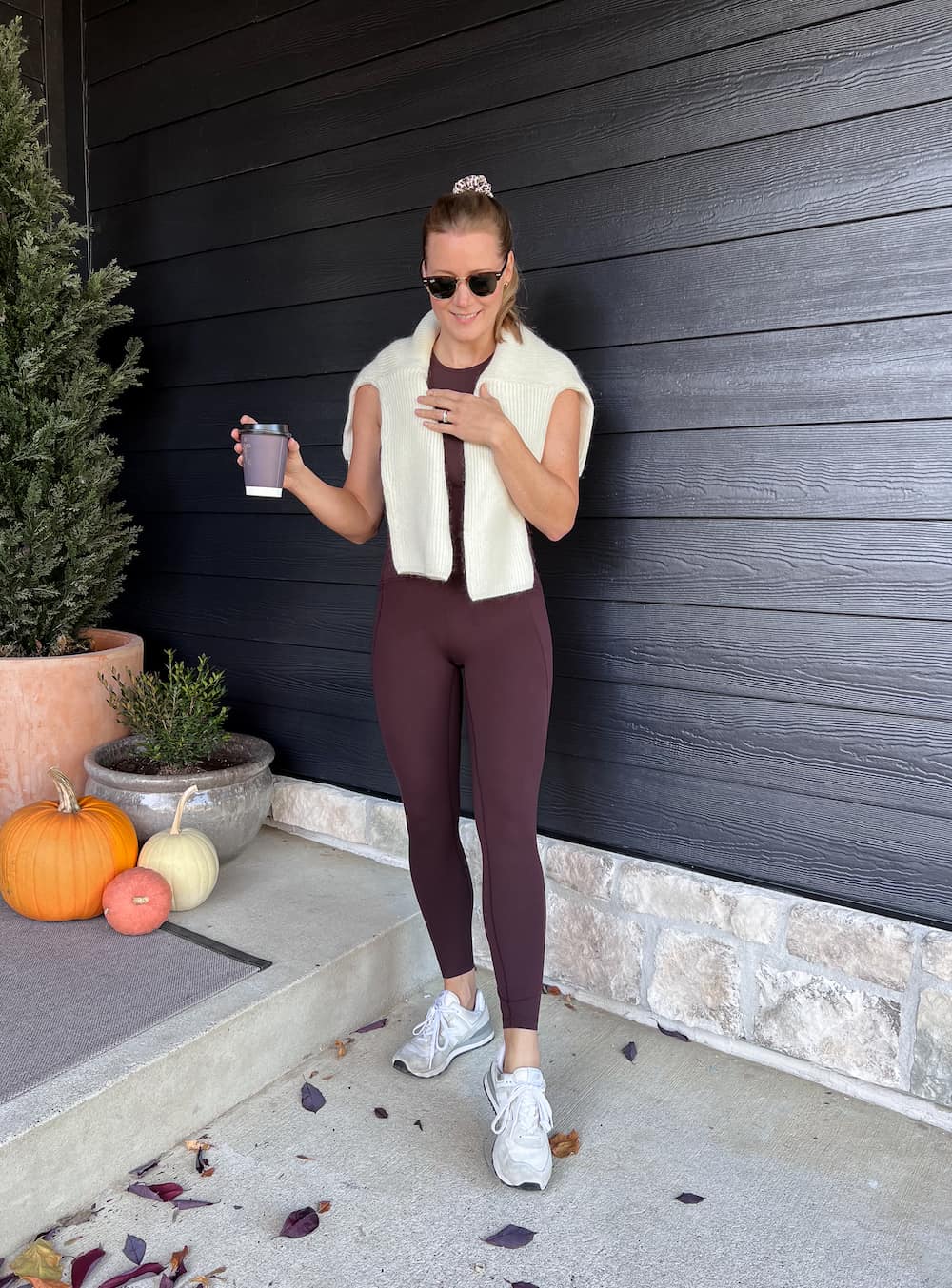 get the look:

In my opinion, a matching set always looks more elevated – even when it comes to leggings! I love wearing this chocolate brown Mousse activewear set from Neiwai with the most buttery soft leggings and tank top. Here, I've paired the set with my New Balance 574's and a knit sweater over my shoulders.
2. With A Puffer Jacket
get the look:

When the temperatures dip, I pair my black Lululemon Align leggings with a ribbed long-sleeve top, my Lululemon belt bag, and Adidas Samba sneakers. Then I top it off with my cozy down puffer jacket from Quince (this is the best Aritzia Superpuff dupe!).
3. Sweatshirt + Trench Coat
get the look:

This cute and casual leggings outfit is elevated with a basic cotton trench coat. I always recommend adding a trench coat layer if you want to look more polished and sophisticated!
I paired my Mango cotton trench coat with my fave oversized Anine Bing sweatshirt, Lululemon Align leggings, and black New Balance 574 sneakers.
4. Scarf Coat + Sneakers
get the look:

Aside from a trench coat, a wool coat with some interest is a great way to elevate a casual leggings outfit. Here I'm wearing the Toteme Scarf Jacket (which is an investment piece!) with my Adidas Samba sneakers and the leather pouch bag from Quince (a great high-quality Bottega Veneta dupe!).
If you love the look of this jacket but don't want to spend so much, try this affordable alternative.
5. Puffer Vest + Sweatshirt
get the look:

For crisp mornings and busy days, this cute leggings outfit is one of my faves. I wear my down puffer vest from Quince with my Anine Bing Tyler sweatshirt and throw on my Samba sneakers.
The leather pouch bag elevates the look, and I always add a touch of jewelry to feel more put-together. These Mejuri dome earrings are perfect!
6. Oversized Blazer + Leggings
get the look:

I love the latest trend of adding an oversized blazer to any outfit. This combo is fun and modern, but still comfortable, and the blazer adds a little business casual vibe to the look.
Above, I'm wearing my black Lululemon Align leggings with the YSL Vintage Tee (here's a more affordable alternative), an oversized black blazer, and my New Balance 574's.
7. Layered Knits + Chelsea Boots
get the look:

Trust me when I say that black and brown outfit combos are no longer a fashion faux pas. This color combo totally works, especially in the fall and winter months.
For this look, I paired my brown Neiwai leggings with black Chelsea boots, a black knit sweater, and a black tote. Then I layered another sweater in taupe brown over my shoulders (over-the-shoulder sweaters are the new scarf!).
8. Casual Chic
get the look:

For this casual yet chic leggings outfit, I wore my black Lulu leggings with a cotton trench coat over a fisherman knit sweater. The sneakers keep it casual and my YSL Solferino bag worn crossbody add a touch of chic.
9. Leather Jacket + Uggs
get the look:

This is my take on cozy chic. I'm wearing my fave Ugg Tasman slippers with black leggings and a chunky knit sweater. The look is finished with an oversized distressed leather jacket.
P.S. Check out these Ugg Tasman look-alikes for less!
10. Add A Ball Cap
get the look:

For this casual leggings outfit, I'm wearing my Quince puffer vest over a Toteme silk terry sweatshirt (this is no longer available unfortunately, so I've linked an alternative above!). I'm a big hat wearer and my Anine Bing Jeremy hat is my fave! So I added the hat and finished the look with Samba sneakers.
11. Denim Jacket + Combat Boots
get the look:

In my opinion, an oversized denim jacket and leggings are always a safe bet! For a comfy fall look, I paired my black leggings with an oversized Madewell trucker jacket, an oversized cashmere turtleneck sweater (here's a more affordable sweater alternative), and taupe combat boots from Poppy Barley.
This is a comfortable outfit that's great for day-to-day wear, but still feels put-together.
12. Shacket + Belt Bag
get the look:

In the fall and winter, a wool shacket is the perfect piece to pair with leggings. The shacket I am wearing above is from Artizia, but Quince has an affordable dupe worth checking out!
My Lululemon fleece Everywhere belt bag is the perfect accessory for on-the-go! Learn more about how to style a Lululemon belt bag here.
13. Puffer Vest + Combat Boots
get the look:

For this casual leggings outfit, I paired my black leggings with a camel sweatshirt, brown puffer vest, and my Poppy Barley combat boots. I love the mix of brown and taupe with black for perfect fall vibes.
This Day to Night bag is also perfect for hands-free wear!
14. Quilted Liner Jacket + Leggings
get the look:

After the Frankie Shop came out with their iconic quilted jacket a couple of years ago, the quilted liner jacket style has gained major popularity. I picked up my quilted jacket from Abercrombie last season and wear it all the time with leggings (it's sold out but I've linked alternatives above!).
Here, I'm wearing it over my fave Anine Bing sweatshirt and added my fleece Everywhere belt bag.
15. Long Puffer Coat + Beanie
get the look:

As fall turns into winter, this is a look I'll be wearing a lot for morning drop-off. And until there's snow on the ground, I will stay in sneakers! But I always add a pair of crew socks to keep my ankles warm.
When it comes to cold weather, a long puffer jacket is a great choice, and you can finish the look with a cozy beanie!
16. Half-Zip Sweatshirt + Sneakers
get the look:

Last on my list of cute and casual leggings outfit ideas, is this simple look that's totally effortless! I love the look of a half-zip sweatshirt as I feel like it has an elevated vibe with the zip detail.
I paired my sweatshirt with black leggings, New Balance sneakers, and my mini Lululemon belt bag. Easy-peasy!
I hope you have enjoyed this list of cute and casual leggings outfits and feel inspired to create some looks of your own!
More Style Inspiration You'll Love:
What To Wear With Faux Leather Leggings
Are Leggings Business Casual? Here's What You Need To Know!
Best Tops To Wear With Leather Leggings + Chic Outfit Ideas