Are you looking for stunning black Christmas nail ideas for 2023? Check out my list of 24+ simple black Christmas nails that are minimal, chic, and perfect for the holiday season!
Classy Black Christmas Nail Ideas
Have you been looking for gorgeous holiday nails to elevate your look in the last months of 2023? While reds and greens are certainly classic choices for this time of year, opting for a darker shade can make a bold statement and add a bit of edge to your festive look.
Byrdie says "black nail polish isn't just trendy and edgy, it's also incredibly sophisticated", and I agree! It's timeless and elegant, not to mention incredibly versatile.
So, if you want to mix up your holiday nail game, I have the inspiration you need on my list of black Christmas nail ideas below. Whether you want to add a bit of sparkle or you want to keep it chic and classy with a matte finish, these simple black Christmas nails are the perfect finishing touch for any holiday look!
Simple Black Christmas Nails List:
This list of black Christmas nail ideas has nail designs to match any aesthetic and for any occasion, so you can find anything from classy holiday party looks to bold festive manicures!
Glitter Nails w/ Candy Cane Art
What's not to love about a little bit of sparkle and some festive nail art? According to Allure Magazine, sparkling black nail polish is "ideal for sweater weather". And I couldn't agree more!
This mani would be my top choice for a fun and shimmering nail design. And if you want to switch up the look, I recommend swapping out the candy cane art for some holly berries instead.
Black & Gold Nails w/ Snowflakes
These nails are the epitome of sophistication. And in my opinion, the black and gold borders add just the right amount of edge, while the snowflake nail art keeps things festive. These nails are perfect for a fancy holiday party or a night out on the town.
Black Mani w/ Plaid Accent Nail
I love how these nails are the perfect mix of classic and trendy. The plaid accent nail adds just the right amount of interest to this otherwise simple design, and this mani is versatile enough to wear to work or a night out with friends.
Glitter Polish + Black Stars
Something I love about this design is that it's bold and glamorous at the same time. This nail look is perfect for those who want to make a statement with their nails. And if you want to make it even more alluring, I recommend adding some silver stars instead of black ones.
What are holiday nail colors?
I think one of the best ways to get ready for the holiday season is by sprucing up your nails with some festive-inspired colors! These are my top choices for trending holiday colors in 2023:
Classic red

Dark green (

think emerald and forest green

)

Midnight blue

Icy blue

White

Brown

Black

Gold

Silver
These colors have a classic holiday feel, and they're sure to add a festive touch to any nail design this winter!
Slanted Black & White Frenchies
This nail design would be my go-to for something chic, simple, and elegant. French tips are a classic design that you can't go wrong with, and I love how the white border adds a pop of brightness to the look.
Black & Gold Christmas Tree Manicure
I can't get over how cute this nail design is! This mani is a must for those who want to show off their Christmas spirit. If you want to add a pop of color, I recommend swapping the gold glitter polish for red or green glitter.
French Manicure + Silver Sparkles
I don't know about you, but I always enjoy a classic nail design with a playful twist! Black Frenchies are minimal yet classy, while the silver sparkles instantly add that holiday feel.
You can wear this design to any occasion, from a family gathering to a night out with friends.
Black Marbled Nails & Gold Foil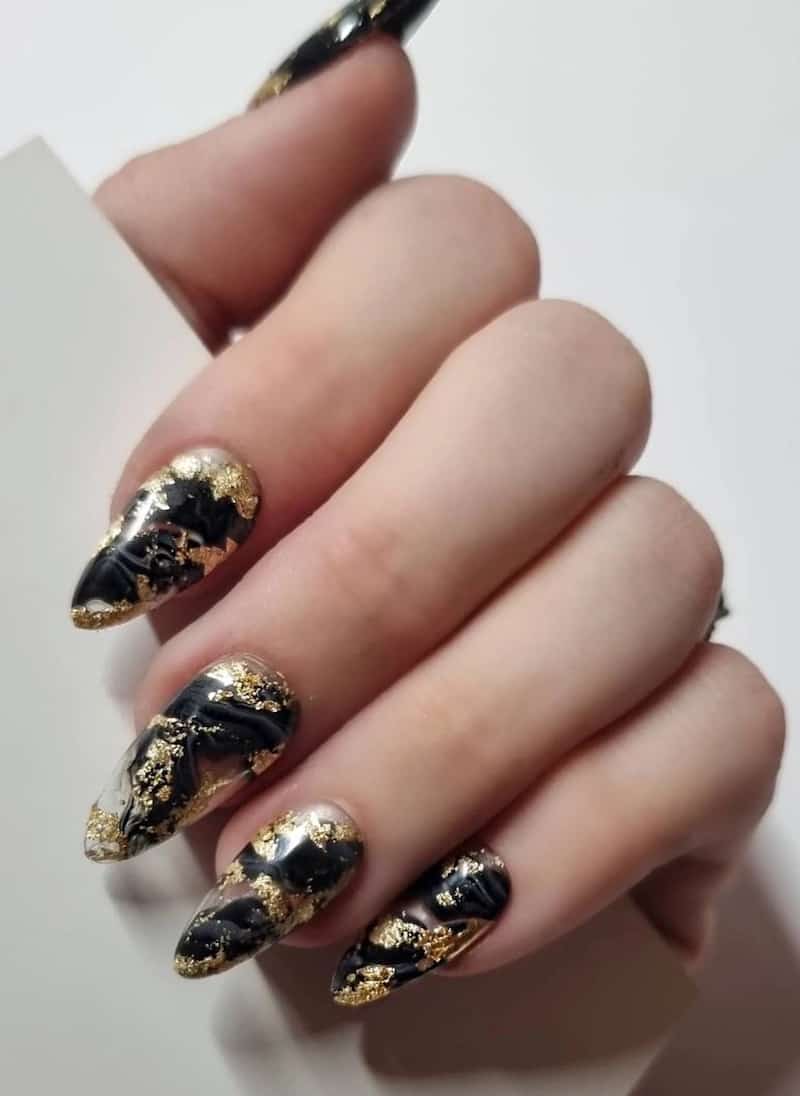 Next on my list of simple black Christmas nails is a mani perfect for making a statement. The marbled effect adds a unique touch, and the gold foil gives it a luxurious feel. I would wear this design to a fancy event or just to add some glam to my everyday looks.
Sparkling Black Polish w/ White Snowflakes
Black glitter nails are perfect for the holiday season, and I love how this design is playful yet chic. This design is versatile enough for any occasion, from a Christmas party to a winter wedding.
Why are black nails trending?



Black nails have been a hot trend, and it's easy to see why. As In Style magazine says, "Black is such a chic, sophisticated color that goes with everything, so it can be worn at any time of the year."
Black nails have always been a classic look, and they're now being reimagined in new and creative ways. From chrome finishes to matte textured nails, black manicures are being given a modern twist that makes them hard to resist. Plus, they're a great way to add a little edge to your look while still looking elegant.
Gold & Black Christmas Manicure
This black and gold nail design is sure to turn heads this holiday season! I adore how the gold bead ornaments and snowflakes add the perfect amount of sparkle while the matte black provides a chic, sophisticated backdrop.
Glossy Black Nails + Glitter Ombre
If you're looking for something elegant but eye-catching, glossy black nails with glitter ombre accents are the way to go. I would definitely rock this mani at a holiday office holiday party or family get-together this Christmas.
Black & Silver Nails w/ Waves
I love this mani above for a sophisticated winter look! Delicate snowflake accents and trendy waves take this nail design to the next level. Wear them to a fancy dinner or a night at the ballet.
Christmas Gift Nails
I love the subtle holiday aesthetic here! This nail design is chic and simple but will have you ready for a Secret Santa holiday party in no time.
Blacks Nails w/ Glitter, Sparkles + Snowflakes
This design is perfect for those who want a classy but sparkly nail design. The black snowflakes add those winter vibes, and I think the sparkling polish is ideal for a subtly alluring touch.
Christmas Collage Nails
This design is perfect for those who want to go all out with their Christmas look during a holiday gathering with friends or to your annual family dinner.
The neutral palette helps to maintain a chic and elegant look even with a more intricate design. And I love the contrast between the black and white polish as well!
Shimmering Mani w/ Gold Accents + Snowflakes
I am in love with this mani that's simple and stylish but still so glamorous! Shimmering black polish is fun, while the gold accents quickly elevate the design. The white snowflake art ties everything together, making this design perfect for any holiday occasion.
Peppermint Swirls, Ornament Accents & Sweater Frenchies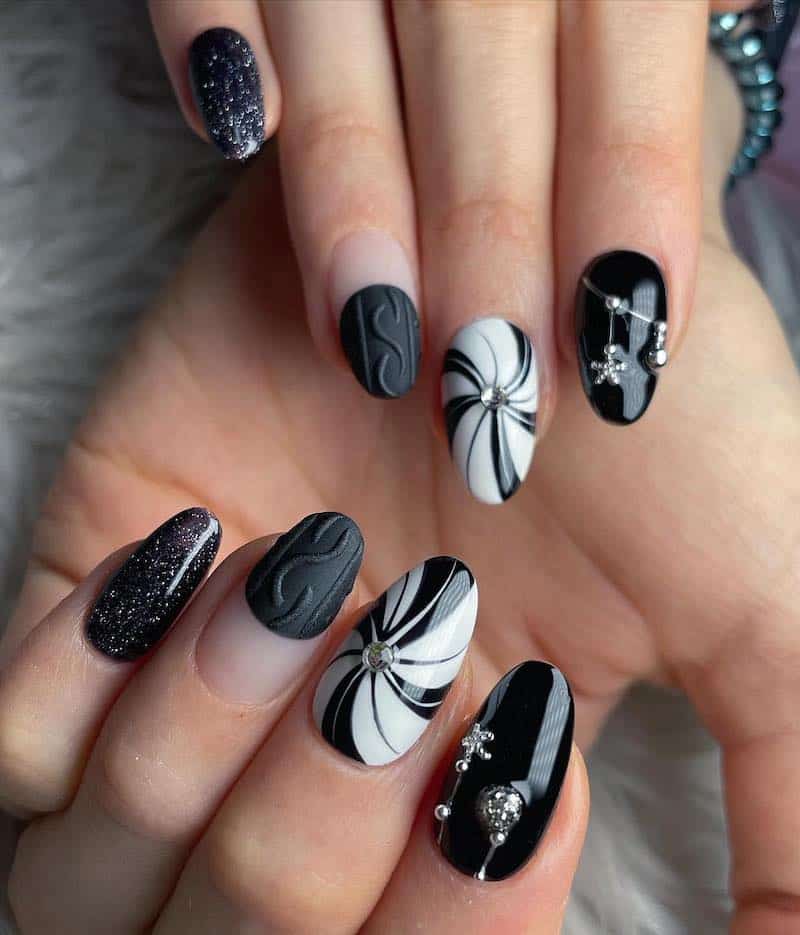 What I love about this design is the variety of patterns that all work together to create a cohesive look. The peppermint swirls and ornament accents are fun and bold, while the sparkling polish and matte sweater details have a classy aesthetic that adds the perfect balance to this manicure.
Shimmering Polish + Gem Sparkles
I love this nail design for a winter concert look! Glitter nail polish and sparkle accents have a glamorous feel, though these details don't take away from the simple and chic aesthetic.
Black Mani w/ Red Accents + White Snowflakes
The pop of color in this nail design makes it so eye-catching, and the snowflakes add those winter wonderland vibes! If you want to mix things up, I recommend using blue or green accents here instead of the red.
Silver Ombre + Sweater Nails w/ Snowy Art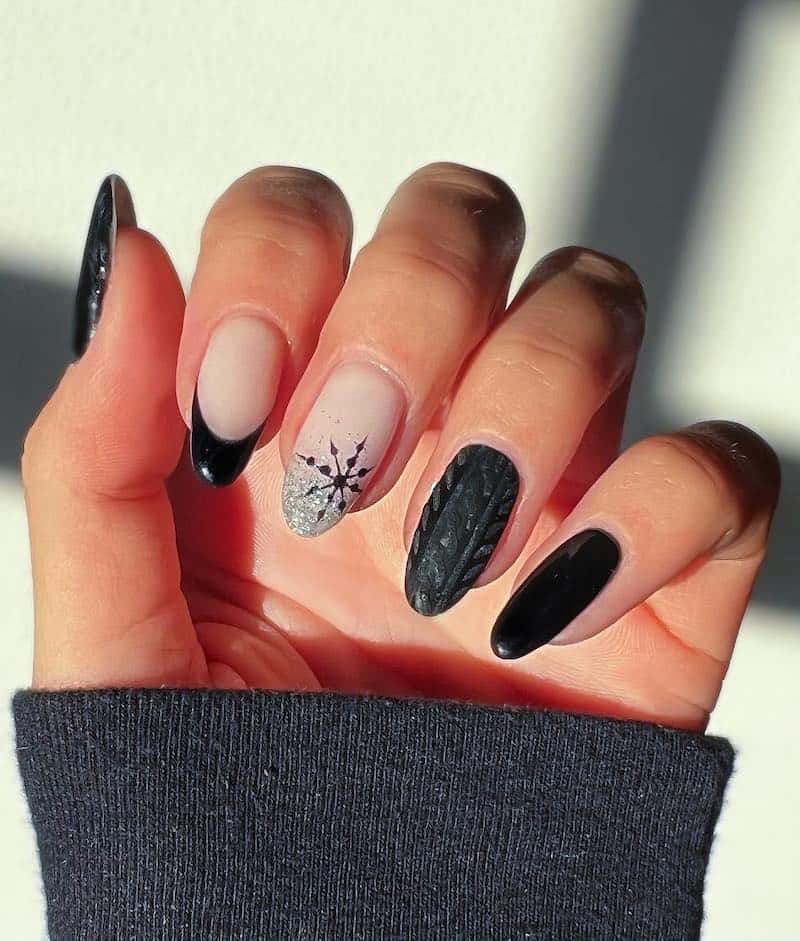 I am in love with the combination of designs here. Matte sweater nails are so cozy and perfect for winter, and I love the bright and playful vibe from the silver ombre nail!
Starry Winter Sky Nails
These nails are my favorite look on this list. There's something so cozy and chic about them, and they have an undeniable holiday feel.
I love the contrast of the matte black against the gold moon and stars. And the snowy house adds a whimsical feel to the design, making it perfect for a casual Christmas gathering with friends.
Sparkling French Mani w/ Winter Nail Art
If you're looking for classic and simple black Christmas nails, this mani is the one for you.
In my opinion, timeless and elegant French tips will always be in style. And I love the combination of shimmering polish and snowflake art for those holiday vibes!
Sparkly Stiletto Nails
If you ask me, you can never go wrong with a simple and classic manicure like this.
The glitter polish is a must for that fun, Christmas feel. And don't be afraid to experiment with different nail shapes here. The stiletto nails add a daring vibe to this look, but you can go for any nail shape to change the aesthetic.
Shimmering Black Polish & Matte Accent Nails
I love the pairing of matte nude pink and shimmering black nail polish. It's feminine and elegant, and those snowflakes will quickly have you holiday-ready. I would wear these for anything from a Christmas dinner to a local light show!
Black Mani w/ Glitter & Silver Band Accents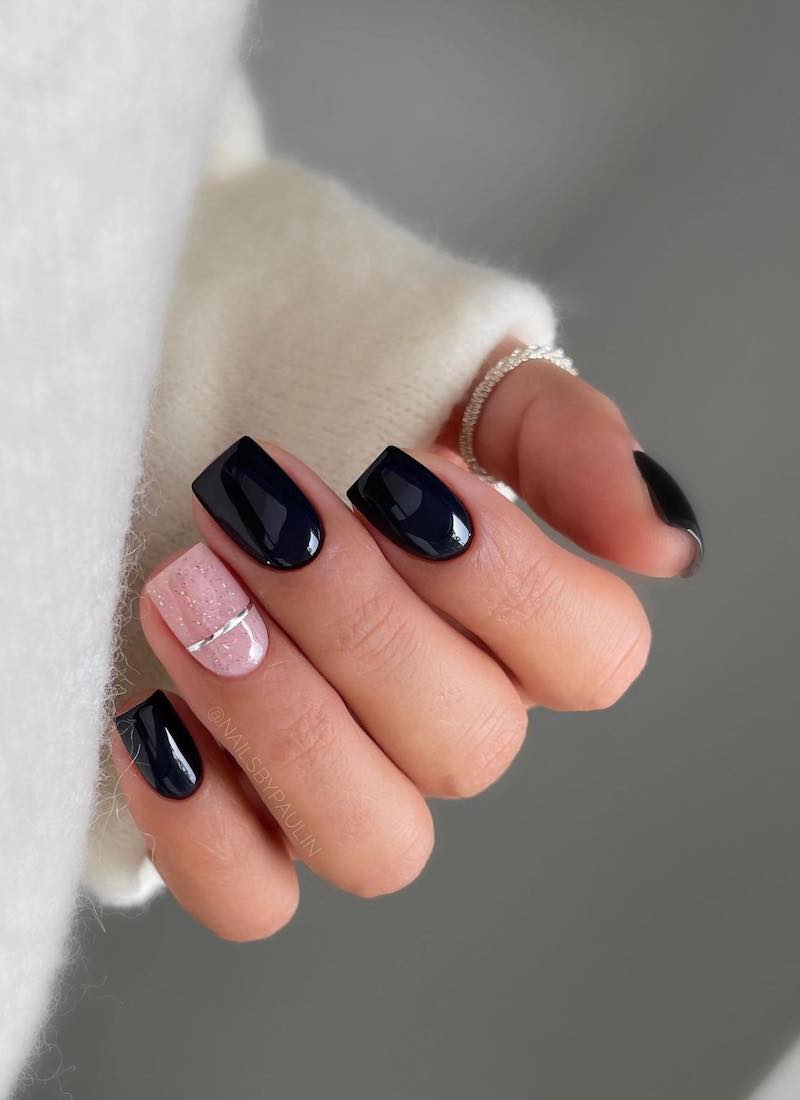 And last on my list of simple black Christmas nails is this sleek and modern mani. I love that this nail design is so classy but still alluring enough for a Christmas or New Year's Eve party!
While there's nothing wrong with bright and colorful Christmas nail designs, simple black Christmas nails just have a sleek and elegant aesthetic that I can't get enough of. I hope my list of black Christmas nail ideas has been helpful and you've found a festive manicure (or two!) that you can rock for the holiday season!
More Holiday Nail Inspiration You'll Love:
28+ Stunning White Christmas Nails
31+ Elegant & Classy Winter Nails I'm Obsessing Over
24+ Black and Silver Nails For A Next-Level Aesthetic