Looking for stunning nails to wear this Christmas? Check out our list of 21+ white Christmas nails that you'll want to try this winter!
*this post may contain affiliate links*
Gorgeous White Christmas Nails
If you love getting your nails done for Christmas, you've come to the right place. We've created a thorough list of gorgeous white festive nails to inspire you this holiday season.
Keep reading to see our top picks for stunning nails that you'll want to wear this winter!
What color should I get my nails done for Christmas?
Christmas is a festive time of year filled with bright and colorful décor. While it is common to see red and green steal the spotlight at Christmas, other colors such as white, navy blue, frost blue, silver, and gold are perfect to use for your nails during this holiday as well.
When it comes to Christmas nails, white is always a classic choice and makes a great background for festive Christmas nail art including snowflakes, gold foil, eucalyptus branches, and candy canes.
Cute White Christmas Nails
If you love classic white Christmas nail designs, then these timeless white nails are perfect for you.
1. White Cable Sweater Christmas Nails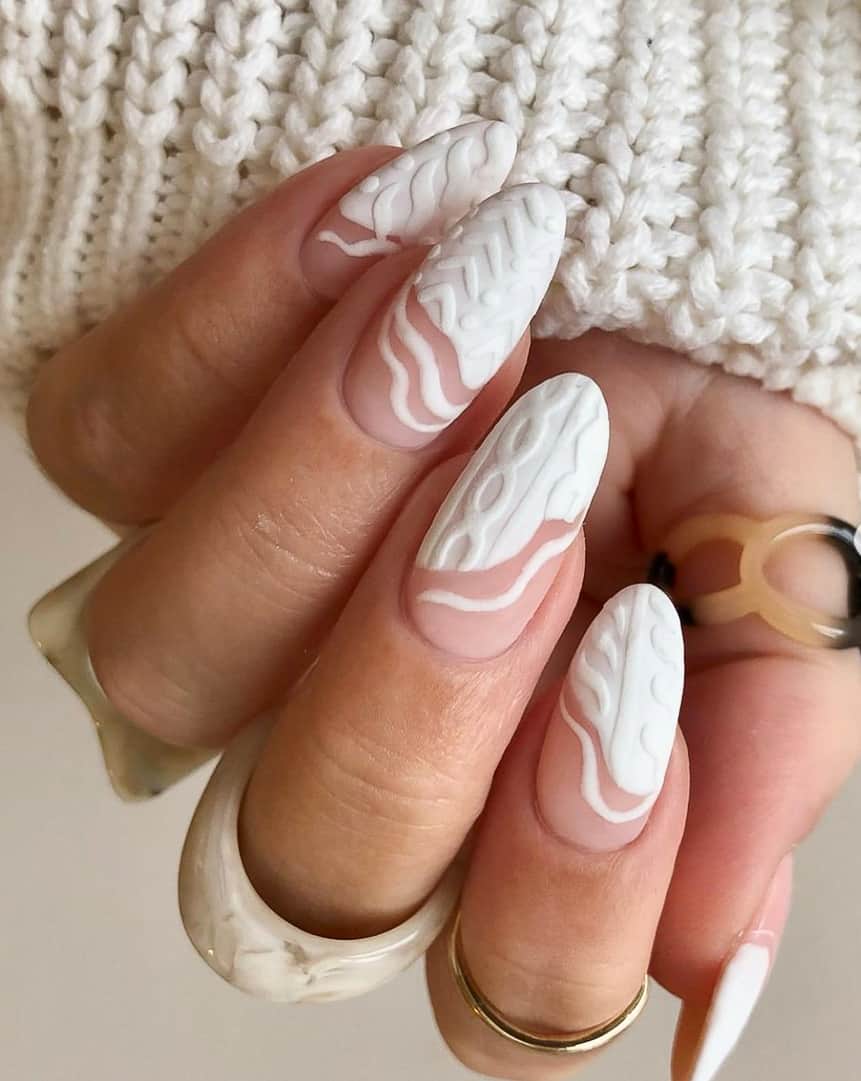 These long, oval nails are gorgeous and classy, making them a great choice for a cute but subtle Christmas look. The playful cable pattern across each nail is evocative of cozy winter sweaters.
These nails put us in the mood to snuggle up with hot cocoa and listen to some holiday tunes.
2. Textured White Snowmen Nails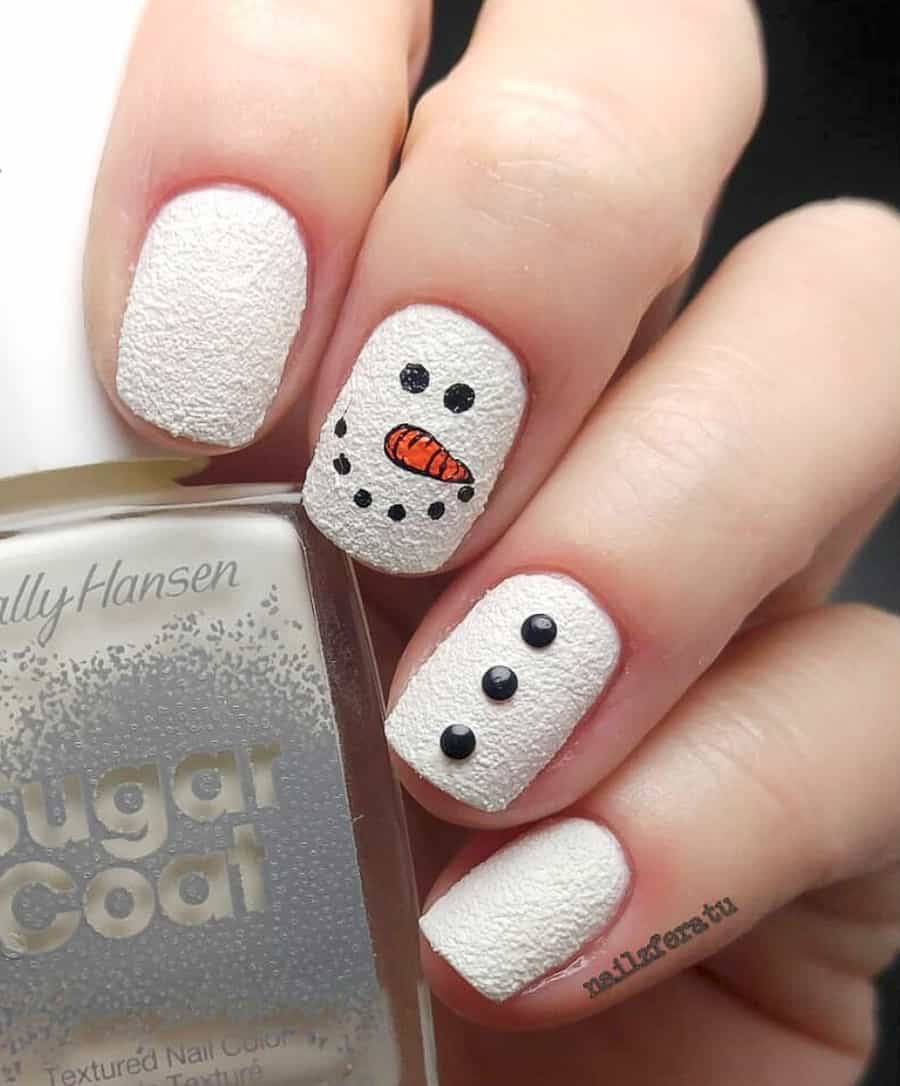 We love the fresh, snowy look of these white textured nails. The adorable snowman and coal buttons on the accent nails give this manicure a cute and jolly look.
The short, square nails are a perfect canvas for this snowman's face and his buttons.
Red and White Christmas Nails
Red and white make a great pair for festive nails. They have a classic but bold look that we can't get enough of.
3. Short Nails w/ Red + White Christmas Nail Art
These nails may be short but there is still plenty of room for stunning and detailed Christmas art. Each nail has a different design that conjures the feeling of Christmas, such as the snowman and the snow-covered house.
Topped with a shiny gloss, these beautiful nails will catch the eye of everyone you meet.
4. Long Candy Cane-Striped Nails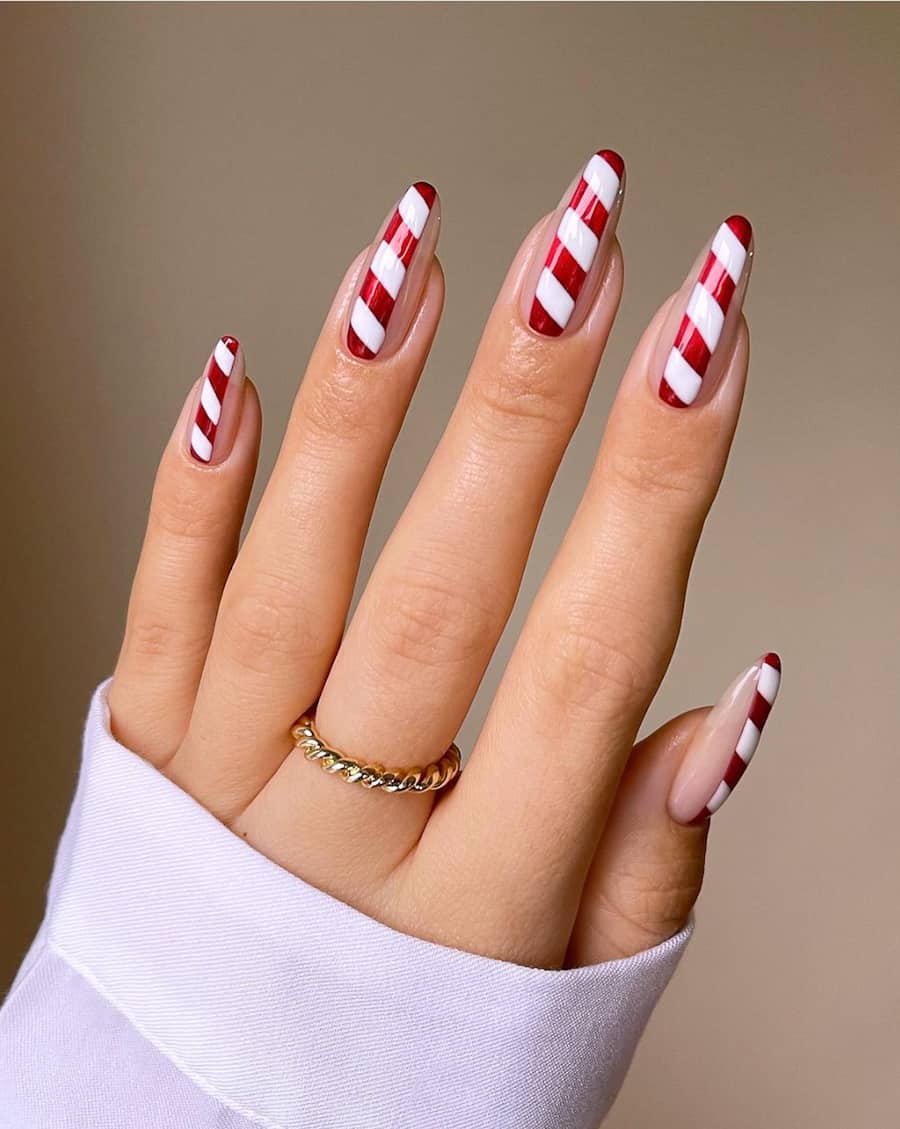 What is Christmas without delicious candy canes? We love how these nails use a thin striped design up the center of each nail to make them look like traditional candy canes.
The length and art have a playful and sassy feel while the classic Christmas colors give this manicure an elegant look.
5. Almond Mistletoe Nails
The matte white finish on these nails pairs perfectly with the shiny leaves and berries of the mistletoe. The different shapes and shades of green used for these nails give them a distinct look and help the vibrant red berries to stand out.
6. White French Tip Nails w/ Mistletoe
We love a play on classic French-tipped nails. These long nails use a white polish on the tip and have a subtle cable sweater design added on.
The mistletoe berries and leaves along the bottom of the French tip give this manicure a unique and festive look.
7. Short Festive Christmas Tree Nails
These short nails are so adorable we had to add them to our list. We love that the trees have different patterns and the accent nail with the red car makes them that much cuter.
The silver glitter covering each nail creates a wintery scene with falling snow and adds that something special to this manicure.
Blue and White Christmas Nails
Blue and white complement each other so well and these colors truly give off that Yuletide vibe we're looking for.
8. Long Blue Nails w/ White Snowflakes + Gold
These coffin-shaped nails look stunning covered in soft, pastel blue. The snowflakes and white details add to that white Christmas feel while the gold flecks make these nails look sophisticated and chic.
9. Pastel Blue Nails with White Fair Isle Pattern
Another stunning set of nails painted with pastel blue, this design has a classic and festive look. The fair isle pattern in the center looks like cute little snowflakes, and the white details surrounding it, along with the lengthy almond-shaped cut, adds a touch of elegance.
White Nails with Snowflakes
We adore these gorgeous manicures with lovely snowflake details. They are classic yet playful and are a perfect nail design for Christmas.
10. White + Nude Nails w/ Snowflake Accent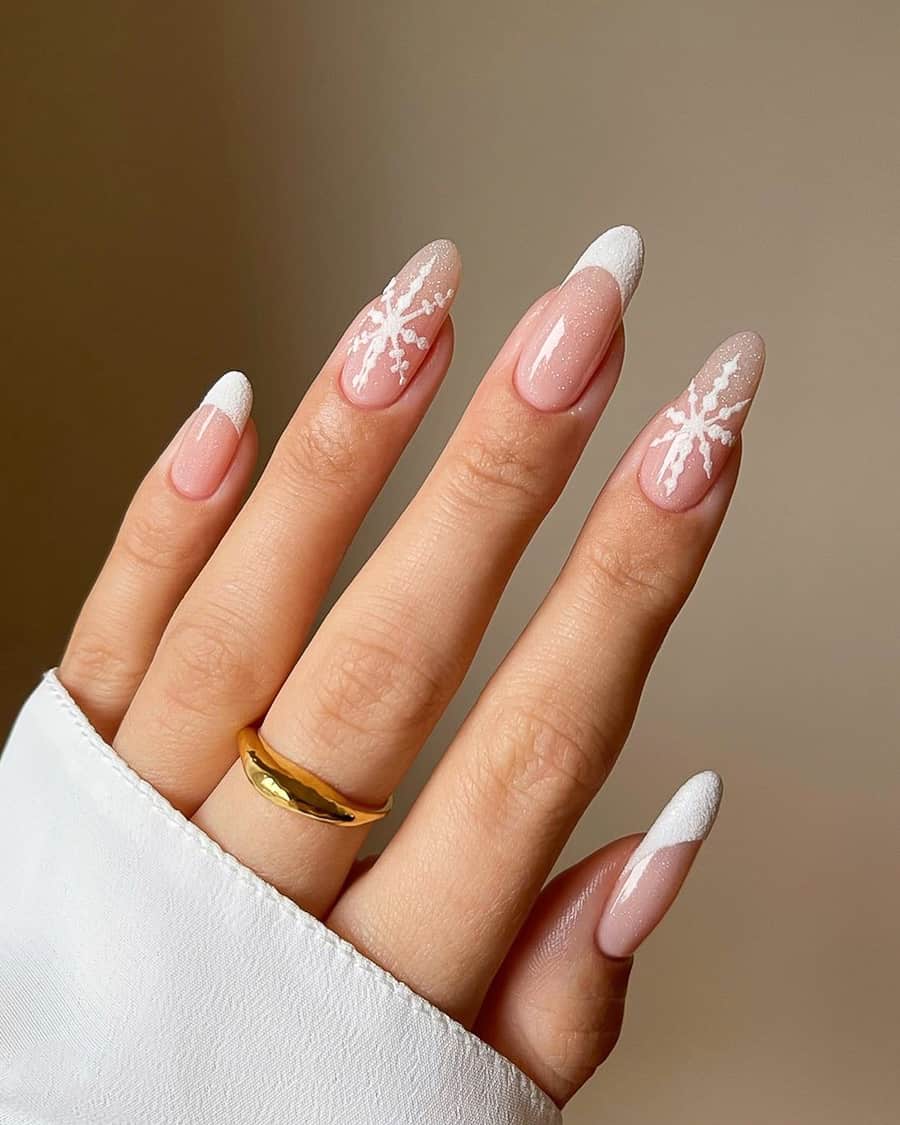 Nude nails with white French tips are a timeless look. The two accent nails decorated with dainty snowflakes adds an extra festive feel.
If you're looking for a subtle Christmas nail to wear this winter, then this is a great choice for you.
11. Long White Nails w/ Snowflake Texture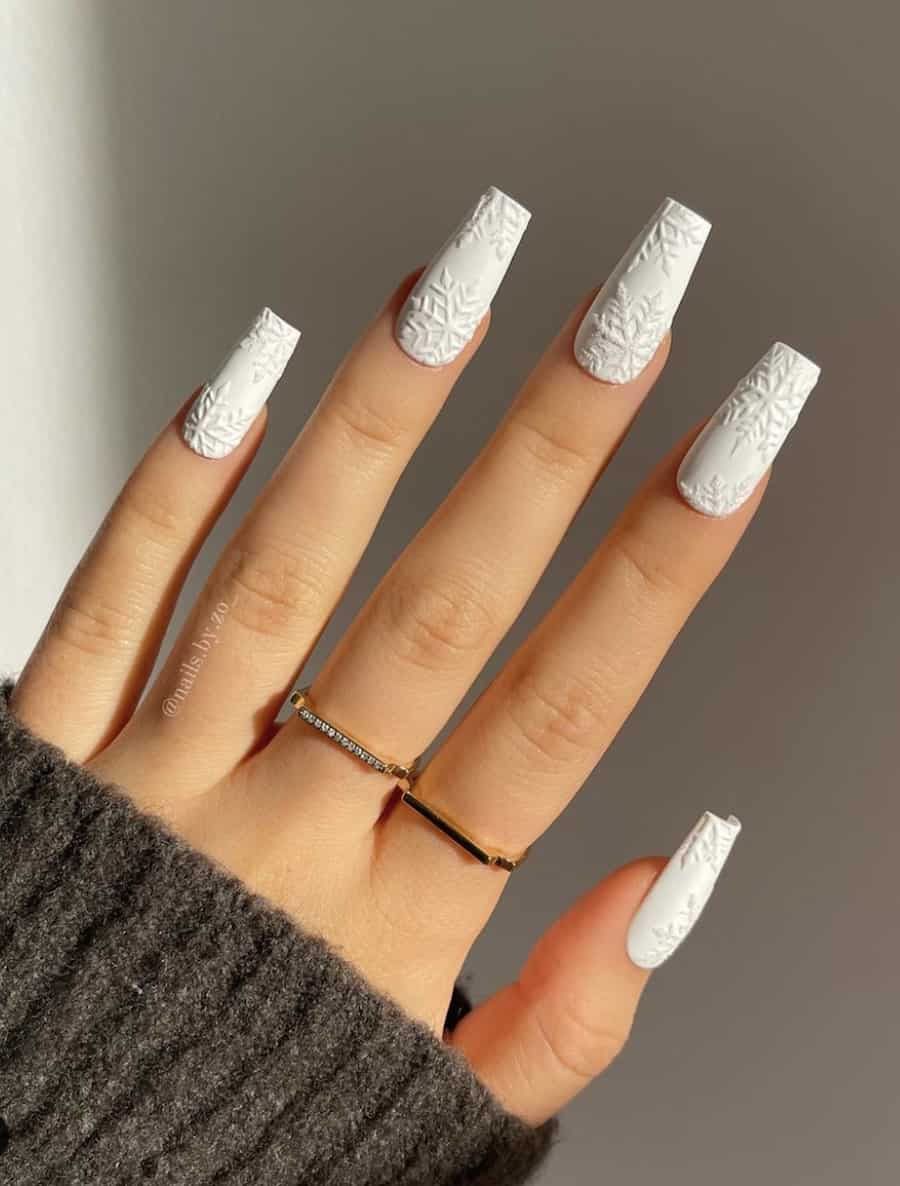 Bold long nails paired with classic colors are something we just can't get enough of. The solid white nails look incredible with the addition of the detailed snowflake texturing.
This is another great snowflake nail look to try if you want something cute but refined.
12. Clear & White Winter Flurry Nails
This next nail design is an absolute beauty. Shiny white nails are accented by shimmering snowy designs.
The translucent base of the accent nails with the snowflakes on top reminds us of days spent outside playing in the snow. This nail art is perfect for a chic and spirited Christmas look.
13. French Tip Nails w/ Black Snowflake Art
The traditional style of these nails looks amazing when paired with dark snowflakes. We love the combination of French tips and full coats, both highlighted with glittery silver accents.
The black creates a bold but stylish look making these nails perfect for any holiday party you attend this year.
White and Gold Christmas Nails
Gold accents are always a gorgeous addition to any nail look. It also adds a festive touch that is perfect for winter and the holidays.
14. White Nails w/ Mistletoe Art + Gold Foil
These short, square nails look amazing painted in crisp white and a rich green. The mistletoe nail art gives this manicure a holiday feel while the gold flecks add a classy touch. You really can't go wrong sporting these beautiful nails this December.
15. White Nails with Gold Foil
While this nail design has more of a minimalist look, they still look absolutely gorgeous. Shiny white nails make up the base of this manicure and the gold flecks on two accent nails give it an elegant feel.
If you want beautiful nails for Christmas without detailed designs, this may be the perfect one for you.
16. White Nails with Swirl and Gold Foil
These lovely nails have a unique design that sets them apart from the rest. The wavy swirls are fun with a youthful vibe while the gold foil accents keep them looking chic.
This design looks great on these short, square nails but it would complement long nails just as well.
17. Coffin Nails w/ Green Leaves and Gold
The translucent look of these coffin nails gives them a frosted winter look. While these nails use a dark green for the leaves, the transparent design keeps them looking chic and refined.
Gold accents on the ring finger add a luxurious touch as well.
18. Gold + White Christmas Present Nails
Our next stunning set of nails is one of the most unique designs on this list. The deep gold tone of the accent nails and wintery designs make these nails look rich and lavish.
We adore the design on the middle nail, meant to look like a present wrapped up under the tree.
19. Nude Stiletto Nails with White Star Art + Gold
This manicure is so gorgeous and classy. The nude nail polish is a perfect background for the delicate white stars and shimmering gold dots.
These nails are perfect for Christmas and would still look amazing even after the holiday has passed.
White and Silver Christmas Nails
We couldn't forget the classic combo of white and silver. These colors complement each other so well and really invoke the spirit of Christmas.
20. White + Silver Glitter Nails
This design puts a playful spin on a timeless nail design. We love how the glitter nails shimmer next to the classic white polish.
The wavy lines add fun details and the sparkly silver polish keep this manicure looking chic.
21. White Christmas Nails with Silver Leaf Accents
This stunning manicure has a festive feel but stays looking refined and elegant. We love that the nails feature different botanical designs on each finger.
The shimmering silver looks amazing, and the deep grey adds richness to the nails that complete the look.
22. White Snowy Nails w/ Greenery Art
Last, but definitely not least, these long, square nails have a matte white base that is perfect to showcase the mistletoe nail art. The dark green of the leaves and the snowy accents complement each other well.
This is another design that would look great on any nail length or shape.
How do you paint your nails for Christmas?
There are so many beautiful and chic Christmas nails to choose from! Below are some great Christmas nail ideas from our list:
Frosty blue with snowflake accents
Solid white with a cable-knit sweater design
Matte white with gold foil accents
Red and white candy cane pattern
White with eucalyptus leaf art
White with silver glitter
No matter which nail color or art you choose, you'll be feeling festive and ready for Christmas! We hope this list has inspired you to get the perfect nails this holiday season.
More Nail Style Posts You'll Love:
19+ Gorgeous Emerald Green Nails You'll Want To Copy
21+ Chic Neutral Nails For A Classy, Minimal Aesthetic
21+ Cow Print Nails That'll Make You Love This Viral Trend
19+ Stunning Navy Blue Nails & Dark Blue Nails