Are you wondering what to wear underneath a blazer? I've got you covered! Learn all about what to wear under a blazer for a female, and get chic outfit ideas with all the different top options!
*this article contains affiliate links*
What To Wear Under A Blazer
Blazers are the ultimate fashion staple. I absolutely love the blazers I own for their versatility – I'm just as likely to pull out my go-to black blazer on the weekend for date night as I am for a work-related function.
Paired with certain tops, blazers can look formal and professional. But they also elevate less fancy tops (like a white tee) so you can feel chic and put-together in casual pieces too. I couldn't imagine my wardrobe without my trusty blazers, but I know that many women fall into a fashion rut when it comes to styling them.
In this post, I'm sharing exactly what to wear under a blazer for a female who need some fresh ideas. And I've put together effortless blazer outfits to show you how to rock each top option.
What kind of top do you wear under a blazer?
Luckily, you can wear many different tops under a blazer to either dress it up or down. Here are some of the best top options for styling with a blazer:
Button-up shirt –

a classic choice when you want to look sophisticated and preppy.

Crewneck sweater

–

the round neckline is sleek and minimal, perfect for layering.

T-shirt –

the perfect simple base to wear under a blazer for a casual look.

Turtleneck or mock neck –

the high neckline looks beautiful underneath a blazer and feels sophisticated and polished.

Camisole or blouse –

a timeless option that adds a soft and feminine feel to any blazer outfit.

Tank top or bodysuit –

great for wearing under a blazer for a casual look when the weather is warmer.

Hoodie or sweatshirt –

these balance out a blazer's formal vibe and makes the overall look more casual.

Dress –

a great piece to wear with a blazer for work or dressy occasions.
Read on to see how I style each of these top options to inspire your own blazer outfits.
1. Button-Up Shirt
get the look:

This business casual combo will never go out of style. In this outfit, I layered a white linen button-up shirt underneath my oversized plaid blazer. The neutral tones go really well together and give the overall look a clean, elevated aesthetic.
You can go with any color of button-up, as well as different fabrics like cotton, linen, silk, or satin. Just be sure to choose a slim-fitting shirt to avoid excess material beneath the blazer.
I opted for a more relaxed pair of denim to keep the look preppy and less formal, but you could easily wear trousers or a tailored suit for a professional look.
2. Crewneck Sweater
get the look:

I love how streamlined a crewneck sweater looks underneath a blazer. The minimal neckline doesn't compete with the blazer and flatters any body shape.
You can choose a lightweight knit (like I've done here) and tuck it into your pants for a more polished look. In colder weather, a chunky cable knit under an oversized blazer will add warmth and interest to your outfit.
3. Basic T-shirt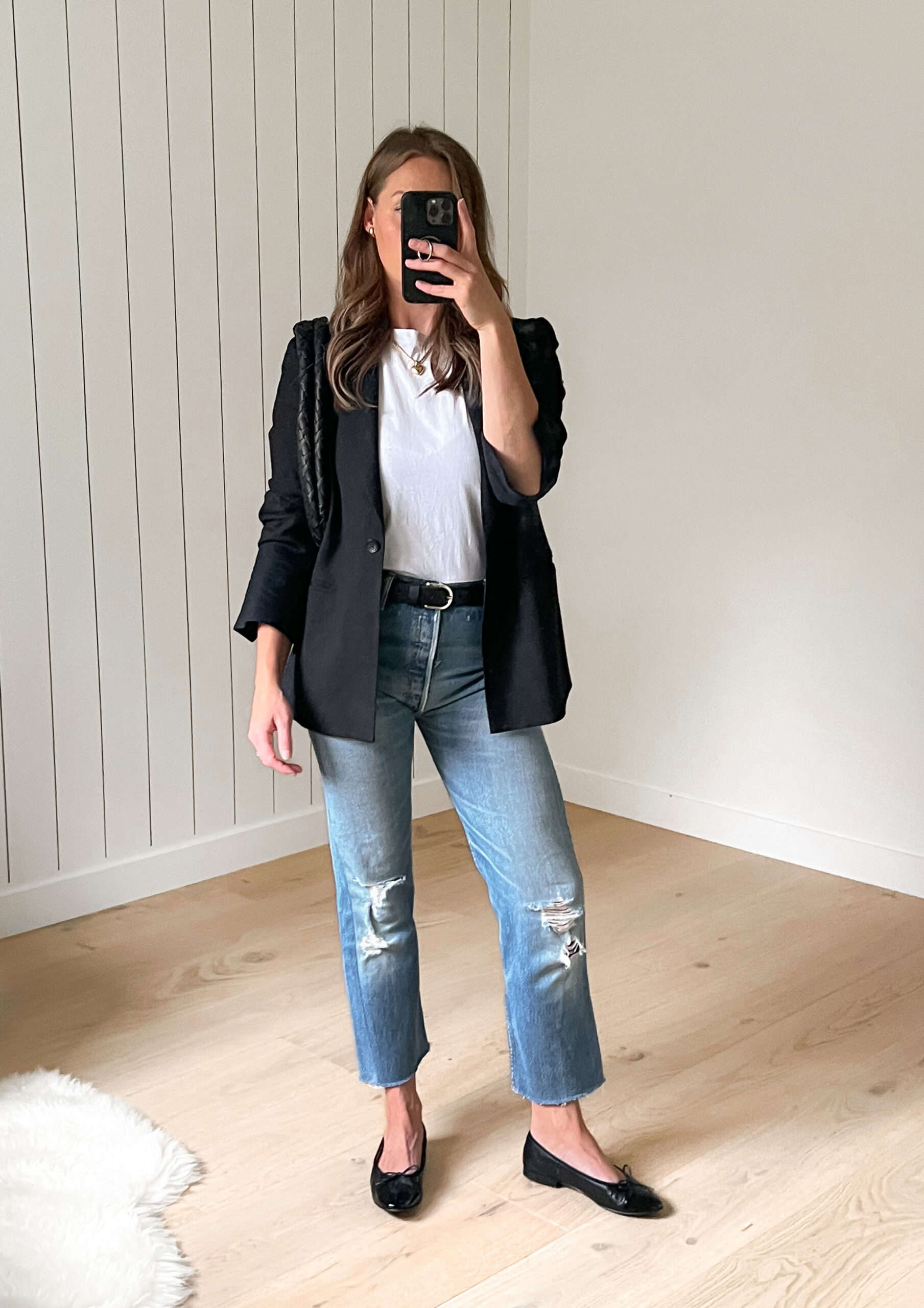 get the look:

When in doubt about what to wear under a blazer for a female, you can't go wrong with a basic t-shirt. This capsule wardrobe staple perfectly balances the formality of a blazer to create a casual combo.
I kept the look minimal with my oversized black blazer and accessorized with a black belt and black Chanel ballet flats (this really makes the white pop!).
White is a foolproof choice, but any neutral hue or colorful shade will look great under a blazer. And for an edgy look, try a graphic tee!
4. Turtleneck
get the look:

If your goal is to look sophisticated and radiate "old money" vibes, go with a turtleneck underneath your favorite blazer.
You can wear this look well into the winter. A thick, cozy turtleneck like the one I'm wearing adds texture and is great for cold days. You can also wear a fitted turtleneck or one in a lightweight ribbed fabric under a blazer.
5. Camisole or Blouse
get the look:

A feminine camisole or blouse is another great choice to wear under a blazer. These dainty tops help soften the masculine look of a structured blazer.
In these outfits, I've paired a black blazer with a knit camisole for a date night look. To make this outfit more girly, you could wear a lace or silk camisole, or go with a blouse for more coverage.
6. Tank Top or Bodysuit
get the look:

One of my favorite tops to wear under a blazer is a casual tank like the one above. A relaxed, basic tank top contrasts beautifully with a tailored blazer and can look casual or professional depending on the style.
A more streamlined option is to wear a bodysuit with straight-leg jeans or trousers. Either way, these sleeveless tops are guaranteed to look sophisticated.
Bonus: They make wearing a blazer in warm weather more tolerable.
7. Hoodie or Sweatshirt
get the look:

This combination might not be your first thought, but layering a blazer over a hoodie is something fashion experts swear by – Vogue Magazine says "layering a sweatshirt under a blazer combines the benefits of comfy, relaxed leisurewear and put-together, structured tailoring into one effortless look."
You can transform sweatshirts from ultra-casual to ultra-chic simply by adding an oversized blazer and luxe accessories.
Layering with a bulky sweatshirt can be tricky, so it's almost always best to go with a more lightweight or fitted hoodie. I rocked a luxe knit hoodie under a black blazer in this look.
For a model-off-duty vibe, you can swap your jeans with sweatpants, bike shorts, or leggings!
8. Dress
get the look:

Whenever you're unsure of what to wear under a blazer for a female, try a dress.
Here, I paired my go-to black blazer with a ribbed knit midi dress. The length and fabric of the dress are appropriate for work or dressy occasions, while still being comfortable and flattering.
You can also wear a flowing, chiffon-style dress with an oversized blazer, or try a mini dress. Just be sure to choose a long-line blazer that hits right at the dress's hemline for a more modern look.
What do you wear under a cut out blazer?
In my opinion, the best styling option for a cut-out blazer is to showcase the details by keeping your blazer fully buttoned and just showing your skin through the cut-outs. Thus, all you need to wear is a bra, bralette, or crop top underneath.
If you prefer more coverage, you can easily wear a lace top, tank top, patterned top, bodysuit, or plain t-shirt under a cut-out blazer.
As you can see, there are so many great top options to wear under a blazer. When making your choice, consider the occasion (casual or dressy), and opt for neutral color combos (black blazer/white top, camel blazer/black top, grey blazer/ivory top, etc.) for a guaranteed timeless look.
More Style Inspiration You'll Love:
14+ Chic Plaid Blazer Outfits You'll Fall For This Season
19+ Blazer Outfits That Prove You Need One In Your Closet
12+ Crop Blazer Outfit Ideas That Prove You Need This Chic Piece