Looking for stores like Everlane with elevated wardrobe basics, a minimal aesthetic, and sustainable products? My list of the best brands like Everlane will give you a lot to choose from!
*this article contains affiliate links*
Best Stores Like Everlane
Everlane has been one of my go-to brands for quality wardrobe staples and timeless pieces for years. With sustainable practices and materials woven into the brand's ethos, Everlane offers stylish and ethical alternatives to fast fashion basics at attainable prices — and they have excellent sales all the time!
I often shop at Everlane when creating my capsule wardrobes, whether I need a basic long-sleeve top, comfortable jeans, or the perfect tee. Best-sellers like The Barrel Pant(my personal favorite) and The City Boot are one reason why this brand remains so popular and why their pieces frequently sell out!
If you're looking to add some new brands similar to Everlane onto your shopping radar, you'll want to scroll through the 10+ stores below. These are contemporary brands that I love with the same vibe as Everlane, and I think you'll love them too!
Aritzia is the first on my list of stores like Everlane, as both brands offer timeless, minimalist basics I find myself wearing weekly.
If you're not already familiar with this Vancouver-based brand, get ready to fall in love. The global-store-meets-boutique has several labels within the main brand, including Babaton, Wilfred, Sunday Best, and TNA. And they carry Agolde and Citizens of Humanity denim (I'm wearing the Agolde Cooper Cargo Jeans above).
Like Everlane, Aritzia's array of sweaters, blouses, dresses, and pants are just as perfect for the office as they are for casual weekend wear. And their prices are approachable too, with most items ranging from $30 for a tee-shirt to $500 for their iconic Super Puff coats (which are worth the hype, in my opinion).
Aritzia also has a commitment to sustainability which you can read about here.
Madewell is another one of my favorite brands similar to Everlane that offers a range of wardrobe staples — including the most comfortable Perfect Vintage Jeans (seen on me above). At Madewell, you'll also find versatile tops, practical outerwear, and chic footwear.
Based on my experience, Madewell really shines with their denim. If you're a fan of Everlane jeans, I know you'll fall head over heels for Madewell's denim collection, which has every style imaginable, including wide-leg, vintage-inspired, and curvy. Both brands also do stunning suede and leather bags, so take your pick.
When it comes to cost, Madewell falls within the same price range. And in terms of sustainability, Madewell also has that covered!
J. Crew is a clothing brand that's been around forever, and if you're anything like me, then you've had your fair share of J. Crew shopping trips in the past. If you haven't been to their site or shopped in stores for a while, here's what you need to know. They've had a massive rebrand in the last few years, returning the brand to its former glory (and then some).
Like Everlane, the new J. Crew doesn't chase trends. Instead, they aim to create quality clothes that will remain in your closet for decades while incorporating exciting new designs. For example, this timeless and versatile Sweater Blazer and Leather Bucket Bag.
In terms of sustainability, J. Crew uses sustainably sourced cotton, wool, silk, and more. You can read more about their corporate responsibility here.
& Other Stories is one of Vanessa's favorite brands like Everlane and she finds herself checking their website for new-in items a few times a month. The brand's styles have a chic Parisian vibe (all of their pieces are designed in Paris, Stockholm, and L.A.) that look and feel more expensive than they are!
Both Everlane and & Other Stories are similar in pricing and the pieces are great for building up a capsule wardrobe – with wool coats, basic tops, classic jeans, beautiful boots, and leather bags. However, & Other Stories offers more styles with a unique or feminine twist, like these dresses, while Everlane's clothing often leans toward more utilitarian and minimalistic styles.
Regardless, if you love Everlane, I'm quite certain you'll find many pieces to love at & Other Stories!
I am a firm believer that fans of Everlane will feel at home browsing Modern Citizen's site. The brand shares a similar ethos and style to Everlane, focusing on high-quality, versatile, and modern pieces that are elevated and accessible.
They have sustainability at their core and even have an eco-conscious collection with clothing made from responsibly sourced organic and recycled materials. I love that their classic pieces have a unique and modern edge. So you can build up your capsule wardrobe and have fun with fashion at the same time.
If you're on the hunt for fashionable, high-quality basics, COS is the place to shop. I think this brand is similar to Everlane in that it focuses on timeless, minimalist pieces that will always have a place in your wardrobe.
In my opinion, COS feels grown-up and sophisticated. It has a luxury feel without the luxury price point, so it's perfect for workwear or if your everyday look is more elevated.
And like Everlane, you'll find that many COS pieces are made from natural, sustainable materials like organic cotton, silk, and merino wool, as well as recycled fabrics.
Next on my list of stores like Everlane is Alex Mill. This brand reminds me so much of Everlane. Both stores highlight closet classics, like poplin shirts, chino pants, and knit sweaters for both women and men.
Alex Mill also has a minimalist, capsule wardrobe approach to shopping. You don't need ten blazers in your wardrobe—you just need the perfect one (or two). Everything in Alex Mill's collection was meticulously designed and crafted to be the ideal fit for your wardrobe so you can throw it on and feel confident as you go through your day.
Compared to Everlane, some of Alex Mill's prices are slightly higher. But based on the brand's rave reviews, they're highly worth it and make a timeless addition to anyone's wardrobe.
Brands Like Everlane But Cheaper:
If you are looking for stores like Everlane that have pieces at a bit of a lower price point, you'll love the list I've created below. I have tried and tested most of these brands and love that they offer pieces similar to Everlane, for less.
If I could only ever shop at one brand ever again from this list, it would be Quince. In fact, several of the Quince pieces are compared directly to Everlane pieces in the site's Beyond Compare charts below each item. See the example below for the Quince Australian Merino Half-Zip Sweater which is a more affordable alternative to the Everlane Felted Merino Half-Zip Sweater:
Like Everlane, Quince walks you through the costs behind each product. They also maintain low prices and high-quality pieces by cutting out traditional retailer costs.
Their prices are insanely good, even for luxe and organic fabrics. For example, this Quince Oversized Cashmere Cardigan is unreal, and in my opinion, it's almost identical to the Jenni Kayne Cashmere Cocoon Cardigan for 1/4 of the price!
If you love Everlane's cashmere knits, you'll be happy to know that Quince has a Mongolian cashmere sweater for just $50. And if you love the feel of silk, Quince has a silk v-neck cami for just under $40.
When it comes to brands similar to Everlane that are more affordable and still high-quality, Quince is the winner in my books!
If you love the cool-girl aesthetic, you'll love Oak & Fort. Here you'll find modern and trend-lead pieces as well as timeless classics, like cashmere knits and oversized wool coats.
They also have more affordable prices than Everlane and often run sales or discount codes, so the pieces will be well within your budget if you're wanting to mix things up.
Did I mention they carry the best faux leather tote that's a great look-a-like of Everlane's popular Studio Bag? Oh, and it's at a fraction of the price. See me wearing it in the photo above!
Designed in Stockholm, all of Arket's pieces are undeniably beautiful (and IG-worthy). Their modern and effortlessly cool aesthetic favors clean lines, neutral colors, and natural materials—aka all of the things I look for in my wardrobe staples.
Similar to Everlane, Arket's clothes are made with a sustainable, circular approach. This means each product is designed to be loved and worn for years, thus having a light environmental footprint.
They have a wide price range and selection, so there is something here for everyone. Whether you're in the market for a new white tee or a lavish leather jacket. Unfortunately, Arket is not yet shipping to the US, but they do have shipping to most other countries (including Canada) and have stores across Europe.
Last on my list of brands similar to Everlane, is Uniqlo, a Japanese clothing store that has gained global popularity for its high-quality casual clothing. They carry everything from jeans and jackets to loungewear and workout gear.
Like Everlane, Uniqlo isn't constantly pushing out new styles or following trends. Their clothing has simple, easy-to-wear designs and sticks to a neutral color palette. Uniqlo also has some sustainability policies in place, like using recycled and responsibly sourced materials.
Uniqlo is popular because it offers good basics at reasonable prices. Compared to Everlane, this brand is more affordable, which is great if you're looking for a budget-friendly alternative.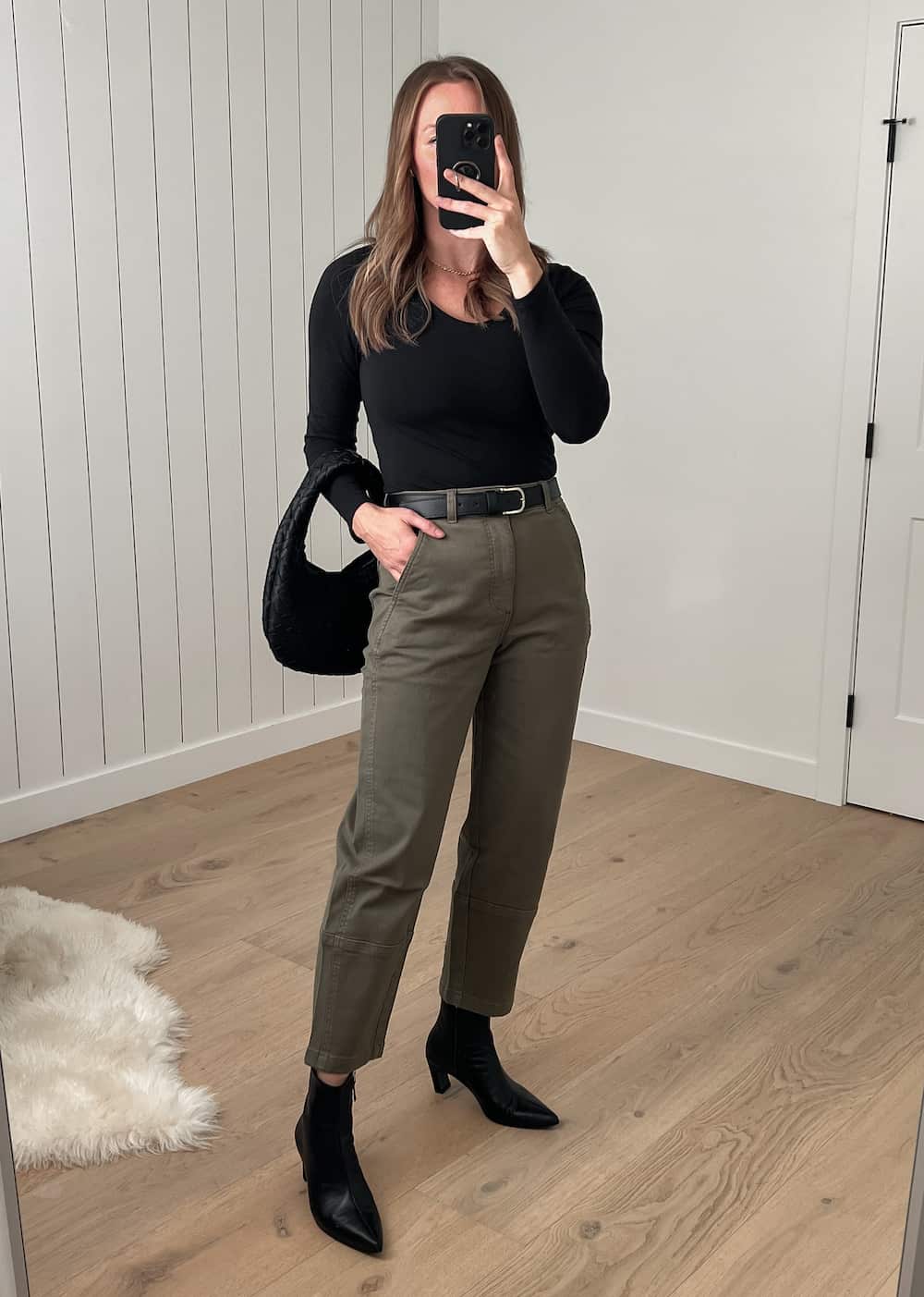 Why is Everlane so popular?
Everlane has quickly become one of the most popular clothing brands since its startup in 2010. Their approach to transparency and sustainability kickstarted their success, as did their solid lineup of closet basics. The company has grown to sell everything you need for a capsule wardrobe. The pieces are modern but not trendy, ensuring they stay timeless for years on end.
Everlane is also reasonably priced. With a direct-to-consumer model, the brand cuts down traditional retailer mockups, so you spend $150 on a silk shirt rather than $400. Ultimately, the customer saves money and feels good about their purchase—which is why so many people can't get enough of Everlane!
I hope you have enjoyed my list of brands and stores like Everlane, and are now inspired to expand your horizons and delve into some (sustainable) retail therapy!
More Brands Like Posts You'll Love:
16+ Stores Like Artizia You Need To Know About
15+ Stores Like Mango for Chic Euro-inspired Apparel