Looking for the best Aritzia Effortless pant dupes? I've tried and tested several pairs and am sharing my top 7 +Artizia Effortless pant dupe picks! They are all budget-friendly and great look-alikes for less!
*this post contains affiliate links*
Tried & Tested Artizia Effortless Pants Dupes
I've been an Aritzia customer for over a decade. In fact, it's one of my favorite stores to shop when looking for elevated and minimal pieces I can wear on a casual outing or dress up for date night.
If you've also come to love Aritzia, you are likely familiar with the Effortless pants which have amassed over 1,200 reviews (and an almost 5-star rating). These crepe wide-leg dress pants are flowy, flattering, and as the name suggests – effortless to style.
But, these gorgeous pants are $148, making them out of reach for a fair number of people who can't justify the price. If you can relate, you've come to the right place.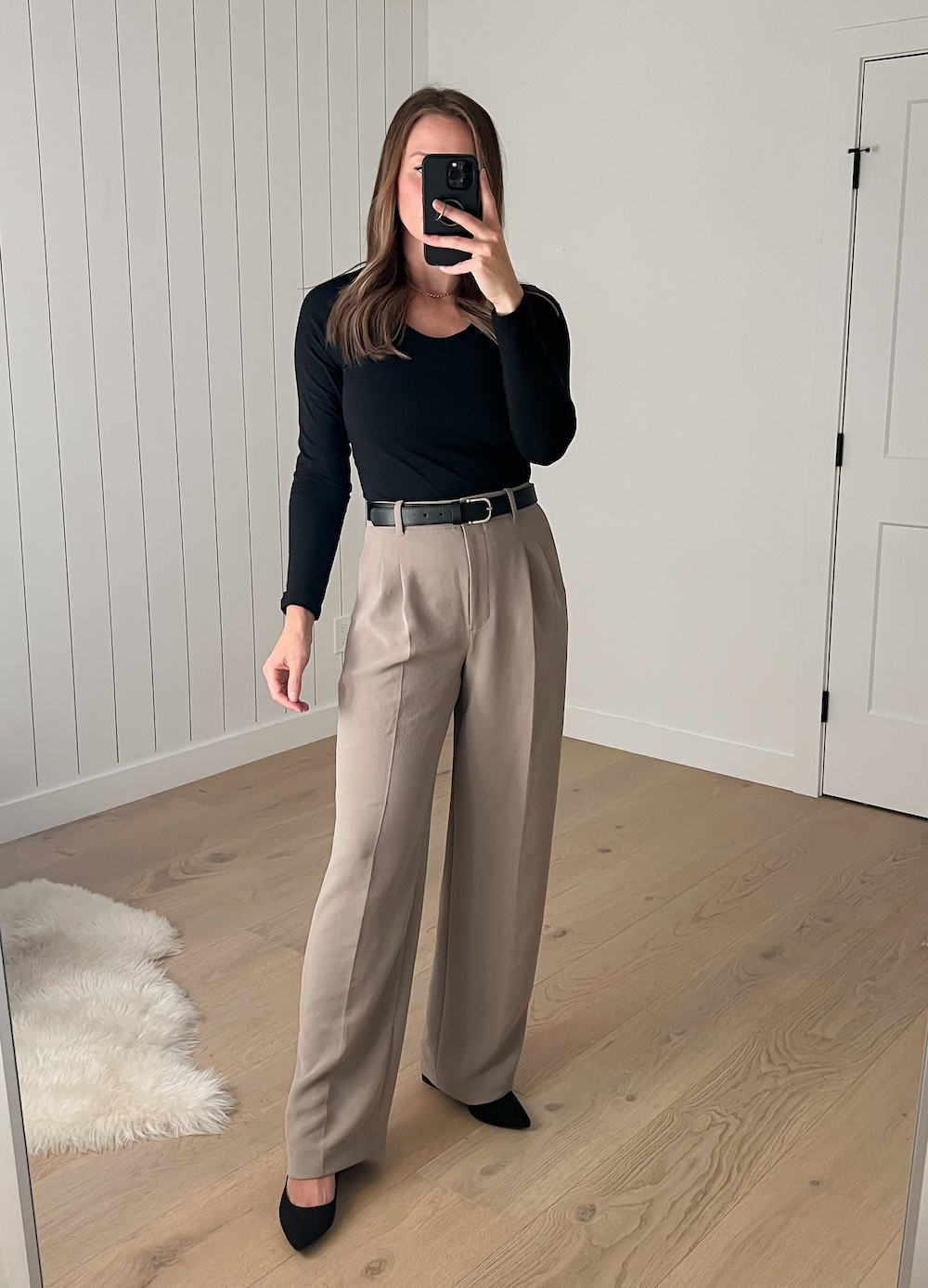 Aritzia Effortless Pants Dupes: My Top Picks
I've searched high and low for the best Aritzia Effortless pants dupes, and have put several to the test. Read on to learn about each one and why they made my list!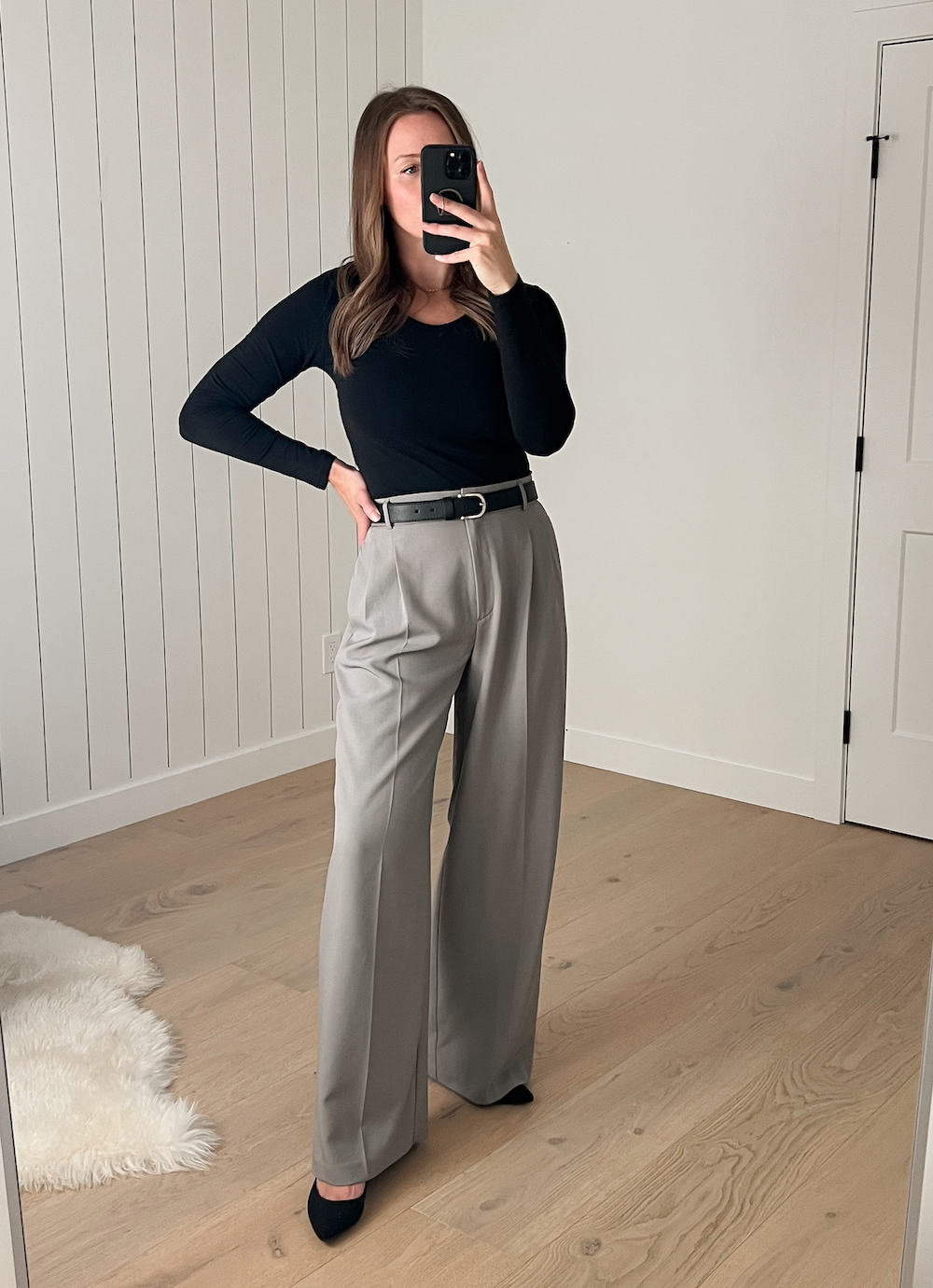 The first Artizia Effortless Pant dupe on my list is from Dynamite – a great store for business-casual attire for women. These are the Ellie Pleated Wide-Leg Pants in Rainstorm Grey.
I found the fit of these pants to be most similar to the Effortless Pants in terms of the overall style and width of the leg opening. In my opinion, these dupe pants have a nice feel to them, drape beautifully, and fit true to size. And while they are slightly more lightweight than the Effortless Pants, they are an excellent alternative for half the price!
The Ellie Pants come in grey, black, and violet, as well as a grey and black pinstripe. I would love to see them in more colors like ivory and taupe, so I'm keeping my fingers crossed for more variety in the future. Dynamite also carries these Straight-Leg Pants which have a similar look as well!
Next up are the Wide-Leg Pants from H&M. These Artizia Effortless Pants dupes are very affordable and a great option if you are on a tight budget.
While the quality is not as good as the Effortless Pants, I was still impressed with how comfortable these pants were. They are quite lightweight but still nice and flowy, and the pleating detail is very similar.
I did notice the length of these pants is shorter, and so they don't have the same elongating effect that I love about the Aritzia pants. That being said, if you are shorter than 5'6″ (my height), you'll probably find these dupe pants to be the perfect length (no hemming necessary!).
The next dupe on my list was touted by Shape Magazine as "an affordable alternative to the wildly popular Aritzia Effortless Pants", so I had to check them out for myself!
The Amazon Tronjori Wide-Leg Pants are a surprisingly comfortable pair of very flowy wide-leg pants. But as you can see, they are more of a palazzo-style pant than wide-leg.
I still wanted to include them on my list because they are super affordable. And while the quality isn't as good as Artizia, you can't beat the price!
These pants also have an elongating effect like the Effortless pants and they come in several colors including the Mocha color I am wearing above, which is very similar to the Nomad Taupe from Aritzia.
Additionally, here is another Amazon Effortless pant dupe I came across when I ordered these.
I so badly wanted to order this next Artizia Effortless pants dupe but my size was sold out! I can always count on Quince for great affordable look-alikes (see my list of Jenni Kayne dupes!).
In my opinion, these Crepe Wide-Leg Pants are as close to the Effortless pants as they get in terms of material, but with a touch of added stretch. In fact, Quince compares them directly to Aritzia on their website in their "Beyond Compare" chart (I've added it below too!).
Not only are these dupes 53% less in price, but they are also made with recycled materials and are wrinkle-resistant! For all of these reasons, I had to include the Quince pants in this list of Effortless pants dupes.
The next dupe on my list is the Sloane Tailored Pant from Abercrombie & Fitch. These pants have been touted as a great Effortless pant dupe in the TikTok world, and I can totally see why.
Not only do they have a very similar overall style and look, but Abercrombie has been known to make great Artizia dupes on the regular. These pleated trousers are made with polyester, viscose, and spandex, giving them a slightly different fabric composition than the Effortless pants. But many happy customers say they are extremely comfortable.
In short, you can read the 1300+ reviews yourself and see that these Effortless pant dupes are a fan favorite – or just take my word for it!
When it comes to simple wardrobe staples and neutral basics, Uniqlo is one store that should not be overlooked. I often like to browse Uniqlo when I'm at the mall and have been pleasantly surprised with some of the pieces I've found – these pants included.
For just under $50, this pair of Effortless pants dupes are made with a mix of polyester, rayon, and spandex (6%). So they have a decent amount of stretch, whereas the Effortless pants don't have any.
If you prefer a little stretch, want to save a good chunk of money and consider the overwhelmingly positive reviews, I think you'll agree that these dupes are worth consideration!
Finishing up my list of Artizia Effortless pants dupes is this pair of Wide-Leg Trousers from Oak & Fort.
If you aren't familiar with Oak & Fort, it's likely because they are a relatively small Canadian brand. That being said, they make great minimalist-inspired pieces at an affordable price – so this brand should be on your radar!
These wide-leg trousers have a flowy fabric composition of polyester, rayon, and spandex, and look very similar to the Effortless pants, in my opinion. One notable difference is the overlapping waistline with the off-center button, but overall it's a minor detail.
I'd recommend giving these dupe pants a try if you want great quality trousers in beige or black with an Effortless vibe.
A few more options…
I wanted to include a few more options that are worth consideration! While these pants are not as close in appearance as the dupes listed above, they are still similar in style and budget-friendly!
I hope you have enjoyed this list of Aritzia Effortless pants dupes and have found the perfect pair for your style and budget!
pin this:
More Best Dupe Lists You'll Love:
The Best Aritzia Super Puff Dupe (+ More Look-alikes)
Best Lululemon Align Tank Dupes: 9+ Look Alikes For Less!
Ugg Slippers Dupe: 7+ Look-Alikes (Coquette, Tasman, Tazz)
2023 Lululemon Belt Bag Dupes: 11+ Great Look-Alikes I Found