Looking to start a capsule wardrobe in 2023? Check out the best capsule wardrobe brands with quality, minimal, timeless pieces that are versatile enough to be worn again, and again…and again!
*this post contains affiliate links, updated for 2023*
The Best Capsule Wardrobe Brands
Capsule wardrobes have gained popularity over the years as many people are now striving to become increasingly mindful consumers with a smaller, more purposeful wardrobe.
Sustainability, concious consumerism, and minimal fashion trends have made capsule wardrobes "the new black". Because of this, there are now many brands that offer timeless and essential basics or have capsule wardrobes as part of their collections.
We've scoured the fashion world and have sourced the best capsule wardrobe brands of 2023 to share with you. These brands offer classic, minimal, high-quality pieces, with ethical and sustainable fashion in mind.
Where are the best places to shop for capsule wardrobe clothes?
When it comes to creating a capsule wardrobe, you'll want to shop with brands that offer a variety of timeless and versatile clothing. The best places include:
Encircled
Everlane
Cuyana
Jenni Kayne
Quince
ABLE
Mango
COS
…and a few more! We will cover all of these brands in detail below.
Shop Bestsellers:

Encircled is a Canadian-based capsule brand that ships worldwide. They create classy, comfortable, and versatile wardrobe staples that can take you from home to just about anywhere. Encircled offers individual pieces along with "kits" including the "versatile basics" kit, the "work from everywhere" kit, and the "carry-on" kit.
The brand also focuses on ethical production with clothing sewn by highly-skilled, fairly paid workers located in North America. Additionally, all the fabrics used are thoughtfully chosen to meet high standards in wearability and sustainability.
Shop Bestsellers:

Stunning quality, classic design, and versatility are the hallmarks of capsule wardrobe brand Cuyana. The brand carries a great range of clothing along with a gorgeous collection of purses, totes, clutches, and travel bags. With a mix of classic neutrals and calming seasonal color tones, the pieces are ideal for curating a timeless capsule.
Cuyana believes that time is the new luxury so, fewer = better. Each piece is made thoughtfully, and the brand focuses on ethical conduct and environmental responsibility. Definitely one worth checking out!
See our Honest Cuyana Review for more details on the brand.
Shop Bestsellers:

When it comes to pricing, Quince is the best on the list. The brand offers quality wardrobe essentials and capsule collections for surprisingly low prices. If you want to build an affordable capsule wardrobe, Quince is not to be missed.
They actually compare the prices of their products next to many high-end brands right on the website. Even at a much lower price point, Quince stands behind a high-quality promise. And, there are thousands of rave reviews on the website to prove it.
Pieces are made sustainably with materials like organic cotton and linen. And, they offer a line of luxurious home products as well. We love Quince!
Shop Bestsellers:

Still one of our favorite brands in 2023, when it comes to stylish, classic wardrobe essentials, Everlane is our go-to. This brand has pretty much reached icon status over the year and for good reason. The pieces are tried, tested, and true.
From basic tops and luxurious knits to flattering denim, outerwear, and quality shoes and accessories, the brand has it all. You could easily build an entire Everlane capsule wardrobe and be perfectly happy. They also have the best t-shirts for capsule wardrobe creation.
We also love Everlane's commitment to transparency, sustainability, and ethical fashion. Win-win-win!
Shop Bestsellers:

Timeless meets luxury with style icon Jenni Kayne's fashion and home brand. If you have a healthy budget and want the best of the best, this is an old money fashion brand worth checking out.
Each piece is made with quality fabric and craftsmanship, and it doesn't go unnoticed. We love the Jenni Kayne brand so much that we've done a Jenni Kayne Review as well as a specific review of the Jenni Kayne cocoon cardigan.
With such a wide range of beautiful wardrobe staples, you can easily create a luxurious curated capsule wardrobe with Jenni Kayne that will last you years to come.
Shop Bestsellers:

Another brand on the list with an excellent price point is Mango. While the brand carries all kinds of clothing with bright colors and busy patterns, they also have a Basics collection from which you can curate a great capsule wardrobe.
In addition to the clothing, Mango also carries a great selection of shoes and accessories with a timeless appeal. In terms of sustainability, Mango states that they are committing to a circular economy, recycling, and reducing textile waste. Additionally, they have a goal that by 2022, 100% of their products will be sustainably made.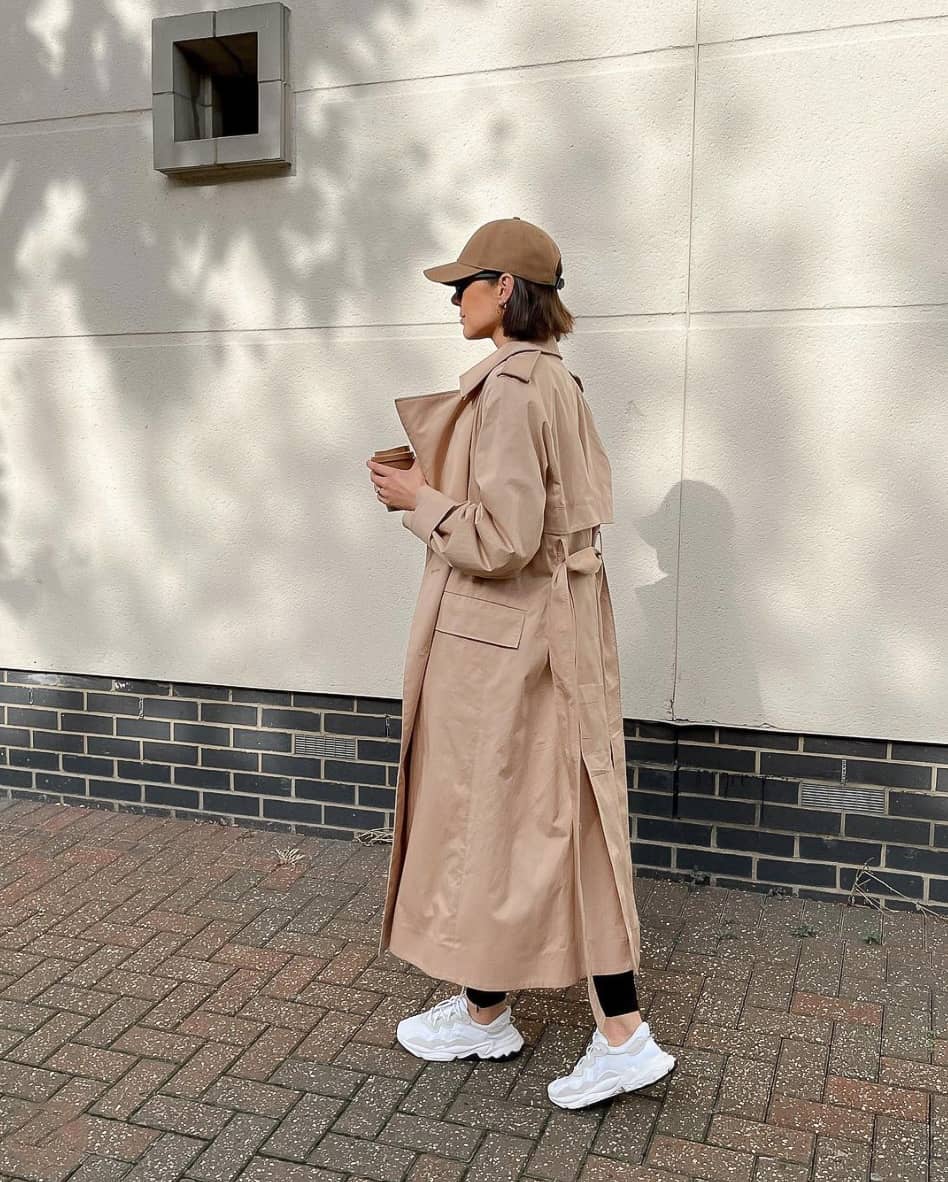 COS is all about modern style, designed to last. They create minimal, classic pieces and have capsule wardrobe selections including their COS Icons collection. They also have an Essentials collection which can be the building blocks of your everyday wardrobe.
The brand also focuses on sustainability in three areas – product, people, and the planet. In 2023, this brand is definitely one to watch (and invest in!).
Shop Bestsellers:

Next, on our list of best capsule wardrobe brands is Aday. This modern brand makes capsule wardrobe pieces that are cleverly designed to be as versatile as possible. The clothing is sustainably produced with innovative fabrics that are chosen for durability and longevity.
The brand believes that "surrounding ourselves with fewer, more sustainably and beautifully designed choices brings us clarity and satisfaction" and, we agree! Aday carries a great line of daily essentials, athleisure wear, and accessories, fit for all kinds of activities and occasions.
Shop Bestsellers:

Lastly, one of the more luxury fashion brands on this list, Eileen Fisher is all about upscale simplicity. The brand showcases monthly 7-Piece capsules that feature how to use seven pieces from their collection to create 15+ outfits. And, you can also buy individual items to create your capsule.
Eileen Fisher uses high-quality materials and the clothing is crafted with fair trade, organic fibers in iconic shapes. Quality, timeless design…what more could you ask for?
More Capsule Wardrobe Brands
In case you needed even more great capsule wardrobe brands, we decided to add a few more honorable mentions to the list!
10. ABLE – While ABLE doesn't offer specifically curated capsule collections, they do carry a wide range of neutral basics and effortless, versatile pieces. The brand is also women-owned and a big part of it's mission is to invest in women in vulnerable communities.
11. Vince – Another brand worth noting, Vince is a California-based brand that is all about timeless luxury. The price point is high, so this brand is not for those on a tight budget. But, you get what you pay for. In short, quality, durable pieces, that last wear after wear, year after year.
12. Tradlands – This small-batch brand creates timeless pieces that work great for a neutral or colorful capsule wardrobe. They make simple designs using high-quality materials that last.
Capsule Wardrobe FAQ:
If you are new to the concept of capsule wardrobes, you'll be relieved to know you don't have to create one in a day. If you have questions, we are here to help! Check out the answers to some of the most common questions about capsule wardrobes below.
Is a capsule wardrobe a good idea?
Absolutely! The beauty of a capsule wardrobe is that it can save you time, reduce stress, and benefit your bank account. The idea behind a capsule wardrobe is that "less is more". By reducing the clutter in your closet, you are left with pieces you love that are versatile enough to create a multitude of outfits.
It will take you less time to get ready each day, and you'll learn how to live with less. And, that means spending less in the long run. You'll no longer have a closet full of clothes and "nothing to wear".
What is the perfect capsule wardrobe?
The perfect capsule wardrobe reflects your personal style, lifestyle, and daily needs. This might mean you have a closet with a great selection of business casual items to dress up or down. Or, it could look like a curated collection of jeans, t-shirts, and cozy knit sweaters.
The capsule for a young mom who works from home will look different than a single woman in the corporate world. Therefore, the "perfect" capsule hinges on your individual wardrobe needs.
Curating the best capsule wardrobe for your personal style and your lifestyle takes time, and the process shouldn't be rushed! Instead, it's best to take your time to declutter your closet, then slowly add high-quality pieces until you've achieved a capsule wardrobe that works for you.
What are cons of a capsule wardrobe?
There are a few things to consider when it comes to capsule wardrobes that might be considered a "con" in your books.
They can feel repetitive. Wearing the same clothing again, and again can feel redundant to some people. While many love the effortlessness of a capsule wardrobe, others can find them to be a bit boring.
You'll have to practice self-control. If you are a shopaholic when it comes to clothing, you'll likely find a capsule wardrobe challenging as buying new clothing is something you won't do often. On the other hand, you might find it a relief to spend less and avoid shopping all the time.
More laundry. Because you are working with less clothing you might find you are doing laundry more often. This may or may not be a bother for you.
If you are ready to hop on the capsule wardrobe train and create a capsule wardrobe 2022, check out the many capsule wardrobes we have here on Style Your Occasion to inspire you!
Christal Sczebel is an entrepreneur, published author, and content creator. Over the past decade she has worked in the digital media field building successful websites for both food and fashion. She has a natural affinity for minimal, timeless fashion, neutral home decor, and styling.
Here on Style Your Occasion, Christal is the Editor-in-chief and brain behind the aesthetic. She hopes you love the this space and the inspiration you'll find!