Are you searching for the perfect look-alike of your favorite Valentino shoe? Check out this list of 11+ Valentino dupes that are so good they'll make you do a double-take!
*this post contains affiliate links*
The Best Valentino Dupes
Iconic brand Valentino, designs gorgeous high-end footwear for both men and women, plus apparel and other accessories. If you've had you're eye on one of Valentino's pieces, we aren't surprised!
Founded by Italian designer Valentino Garavani, the label is well-known for combining classic styles with stunning details to create unique pieces that every fashion it-girl wants in their wardrobe.
Like any luxury brand, Valentino pieces come with a high price tag, so if you want the Valentino look but don't have the budget, you've come to the right place! Below are 11+ great Valentino dupes to give you that luxury designer vibe for less!
Valentino Heels Dupe Options
Valentino designs incredible heels that will add elegance and style to any look. These are our top picks for Valentino heel dupes.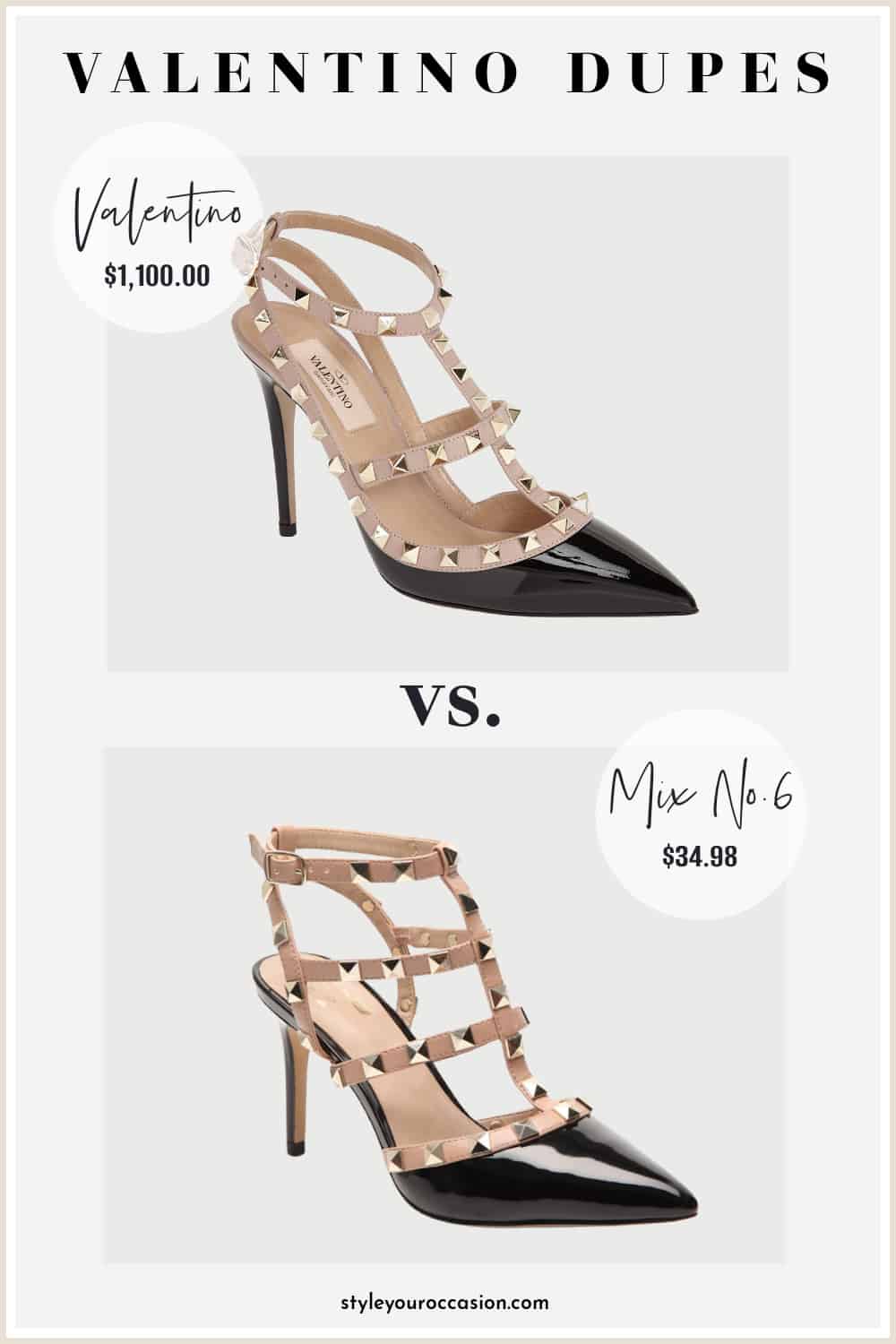 Our first dupe is inspired by the Valentino Rockstud T-Strap Pointed Toe Pump. This gorgeous heel is a glossy black with beige trim and straps. Multiple caged straps have metal stud accents for that signature Valentino look.
The two-toned look of the Valentino Rockstud heels is stunning, and the Liraven pumps perfectly mimic that. While the Valentino is created with soft leather, Mix No. 6 uses faux leather and other synthetic materials in their dupe.
Another slight difference is in height. The Valentino has a four-inch heel, while the Liraven pump has a three-and-a-half-inch heel. However, these distinctions are hardly noticeable, and this dupe is gorgeous and a fraction of the cost of the Valentino heel.
Mix No. 6 has another noteworthy dupe, this one of the Valentino Roman Stud T-Strap Pump. This sleek black pump is daring and absolutely stunning. The Lassy pump is a perfect mix of elegance and edge, and these heels will easily dress up any outfit.
The pointed heels are covered with black faux leather and lined with black studs. And the adjustable straps make for a perfect fit, while the slim heel gives it an elegant look. The dupe is slightly taller and uses beige inside the heel for a peekaboo color.
If you've been eyeing this particular Valentino style, then Mix No. 6 has you covered with this perfect look-alike heel.
Next on this list is a statement shoe with a definite rock and roll feel. This Gladiator Sandal from Michael Kors is an excellent dupe for the Valentino Roman Stud 90 Sandals.
This open-toed shoe has a chunky heel and thick cage straps. The intense black paired with shiny gold studs looks so similar to the Valentino heel that they're hard to tell apart.
The main difference in appearance comes from the Roman studs. The dupe uses a single line of gold-toned studs up the front of the heel, while the Valentino features richer-toned hardware that fully lines each strap.
This shoe has the same breathtaking design as the Valentino while still being budget-friendly. You can also find the dupes in brown here at DSW.
Valentino Rockstud Dupe Options
The classic look of Valentino Rockstud shoes is almost unmatched. But we've found a few gorgeous dupes that make fantastic designer dupes for this popular style.
First on our list of Valentino Rockstud dupes is this Bailey Studded Sandal. This shoe is an excellent alternative to the Valentino Rockstud Jelly Thong. Like the Valentino sandal, the dupe can be bought in black or nude.
These Bailey sandals have flip flop style straps, but these straps are adorned with a double bow and pointed gold studs that add a bold look to these gorgeous shoes. The Bailey can be dressed up or down, making them a versatile piece.
While the Valentino jelly thong falls on the lower end of this brand's prices, this dupe sandal is still a much more affordable option.
Goodnight Macaroon has a fantastic dupe of the Valentino Rockstud Cage Thong. The Valentino Rockstud sandal is made with black leather, thin cage straps, and gold pyramid studs.
The Ruth sandals have the same signature Valentino look minus the stud embellishments along the back strap. The sandal dupe also comes in two colors instead of the one style that Valentino offers.
The Ruth can be bought in all black for those who want the closest match to the original Valentino shoe, but it is also available in an all-over beige for a more toned-down and slightly boho look. Whether you stick with the classic black look or change it up with the beautiful beige, this sandal gives you that designer look without the high cost.
We couldn't leave out the lovely Valentino Rockstud Jelly Sandal, so we added this gorgeous look-alike from Mix No. 6 to our list.
This Valentino sandal is made in a soft blush and a rosy pink. The Tineara sandal has a similar pinkish nude but they also offer five other vivid colors, so you can easily find a color to match your style.
We really love how the double strap adds an elevated look to the casual style of these shoes. And, of course, the look wouldn't be complete without the shimmering studs lining each strap.
While the Valentino would set you back a few hundred, this dupe only costs an easy $30.
Last on our list of Rockstud dupes is this shoe inspired by the Valentino Garavani Rockstud Sandal. The Ash Studded sandal has the same alluring and edgy look as the Valentino but will save you hundreds of dollars.
This gladiator-style sandal features slightly thicker straps than the Valentino, and the stud embellishments have a more subtle and muted tone.
The most significant difference between these shoes is that the dupe has small studs outlining the footbed, which is not seen on the Valentino. But this extra detail adds a unique touch to the Valentino dupe, making us love it even more.
Are Valentino Rockstuds still in style?
Yes, "Rockstuds" are one of the most iconic styles from Valentino and they are still trending. While they were first introduced over a decade ago, this gorgeous design has endured the test of time and is still a coveted style that are seen on celebrities and fashion influencers alike.
Valentino Roman Stud Dupes
Valentino Roman Stud shoes are perfect for those who love the edgy look of the Rockstud but prefer bigger studs. If the Roman stud is your favorite Valentino style, you'll love the following dupes.
If you've been searching for the perfect dupe of the Valentino Roman Stud Ankle Strap Flat, this one is for you.
This gorgeous studded flat is fierce and edgy, using chunky studs to decorate thick faux leather straps, while the pointed toe adds a sleek touch. This Valentino dupe has an adjustable ankle strap and a padded insole so that these stylish shoes can be worn comfortably all day long.
You can buy this shoe in either black or nude. Or, since this pair of shoes is less than $100, you can treat yourself and get one in each color without going over budget.
Next, we have another Mix No.6 shoe, a dupe of the stunning Valentino Roman Stud Matelassé Slide Sandal. This chic slide-style sandal is all-black with a quilted top and adorned with large metal studs. You can also get it in a metallic gold style that has a beautiful shimmer and will brighten up any look.
One of the main differences is that the gold tone of the Roman studs is more vibrant on the Valentino, while the studs on the dupe have more of a muted look. There is also a slight difference in the shape of the shoe. The Valentino sandal has a rounded shape with pronounced curves compared to the square style of the Mix No. 6 shoe.
Regardless, this dupe still has the same iconic look as the Valentino sandal. This is perfect for an eye-catching designer look that won't break the bank.
Here's another great dupe for the Valentino Roman Stud Matelassé Slide Sandal. This slide sandal is black like the Valentino but also comes in bright yellow and white.
The Yuri slide sandal is almost a perfect look-alike with the same chic black look and quilted texture. The large Roman studs have more of a yellow-gold tone compared to the rich, almost bronze-like color of the Valentino. The dupe also has the same gorgeous shape and square toe, although it lacks the slight heel that the Valentino has.
If you love the casual chic look of the Valentino Matelasse Slide, try this dupe to get that same effortless style for a fraction of the cost.
Valentino Steven Madden Dupes
Steve Madden always has a fantastic selection of footwear, so it's no surprise they make this list. These Valentino dupes by Steve Madden are both stunning and affordable.
Another dupe for the Valentino Rockstud Jelly Thong comes from this popular brand. This stylish shoe is a fantastic alternative to the Valentino sandal and will cost you less than $50. The glossy black sandal paired with shiny gold studs looks chic and high-end.
You'll notice the Steve Madden sandal has only one bow on the front, while the Valentino has a double bow. But while the dupe is short a bow, it still has the same fierce but feminine look we love.
Steve Madden comes through for us once again with this beautiful dupe of Valentino's Rockstud Flat Slide Sandal.
Like the Valentino sandal, this dupe has three delicate straps lined with small pyramid-shaped studs. The black and nude sandal studs are brilliant gold, while the white sandal features silver studs for a crisp, clean look.
These shoes are perfect if you want a Valentino dupe that can be worn in both casual and formal settings.
Is Valentino by Mario Valentino a luxury brand?
Valentino by Mario Valentino is not considered a luxury brand. While the brand tends to have a higher price point, this competitor of Valentino is seen as more of a copycat brand.
What is the best Valentino dupe?
There are so many incredible Valentino dupes from brands like Steve Madden, Goodnight Macaroon, Mix No.6, Michael Kors, and more. The best Valentino dupes are from Mix No.6, available as DSW, Amazon, and other shoe retailers.
We've found that the Mix No.6 styles are the most similar to the Valentino originals, but at a much lower price. We hope you've enjoyed this list of Valentino look-alikes, filled with the top picks for each style, and have found your new favorite shoe to help you create stunning Valentino-inspired looks every day!
Interested in beauty dupes? Check out these Charlotte Tilbury Iconic Nude dupes!
More Designer Dupes You Need To See:
11+ Really Good Golden Goose Dupes
9+ Seriously Good Gucci Loafers Dupes (& Mules!)
6 Amazing Hermes Sandal Dupes: A Très Chic Look For Less!
Best Birkenstock Dupe: 17+ Look-alikes
Yeezy Slides Dupe: 7+ Great Look-alikes You Need To See
Chanel Slingback Dupe: 9+ Stunning Look-alikes For *Way* Less
Christal Sczebel is an entrepreneur, published author, and content creator. Over the past decade she has worked in the digital media field building successful websites for both food and fashion. She has a natural affinity for minimal, timeless fashion, neutral home decor, and styling.
Here on Style Your Occasion, Christal is the Editor-in-chief and brain behind the aesthetic. She hopes you love the this space and the inspiration you'll find!