Looking to add a modern touch to a timeless nail design? You can elevate classic French tips using gorgeous shades of green, and we have 25+ green French tip nails (including sage green french tip nails, dark green french tip nails, and olive green french tip nails) to show you how to do just that!
French tips are a classic nail design that look fantastic with any color! We love the look of green french tip nails for a modern vibe that is perfect for every occasion from St. Patricks Day, to the summer season, to emerald green at Christmas!
What is the best color for French tips?
White is always a classic color option for french tips and will add an elegant touch to your look. But, you can also go with other neutral shades to create a refined look like black, cream, or brown. If you want a bold and eye-catching look, opt for red, pink, blue, or green french tips.
Pastel hues will work well for a whimsical or romantic aesthetic and are a perfect color to wear in the spring. For this, think soft yellow, baby pink, and peach. If you're getting a French manicure and want to spice it up, changing the typical white polished tips to something bright and alluring is a great way to do just that.
Need inspiration? Below are our favorite green french tip nails to copy!
Green Sweater French Tips
Sweater nail art always has a unique and elegant feel to it, so it's a perfect way to elevate a French manicure. This fern green is so stunning and pairing it with textured French tips instantly transforms it into a high-class look!
Pastel Green Manicure w/ French Tips
Looking for a gorgeous green manicure to rock this spring? Pastel green is a must in the springtime, and this combo of French tips and classic nails has a sophisticated aesthetic that perfectly complements this bright and youthful shade of green.
Sage Green French Tip Nails w/ White Wave Accents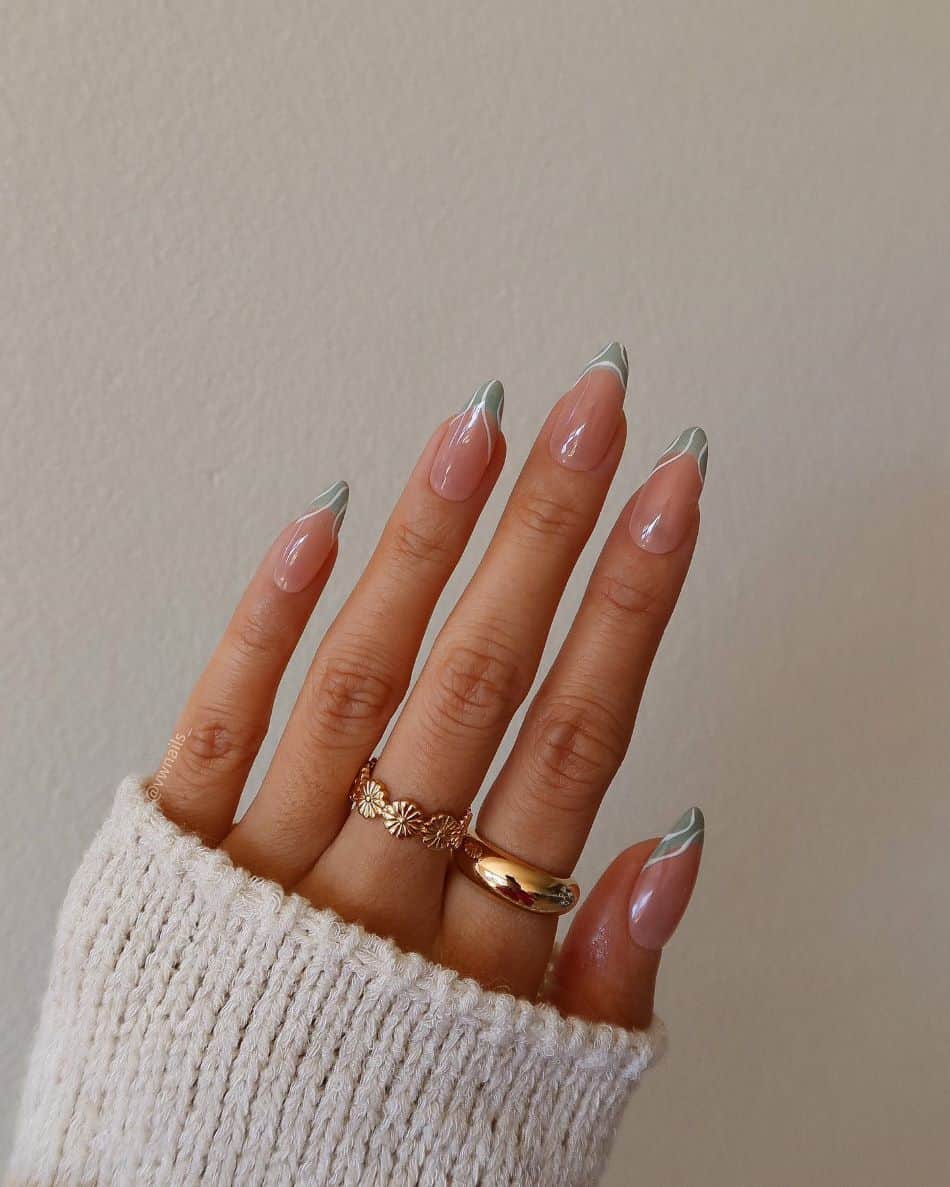 Sage green is such a stunning color that it adds a modern and refined vibe to any nail look. This color is perfect for a classic design like a French manicure, while the white wave accents add a retro feel that makes this nail design unique and eye-catching.
Retro Olive Green French Tip Nails + Waves
Here's another mani with retro vibes that we absolutely adore! Wave accents and earthy olive green adds a 70s aesthetic that we are so in love with! And the rich green French tips add a modern and chic touch that balances the vintage feel perfectly.
Light & Dark Green French Tip Nails
We love the contrast of these French tips! Pastel green and kelly green pop next to one another, adding a playful touch to a classic nail design. This manicure is perfect to add some color to your looks in the spring or summer.
Green Gradient French Tips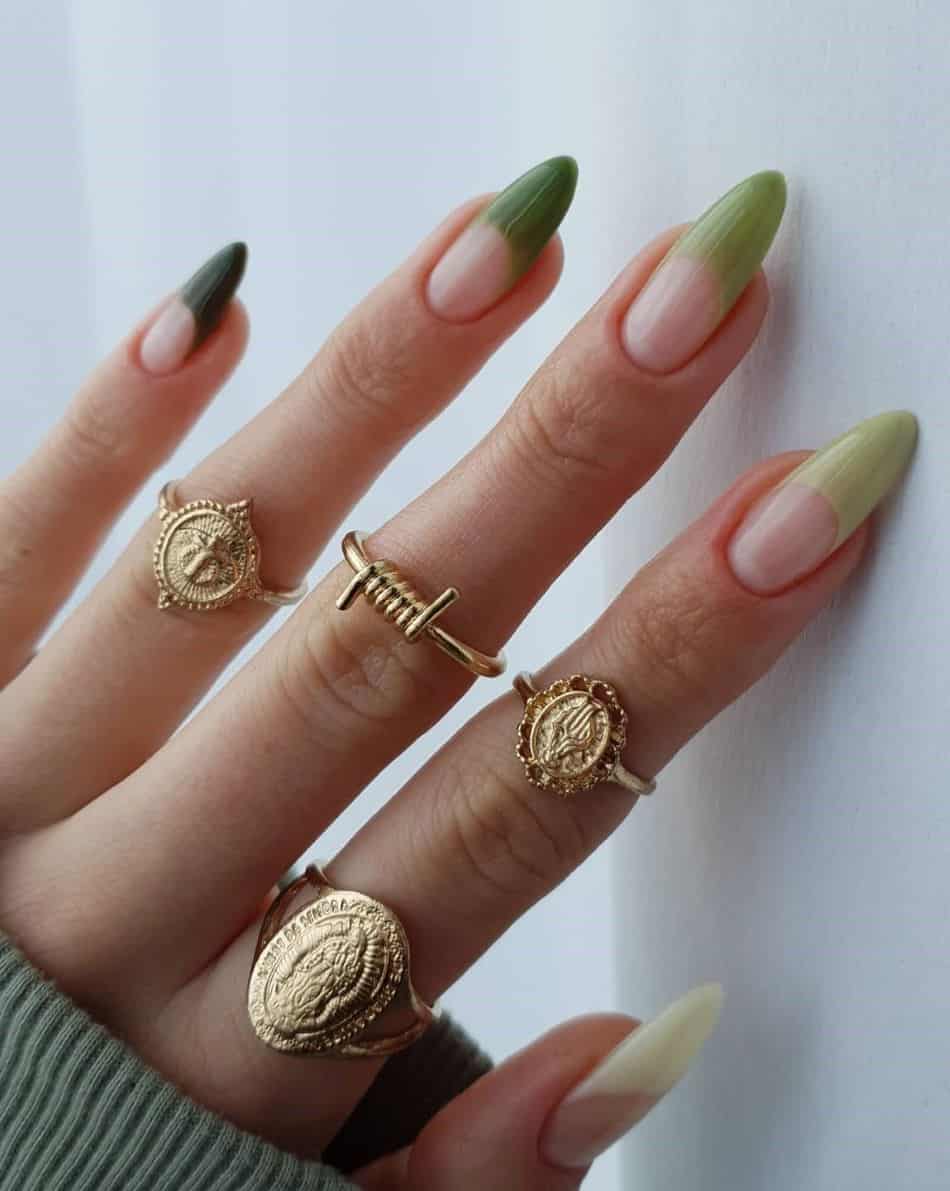 Traditional French tips and a trendy gradient design are a perfect match! The sophisticated look of these almond nails paired with the eye-catching gradient design is perfect for showcasing your personal style and elevating your everyday outfits.
Light Green French Manicure on Square Nails
This light green has such a refreshing feel. The classy French tips are contrasted by the modern and edgy color, making this such an alluring manicure. This pastel shade is a fantastic way to add a vibrant and playful vibe to your style this spring.
Dark Green French Tip Nails w/ Gem Accents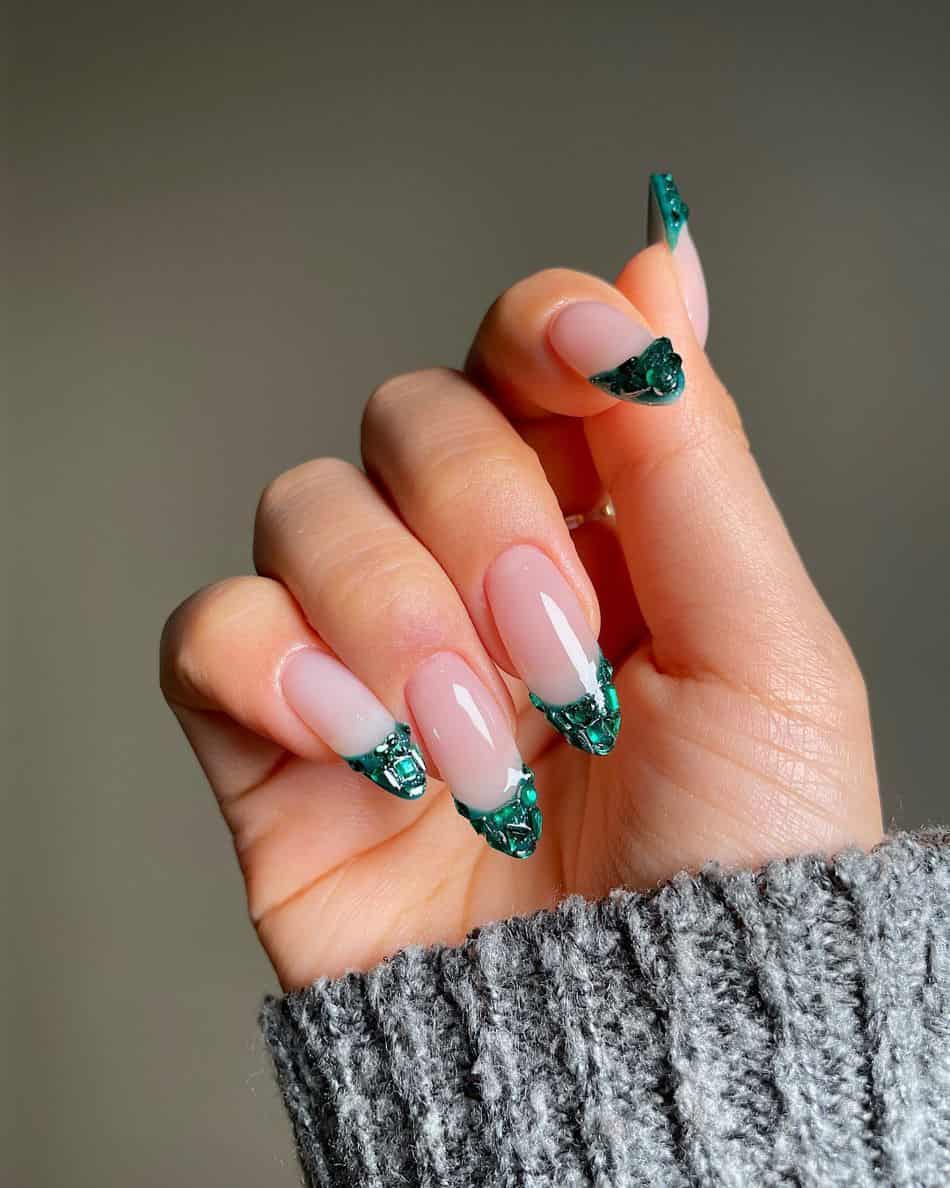 Elegant emerald green and glamorous gem French tips are a combo we didn't know we needed – until now! This look is so breathtaking and will definitely make a statement during your next night out on the town.
Green French Tip Outlines
We're always a fan of this unique twist on a classic French manicure. French tip outlines are modern and edgy, and using such a gorgeous shade of green really elevates this design. This nail design will look fantastic anywhere from the office to Sunday brunch!
Checkered Wavy Two-Tone French Tips
Retro wavy French tips and sparkly green polish have such a fun and youthful vibe. This nail design is a perfect way to show off your fun-loving personality and add some vintage flair to your looks!
Green French Tip Nails w/ Shimmering Finish
Timeless and elegant French tips with a playful and glamorous shimmering green? Well, don't mind if we do! This stunning manicure is simple but still has a daring and edgy vibe and will easily add a charming touch to your everyday style.
Green French Manicure w/ White Flowers
Light earthy green and delicate white flowers are a must if you want a cute but elegant springtime manicure. This look can be kept as is or elevated with glitter or jewel accents. But no matter what you choose, you can't go wrong with a stunning nail design like this!
Lime Green French Tip Nails w/ Matte Finish
Bright lime green French tips really pop next to a matte nude base. This vibrant shade will bring a bold feel to your looks, while the matte finish and classic French manicure will keep it looking refined and chic.
Dark Green Glitter Manicure w/ French Tips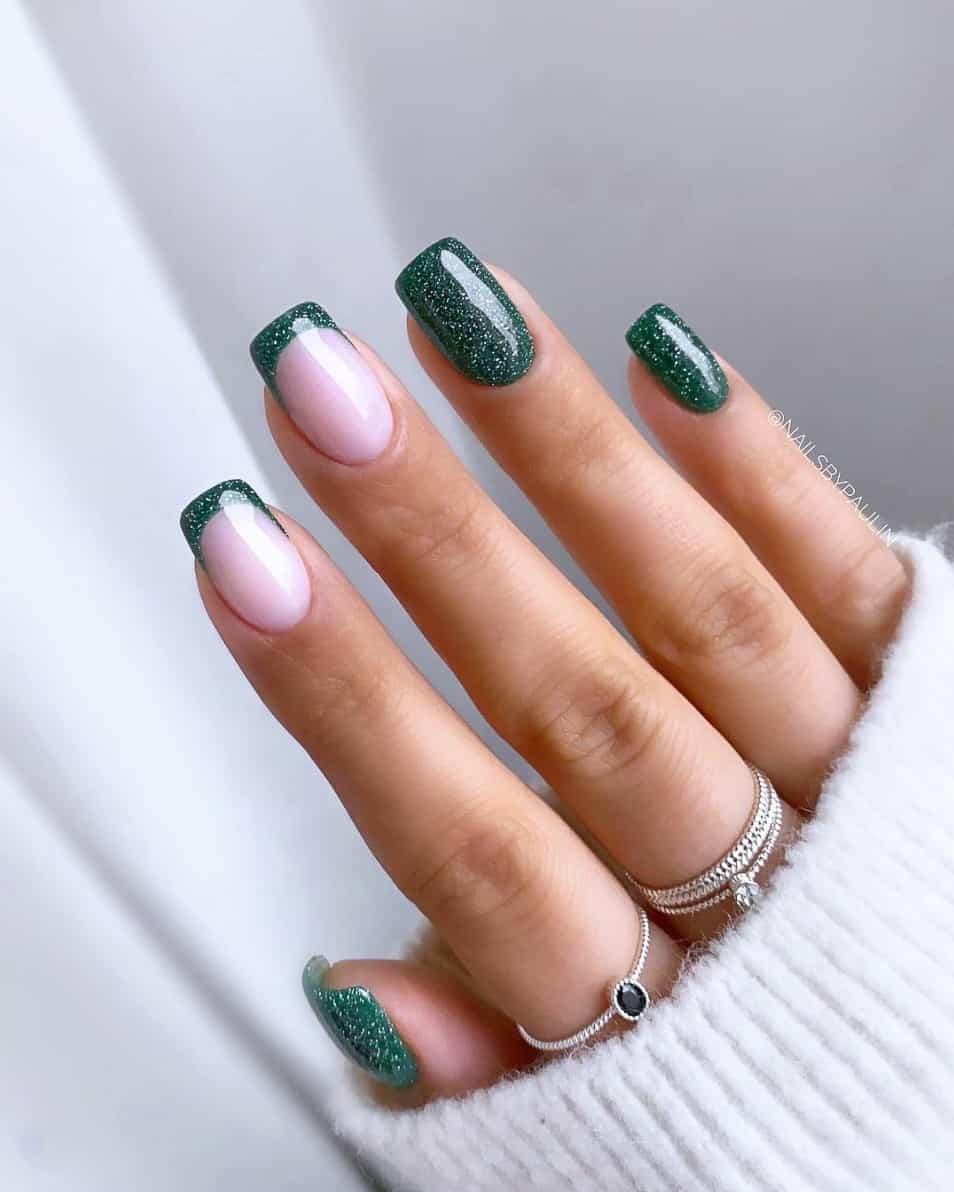 French tips and a deep forest green nail polish are the perfect combo for a stunning and sophisticated manicure. Using a glitter polish quickly elevates this classy look and adds a modern and playful twist that we are definitely here for.
Dark Green Coffin Nails w/ Textured French Tips
Long coffin nails are always bold and eye-catching, and this rich green shade adds to the daring aesthetic that much more. If you want a nail design with an elegant feel that will also show off your big personality, this is the manicure for you!
Green & White Marbled French Tips w/ Star Details
If you love a regal and captivating color combo, look no further than gorgeous green and dazzling gold. Marbled polish and gold star details are fun and bold, making this manicure look so dynamic. A daring nail design like this is perfect for your next girls' night out.
Dark Green French Manicure w/ Line Accents
We love the contrast of sheer nude nails and rich dark green French tips. The classic French manicure paired with modern French tip outlines is a stunning combo, and this chic design would look fantastic with any outfit.
Dark Green French Tips w/ Gem Accents
Luxurious forest green is a perfect shade to elevate any manicure, and gem accents add that fun and glamorous touch that we love to see! This nail design could easily work on any nail shape, so you can definitely rock this stunning look whether you prefer coffin, stiletto, or square nails.
Shimmering Sage Green French Manicure
We absolutely love this shimmering sage green French manicure! It's elegant, vibrant, and would instantly transform any look from simple to stunning. This is a fantastic nail design if you want something minimal yet bold and attention-grabbing!
Dark Green French Tips w/ White Accent Nail
The pop of contrast from this rich shade of green and the bright white is so gorgeous. We love the playful design with the white polish, and it's perfectly paired with the classic style of the green French tips. This classy manicure would be an excellent pick for an anniversary dinner or a birthday celebration.
Round Nails w/ Spring Green French Tips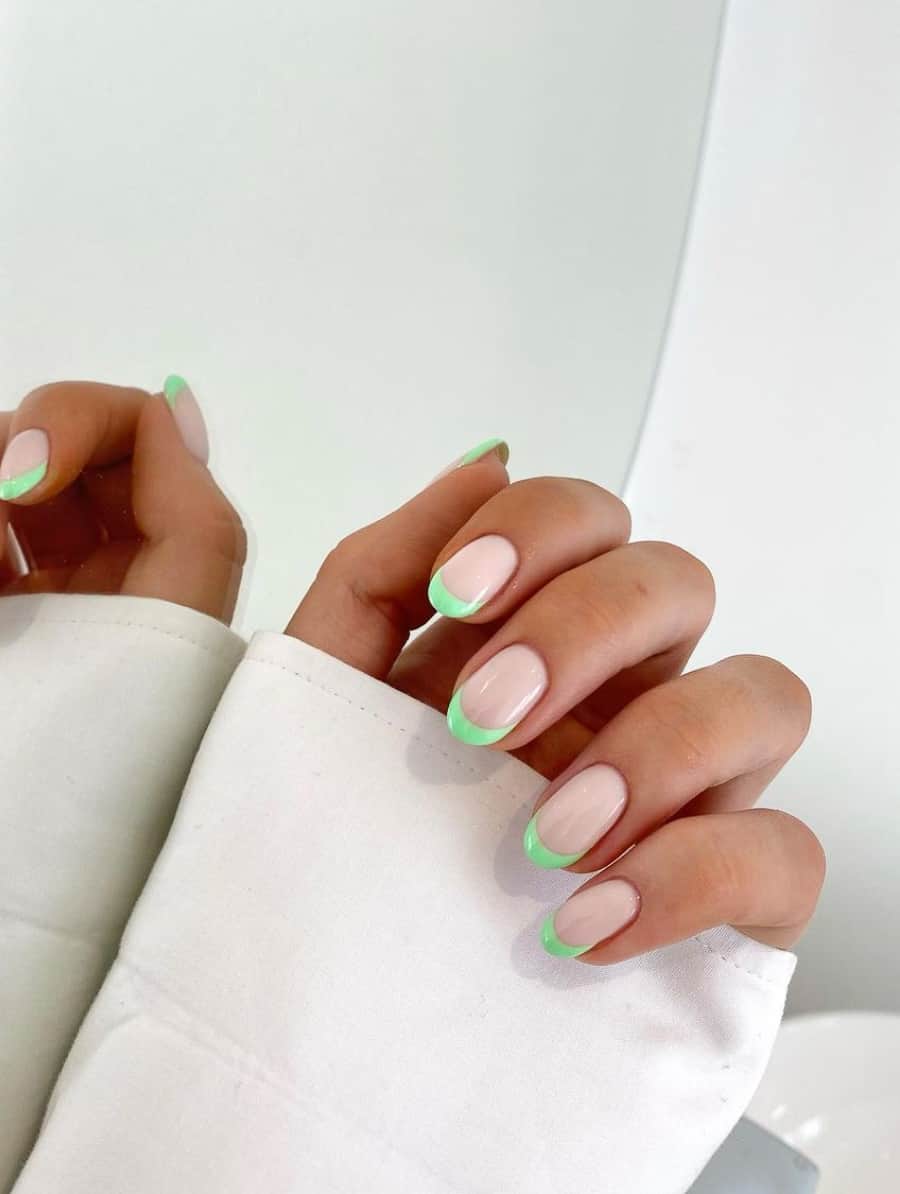 Short round nails and bright spring green have a chic and modern aesthetic that perfectly complements the timeless French manicure. Go for this nail design if you want a classic and simple look that still has a pop of color and personality!
Dark Green French Tips on Square Nails
French tips on square nails have a nostalgic feel, but the rich dark green adds a modern and trendy touch. These stunning acrylic nails will add a bold feel to your everyday look and will perfectly accessorize a sophisticated outfit.
Seafoam Green Nails w/ French Tip Accents
Seafoam green is such an underrated shade of green (if you ask us!) This manicure proves just how breathtaking this color is, and it has a bright and cheery vibe that's hard to compete with. It's a perfect shade for spring and summer, and these seafoam green French tips will surely upgrade any outfit.
Asymmetrical Green French Tips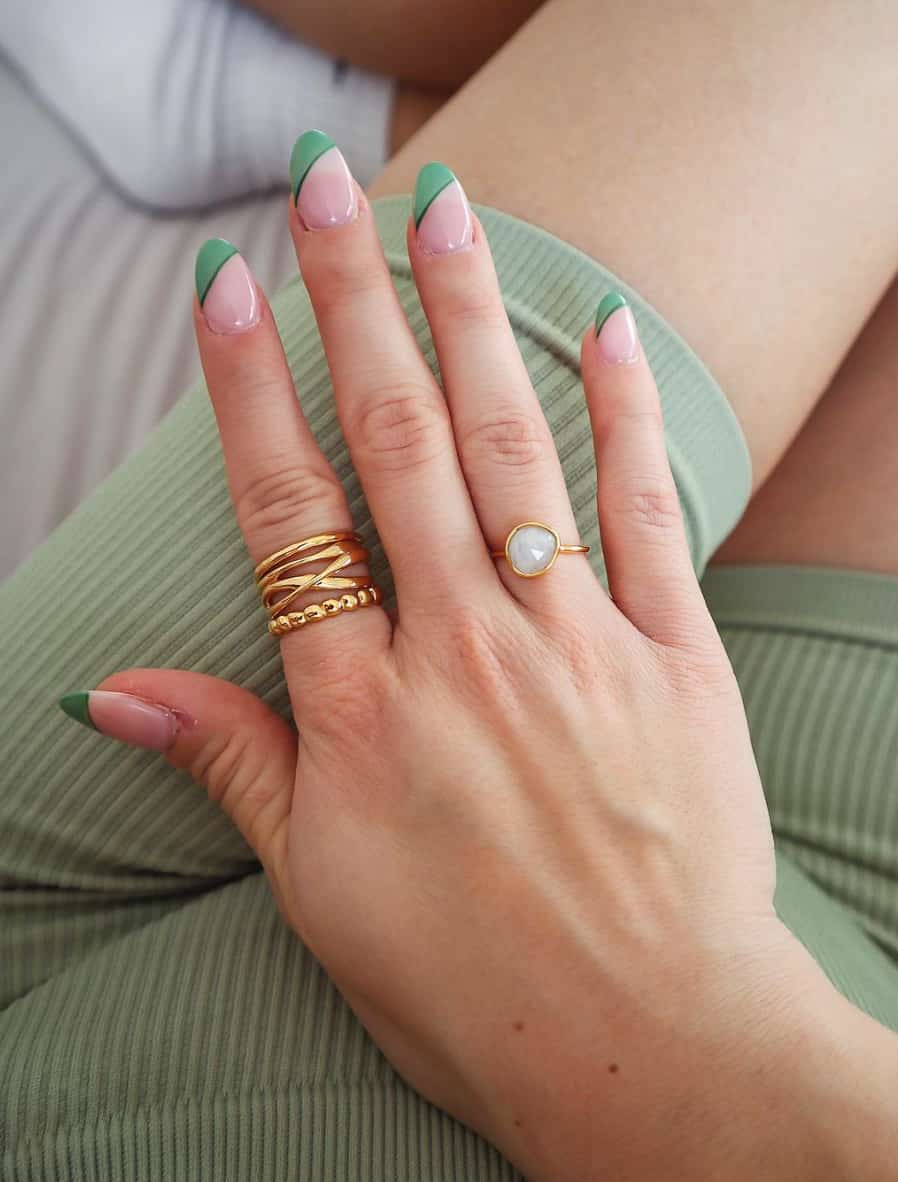 Asymmetrical tips and beautiful shades of green are a fantastic way to add a chic and modern feel to a simple nail design. This manicure would elevate your outfit for any occasion – from a picnic park date to a Vegas vacation!
Dark Green Glossy French Tips on Matte Green Nails
The combination of glossy and matte finishes on these fern green nails makes them so captivating and unique! This design is a perfect combo of daring and elegant, and people will definitely be begging to know where you get your nails done when they see this stunning mani.
Stiletto Nails W/ Glittery Dark Green French Tips
Stiletto nails always have an edgy feel, so bold green French tips are a perfect way to complement them. We love the dark, glittering green polish used here, and the shimmering finish adds a glamorous vibe that we can't get enough of.
Are French tips in style 2023?

Yes, French tips are in style in 2023. You'll be sure to see a lot of the standard French manicure along with colorful reverse French tips. If you want gorgeous and on-trend nails, you can't go wrong with a French manicure!
Feel free to get playful with this timeless design – use stunning shades, add jewels and other accents, and just play around to create a French tip nail design that fits your style.
Whether you prefer bright lime green, soft spring green, or rich forest green, using these shades to add a modern touch to the classic French manicure is a great idea. Green French tips are elegant and intriguing, making them the perfect look for your next manicure.
We hope you found this list helpful and have a new favorite nail design that you can't wait to try!
More Nail Inspiration You'll Love:
19+ Gorgeous Olive Green Nails You'll Absolutely Love
25+ Stunning Mint Green Nails To Inspire Your Next Mani
17+ Gorgeous Sage Green Nails To Inspire Your Next Manicure
19+ Gorgeous Emerald Green Nails You'll Want To Copy
23+ Chic Line Nail Designs For A Modern Aesthetic
23+ Must-See 90s Nail Designs That Are Totally Nostalgic
Christal Sczebel is an entrepreneur, published author, and content creator. Over the past decade she has worked in the digital media field building successful websites for both food and fashion. She has a natural affinity for minimal, timeless fashion, neutral home decor, and styling.
Here on Style Your Occasion, Christal is the Editor-in-chief and brain behind the aesthetic. She hopes you love the this space and the inspiration you'll find!