On the hunt for a stunning manicure this winter season? You'll love this list of 22+ winter ombre nails that are beautiful, chic, and perfectly frosty!
Stunning Winter Ombre Nails
Does anyone else feel like 2023 is flying by? Winter will be here before we know it! We are so excited to enjoy the beautiful snow falls, the holiday season with loved ones, and of course all of the beautiful manicures with cozy winter shades.
If you have been searching for a winter manicure, your search is over! Ombre nails have been a popular trend for several years and whether you are looking for a little sparkle, an icy look, or an elegant design we have the perfect winter ombre nails for your inspiration!
Glitter Ombre Winter Nails
You can never go wrong with a little bit of glitter…or a lot! We have put together stunning glitter ombre manicures, including full glitter ombre nails for a dash of sparkle.
White Almond Nails w/ Champagne Glitter Accents
These snow white nails are perfect for winter and the addition of the champagne glitter really makes them pop. If you are one that doesn't love the full glitter ombre look, a great way to add some sparkle to your mani is by adding a glitter ombre accent nail.
Nude Pink Nails w/ Silver Glitter Ombre Tips
If you love a neutral nail base, this mani is the one for you! This nude pink base paired with fine silver glitter ombre will fulfill all of your Winter dreams. If you want to add a little something extra, consider a rhinestone or snowflake nail art!
Blue Ombre w/ Glitter + Rhinestones
This stunning slate blue ombre with a glitter topcoat has us absolutely swooning! With the addition of rhinestone accents you have the perfect amount of sparkle for any occasion.
Nude Nails w/ Gold Glitter Ombre Tips
You can never go wrong with classic gold glitter. We love how this ombre features a solid tip that gradually fades out to the base of the nail. This bold ombre look is perfect for ringing in the New Year with your family and friends!
Natural Classic Mani w/ Silver Glitter Tips
This manicure is for all of our clean-girl-aesthetic readers! With a bare natural nail base and just a touch of sparkle on the tips, this look is the perfect balance of glamour and simplicity.
Pink + Rose Gold Glitter w/ Snowflakes
This manicure is the perfect blend of winter and girly. We love how this look features a combo of a blush pink base with rose gold glitter accents and snowflake nail art to create the perfect feminine winter wonderland vibe!
Black Ombre Tips w/ Silver Stripe Accent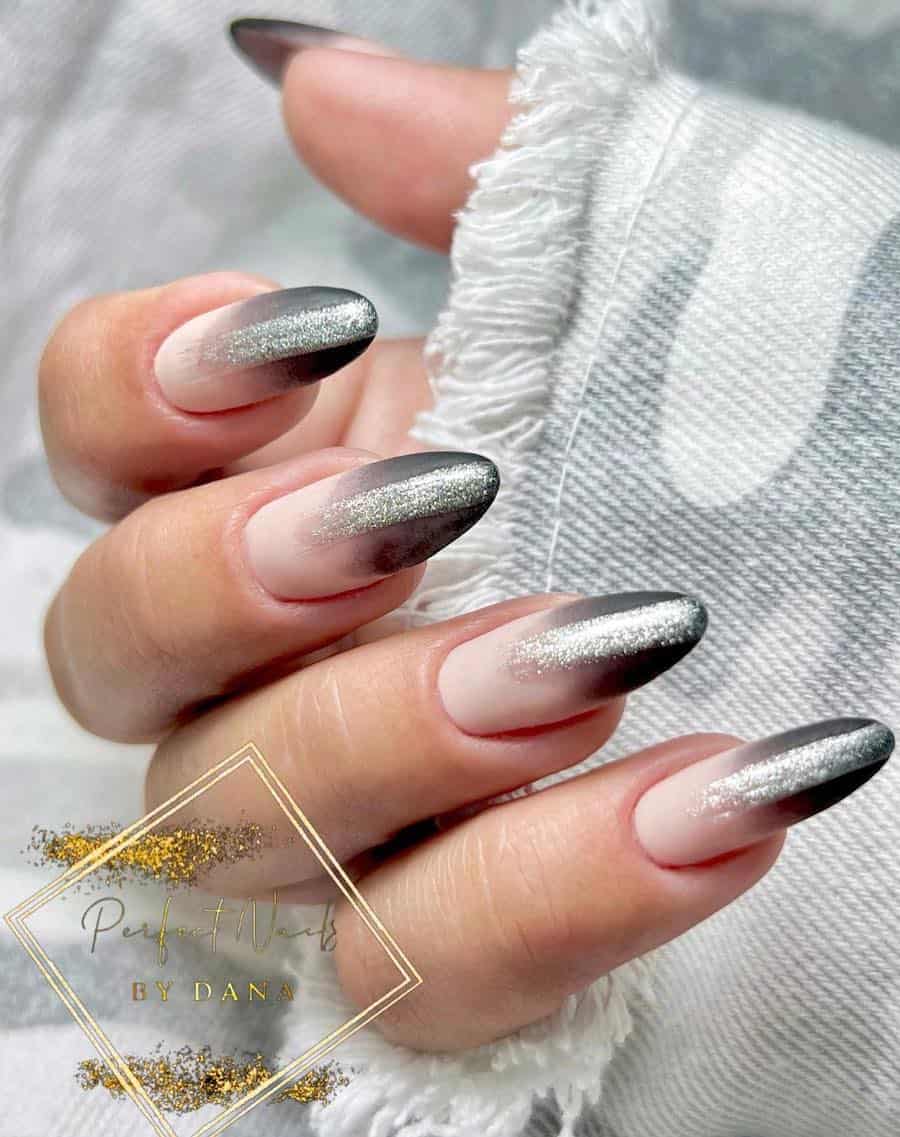 This black and silver manicure is unique because it features two different ombre styles! The base of the nail is a beautiful matte black ombre that is brightened up with a vertical silver stripe ombre design. We love that this design is wearable for the entire winter season.
White Glitter Ombre w/ Marble Details + Gold Flakes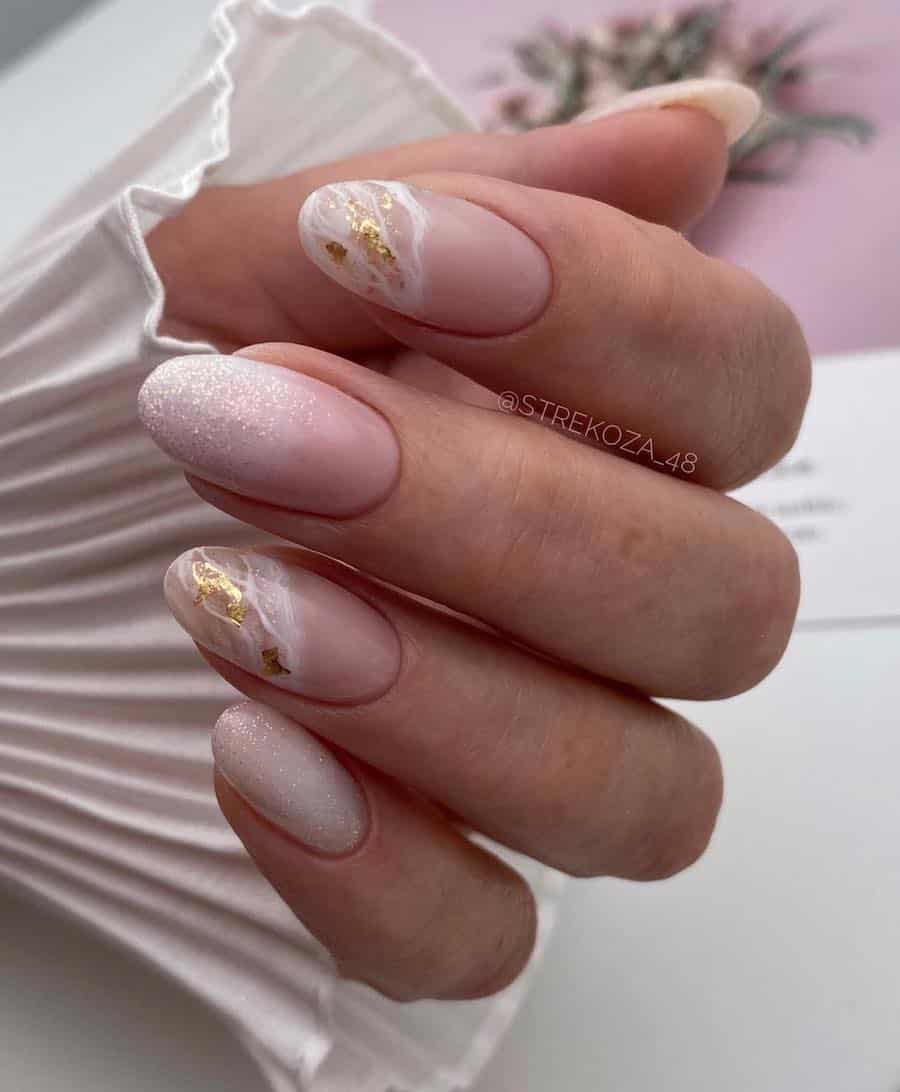 This manicure is giving snowy mountain top vibes. This glitter white ombre would be beautiful on its own, but the addition of the marble details and gold flakes instantly takes this manicure to a whole new level.
Black Glitter Ombre w/ Moons + Sparkle Details
Have you ever had the chance to enjoy a beautiful starry sky on a still winter evening? That is exactly what we thought of when we saw this look and just knew it had to make our list! The beautiful glitter ombre manicure paired with moons and stars nail art makes for a dreamy winter mani fit for any occasion.
What's the difference between ombre and gradient nails?
Gradient nails feature colors from the same family that go from lightest to darkest from nail to nail, whereas ombre nails typically fade from one color into another on the same nail horizontally or vertically.
Blue Winter Ombre Nails
Blue is a popular winter color and makes for an excellent choice for winter ombre nails. We have put together some beautiful blue manicures that include snowflake nail art and several shades of blue.
Baby Blue Ombre Tips w/ Snowflakes
This ombre manicure is very subtle, and we love how it transforms a classic French mani to a wintery scene. The addition of snowflakes adds a fun touch that takes this look from simple to stunning!
Blue + White Chrome Ombre Nails
If you are looking for something more unique, try this chrome ombre mani. This frost-inspired look is subtle and classy, but gives "frozen" vibes we are loving!
Blue + Silver Split Ombre Nails
Most ombre manicures use a horizontal ombre technique. So we love this unique manicure for its use of a vertical ombre.
Transitioning from blue to a milky white, this manicure has the perfect winter look. Adding an iridescent top coat also instantly adds a touch of glamour.
Gold Ombre Winter Nails
Gold is a great go-to color choice for all the winter months, particularly the holiday season. If you are looking for the perfect gold ombre manicure, scroll on!
Metallic Gold Ombre Tips
We love this bare nail base with a metallic gold ombre French tip. If you want to add a little extra pizazz, consider adding some fun charms or winter nail art!
Gold Ombre w/ White Wave Details
This look is a great way to transform the previous manicure we shared. The two designs have a very similar, base but the addition of white waves adds a little something extra for a fun and flirty design.
This manicure is perfect for a winter date night!
What are the nail trends for winter?
Winter nail trends include cozy colors and fun metallics. The addition of glitter and delicate embellishments such as pearls and snowflakes are a great way to elevate your manicures. Popular techniques to consider this winter include ombre and velvet nails.
More Ombre Nail Designs
We have more ombre nail designs featuring techniques like marbling, high gloss, matte, and more! Whether you're looking for neutrals or a pop of color, we have a look that will fit any aesthetic.
White Ombre w/ Silver Marble Veins
Opting for a white manicure is a great way to embrace the winter season. Marble manicures add a chic and sophisticated feel to any look. A stunning manicure like this is the perfect choice for any holiday party or gathering!
Black to White Ombre Nails
This manicure is classy and simple.
The vertical ombre technique creates a stunning effect, fading from black to white. Choosing neutral colors like black and white make it simple to pair your mani with any outfit.
Green Ombre Almond Nails
While green might not be the first color that comes to mind when choosing a winter manicure, we love how these subtle green ombre nails add a bright pop of color during those cold and dark months!
Add embellishments like rhinestones or pearls to create a Christmas tree vibe that is perfect for any holiday party.
Matte Black Nails w/ White Ombre Tips + Gold Flakes
We love the bold contrast of deep black and bright white in this ombre manicure. This look is another one that gives us a snow capped mountains feel.
The addition of gold flakes and embellishments adds a sense of elegance to this beautiful look!
Black Ombre w/ Chrome Top Coat
Going for a black ombre French tip creates a bold and edgy look that will have heads turning. Finishing the look with a chrome top coat softens the look and fits perfectly with the popular "glazed donut" trend that has erupted in 2023!
Green Ombre w/ White French Tips + White Speckles
You can never go wrong with a classic French tip. Pairing it with a green ombre base adds a fun pop of color. The addition of white speckles at the base of the nails creates a "snowy" vibe that will be great for any winter events and occasions!
Ombre nails are simple and versatile, and are perfect during any season. So you can never go wrong with winter ombre nails. We hope that you love these looks and have found the perfect inspo for your next winter mani!
More Nail Inspiration You'll Love:
21+ *Stunning* White Christmas Nails
23+ Fresh Fall Ombre Nails To Obsess Over
21+ *Stunning* Purple Ombre Nails To Copy