Are you looking for a gorgeous blue nail style for your next look? Check out our list of 19+ navy blue nails and dark blue nail designs that you have to try!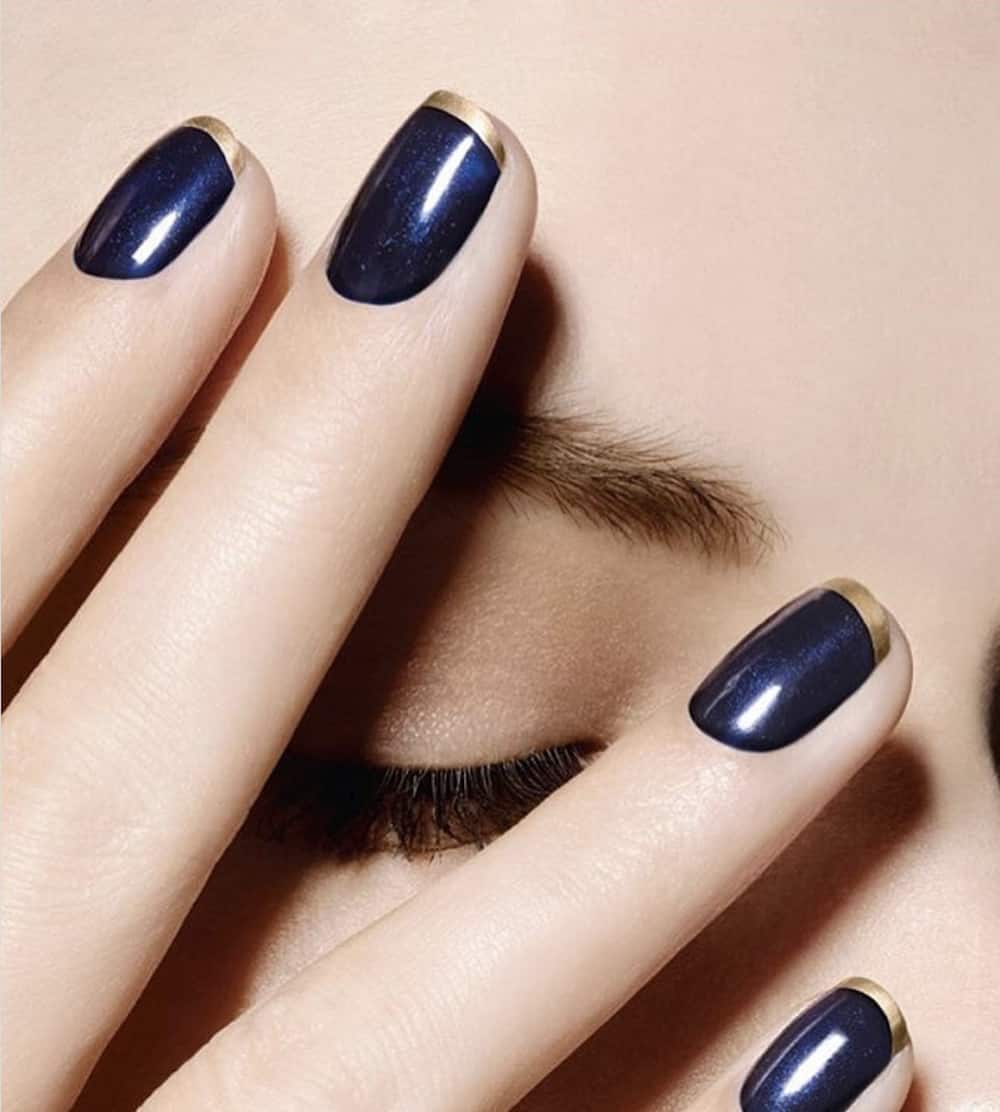 Stunning Navy Blue Nails & Dark Blue Nails
Navy blue and shades of dark blue are popular colors for the fall and winter months. You can sport pretty navy nails around the holiday season or bring in the New Year with deep blue polish.
You can also go with navy in the summer for a wedding, or try dark blue nails with floral designs for the spring. No matter which season you are looking to try navy blue nails, we know you'll find great inspiration on this list!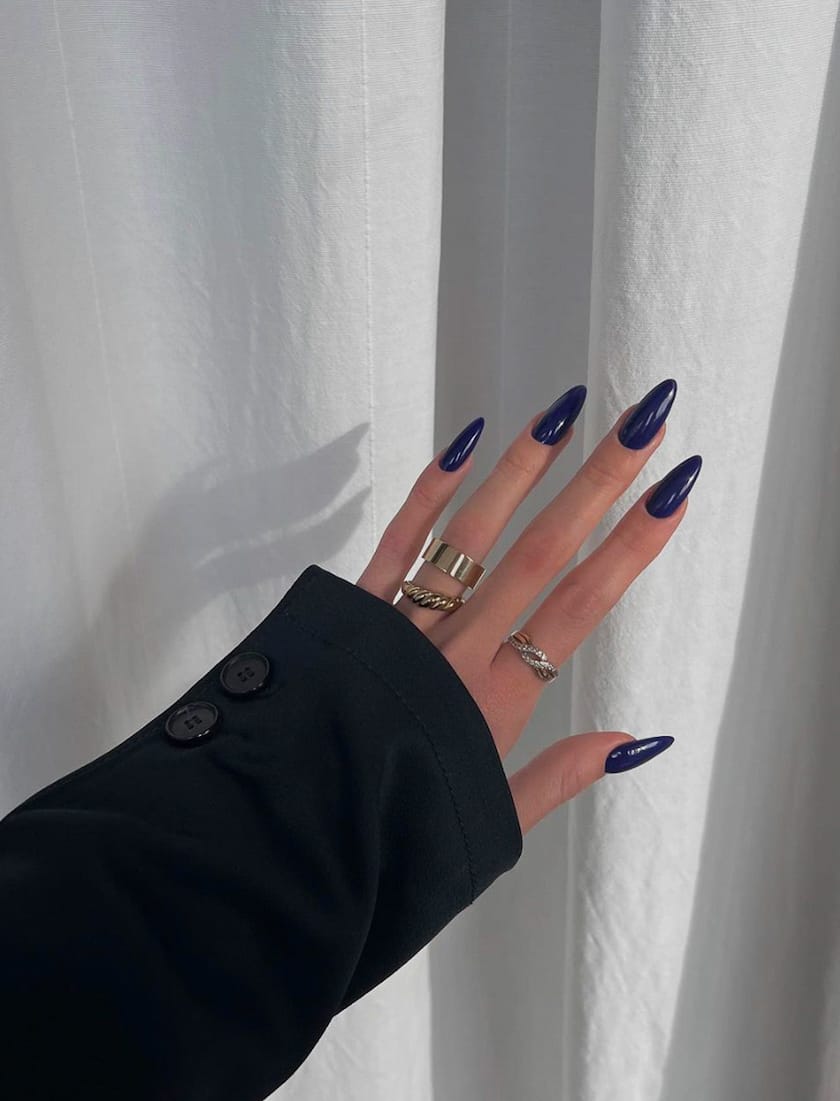 Is navy blue nail polish in style?
Navy blue is a color that is always in style, and we will continue to see navy blue nails in 2023. This rich shade of blue complements many other colors and can be worn for any casual or formal event.
Navy blue is a timeless shade that remains a popular choice and continues to be trendy year after year.
Navy Blue Acrylic Nails
These navy blue designs are the perfect inspiration for anyone who loves having bold acrylic nails.
1. Navy Blue Acrylics with Butterfly Nail Art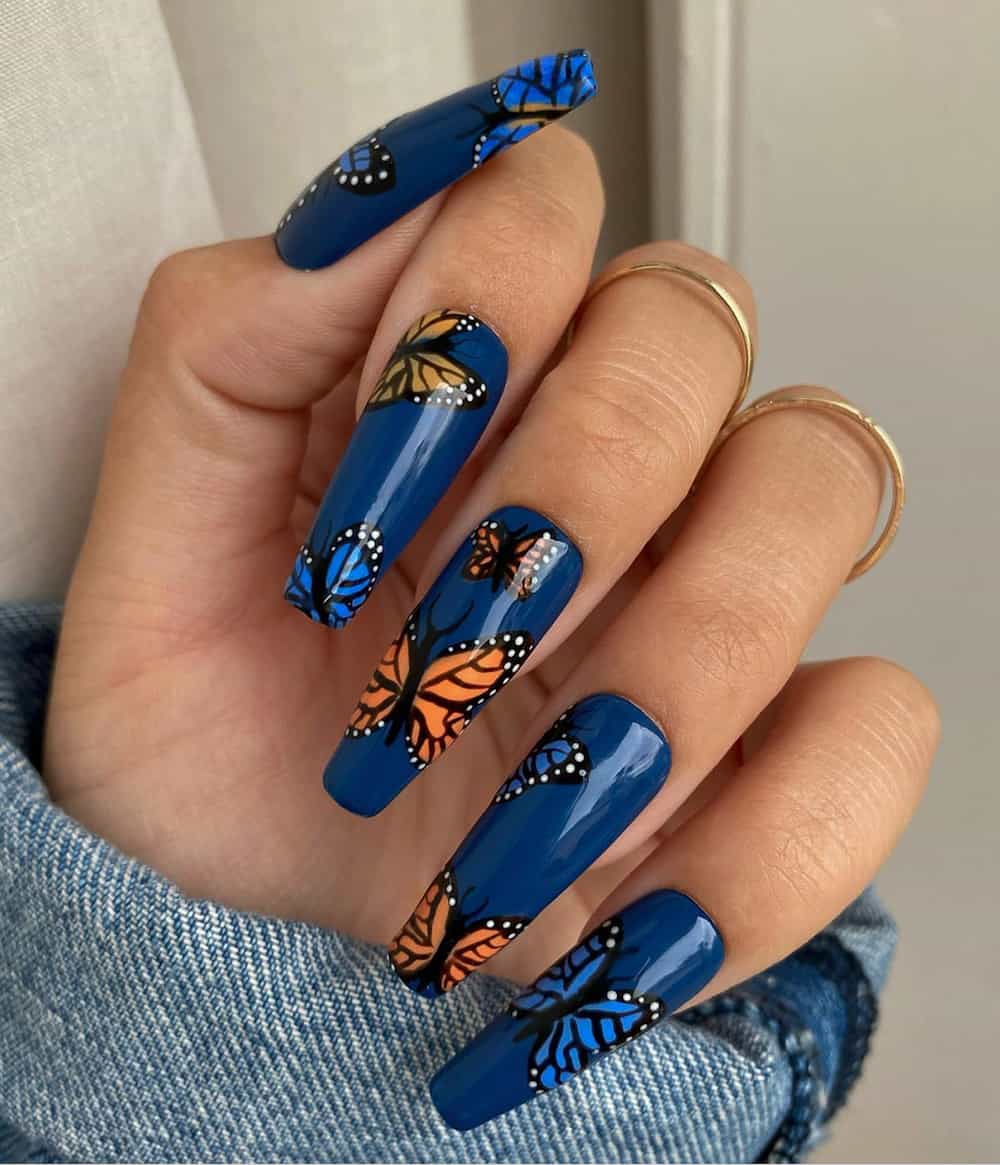 First up, we have this stunning and playful manicure. This nail design is perfect for a fun-loving person with a bold sense of style.
These long coffin-shaped nails look beautiful with this deep navy-blue polish. We love the details in the butterfly art, and the light blue and orange wings make this a unique and eye-catching design.
2. Long Navy Blue Glitter Nails
This next manicure is classy and chic. We love the sophisticated look of long almond-shaped nails, which look amazing paired with this gorgeous color.
You can wear this nail design anywhere. The deep navy blue has an elegant look that makes it great to wear to the office or even to a wedding, while the glitter on top adds a subtle but fun vibe that would be great for date night or a Sunday brunch with the girls.
3. Navy Blue Manicure with Abstract Accent Nail
This is another excellent choice if you want an elevated nail design with a playful feel.
These mid-length coffin-shaped nails feature a rich navy blue polish, giving it the look of a classic manicure. But the accent nail on one finger gives this classic look a modern and trendy vibe. We love the addition of light blue and white to complement the navy.
4. Long Moroccan Tile Nails
Next on our list is an absolute favorite of ours. This manicure has exquisite details that make the nails so alluring.
We love the combination of solid-colored nails on the one hand and the detailed blue and white nail art on the hand. The blue and white patterns have a Morrocan feel that we can't get enough of.
Matte Navy Blue Nails
Matte nails always have a refined look, and these matte nails with navy blue polish are no exception.
5. Matte Navy Blue Nails with Gorgeous Accents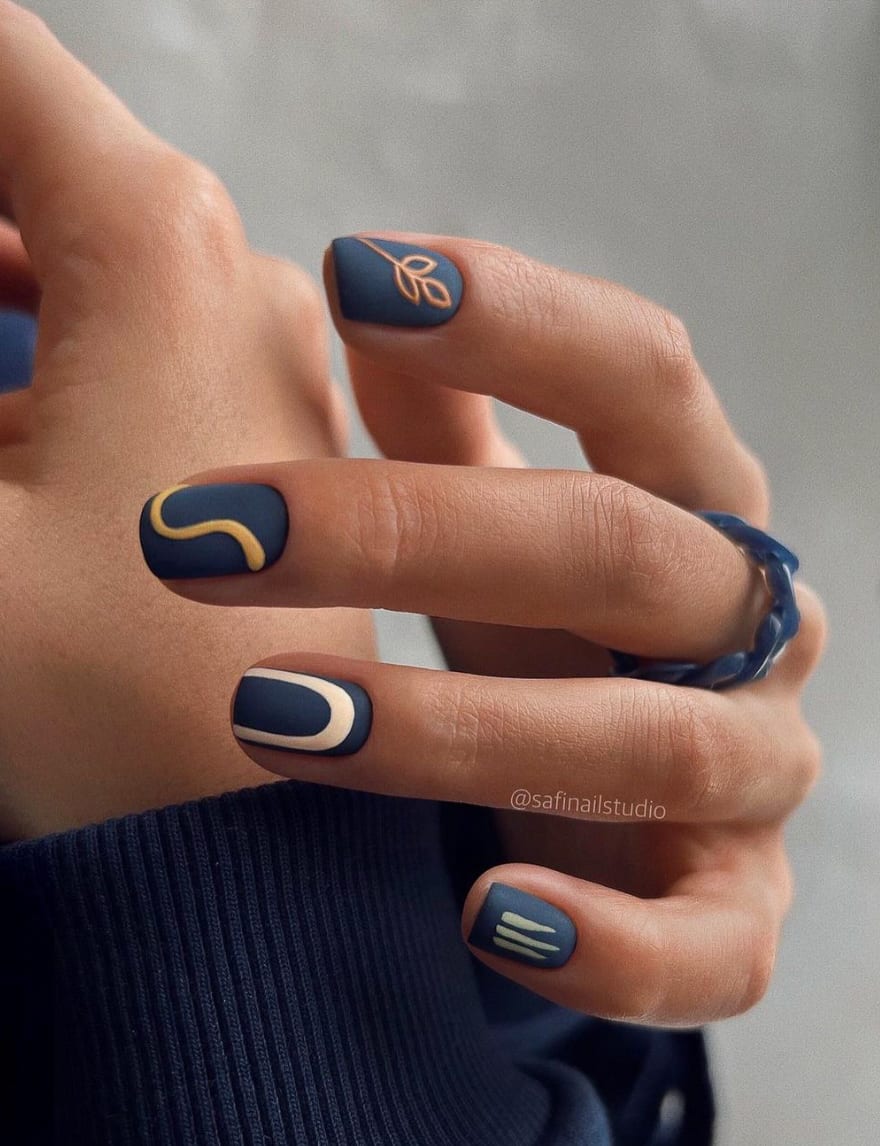 We love the look of this manicure. The short matte nails have an elegant look, and the unique nail art adds a playful feel.
The muted tones used for the nail complement the navy blue polish beautifully. We love the abstract look of the line art, while the leaf detail has a whimsical feel to it.
6. Long Matte Nails with Daisy Nail Art
This manicure is for fans of floral designs. The richness of the matte navy polish pairs perfectly with the bright white flowers.
These long nails have a polished look, and the daisy art also adds a youthful and playful feel. While we love the long almond-shaped nails, we know this design would look amazing on any nail length.
7. Cream and Navy Blue Manicure with Accent Nail
We are in love with the combination of the cream tone and deep navy blue, giving this manicure an elegant and refined look.
The cream-toned polish surrounded by fine lines of navy blue looks stunning, and the silver accents really make this manicure pop. The accent nail with the bold silver lines adds another layer of beauty to this manicure.
8. Matte Navy Blue Nails with Bronze Details
This next manicure is perfect for the bold fashionista. The rich-toned bronze accents look breathtaking paired with the matte navy blue polish.
These gorgeous almond-shaped nails would be perfect for formal events like weddings and parties and would make a stunning accent to any outfit.
9. Short Marbled Nails with Gold Accents
We had to share these marbled blue nails with stunning metallic accents. The matte finish on these nails looks gorgeous, and the details in the marbled white and navy blue design are breathtaking.
The gold foil accents on these nails add an elegant touch and make them a great choice to wear to formal events or to spice up any outfit.
10. Dark Blue Nails with Floral Art
Our last matte manicure look uses a navy blue polish with pale blue accent nails and gorgeous floral art across each nail.
The details on these nails are stunning, and the gold accents on the crisp white flowers add a touch of refinement and elegance.
Navy Blue Nail Polish
A manicure with gorgeous nail polish designs is always a classic and chic look, and these manicures shown below are proof.
11. Short Navy Blue Manicure with Accent Nails
These nails have a simple design using glossy navy blue polish, but the details on the accent nails elevate the look.
We love the two different design accents in this manicure – the textured matte blue nails and the shimmering green polish. These nails are perfect for anyone who wants a classic manicure with a fun twist.
12. Navy Blue Polish with Ombre Glitter Detail
Here's another gorgeous navy blue manicure that we love. The glossy polish and glittering details brighten the rich color of blue used here.
We love the ombre look of the glitter accents. The combination of gold and silver glitter on the nails gives this manicure an elegant and regal vibe that we adore.
13. Navy Blue Nails with Pastel Blue + Gold
If you're looking for a jaw-dropping manicure to wear around town, this one is the perfect option for you.
We love the look of both a matte and gloss finish on these nails, and the blend of deep navy and pale blue looks gorgeous. The gold-toned polish accents the nails beautifully, making this manicure elegant and chic.
Dark Blue Acrylic Nails
Navy isn't the only stunning dark blue color that looks great on nails. Here we have some gorgeous dark blue nails for you to check out.
14. Dark Blue Starry Sky Nails
These gorgeous stiletto nails have a playful and unique design that we can't get enough of.
This dark blue is such a beautiful color, and the white speckles and stars perfectly complement the rich shade. We also love that this manicure resembles a French tip, with the base of the nail being a soft nude tone that also pairs well with the blue.
15. Two-Tone Nails with Gold Specks
These gel polish nails have a fun design, using a dark blue matte polish on the one hand and a glossy white polish on the other.
The beautiful design on the white nails makes this look stand out. The lighter shade of blue is in a playful watercolor style, and the gold flecks inside the color make it pop. This manicure is so cute and has a modern look that we adore.
16. Dark Blue Glitter Manicure with Accent Nail
This gorgeous shimmering nail design has an alluring and eye-catching look. The dark blue looks fantastic in this design, and we love the addition of the deep grey accent nail.
These nails have a simple design that makes them great for a more subtle nail look, but the glitter details keep them fun and youthful.
Dark Blue Nail Polish
Dark blue polish is always a great choice for an elegant manicure. These manicures are excellent inspiration for gorgeous nail looks with a gorgeous color.
17. Dark Blue Nails with Constellation Art
This next manicure has medium-length square nails with an elegant design and playful details.
The deep glittering blue evokes the feeling of a starry night sky, while the constellation nail art is a fun and vibrant twist. This manicure definitely has a youthful vibe and would be perfect for your next night out on the town.
18. High-Gloss Square Dark Blue Nails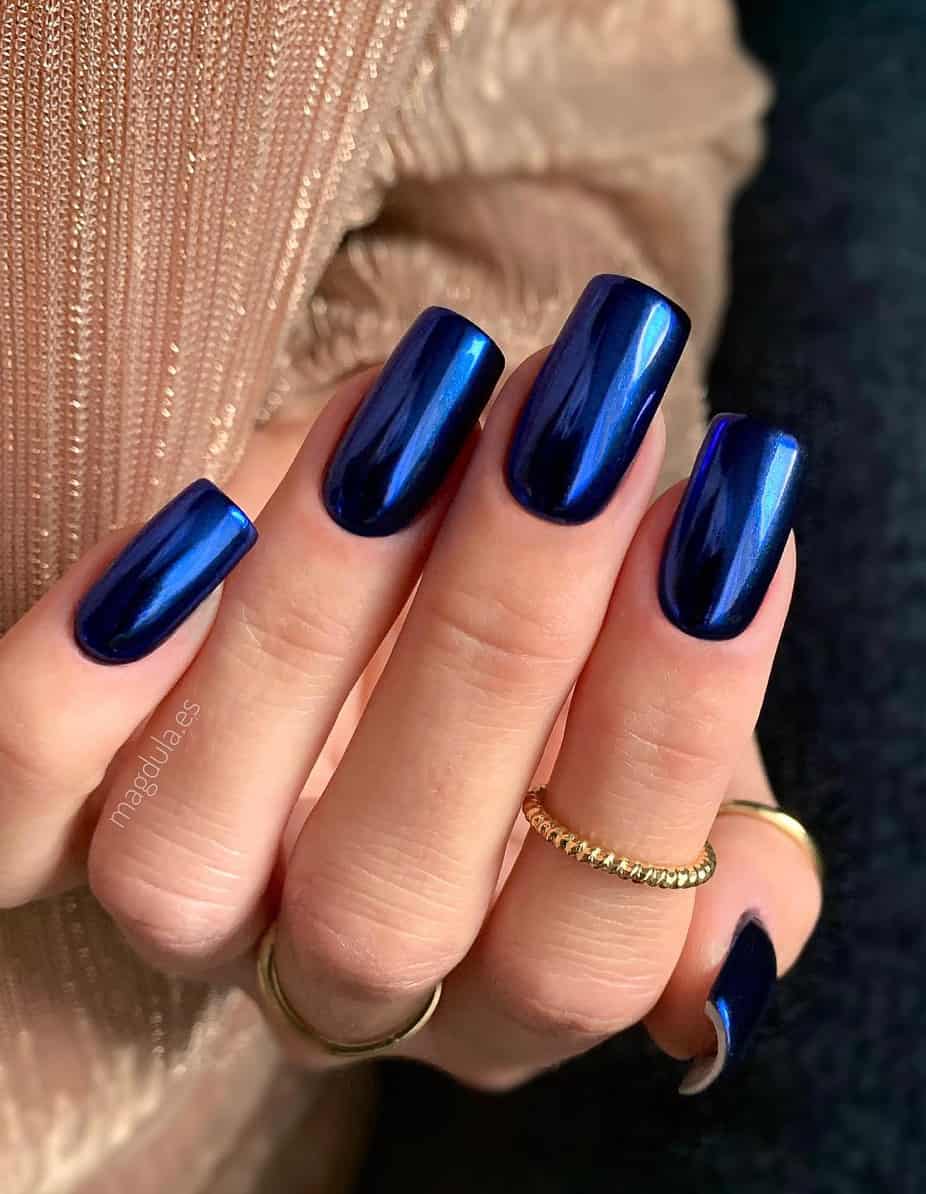 These nails have a sleek and classic look. The rich shade of blue is highlighted by the glossy finish.
The mid-length square cut of these nails gives them a sophisticated look and makes them the perfect choice to wear with any outfit and to any event.
19. Short Dark Blue + Nude Nails w/ Gold foil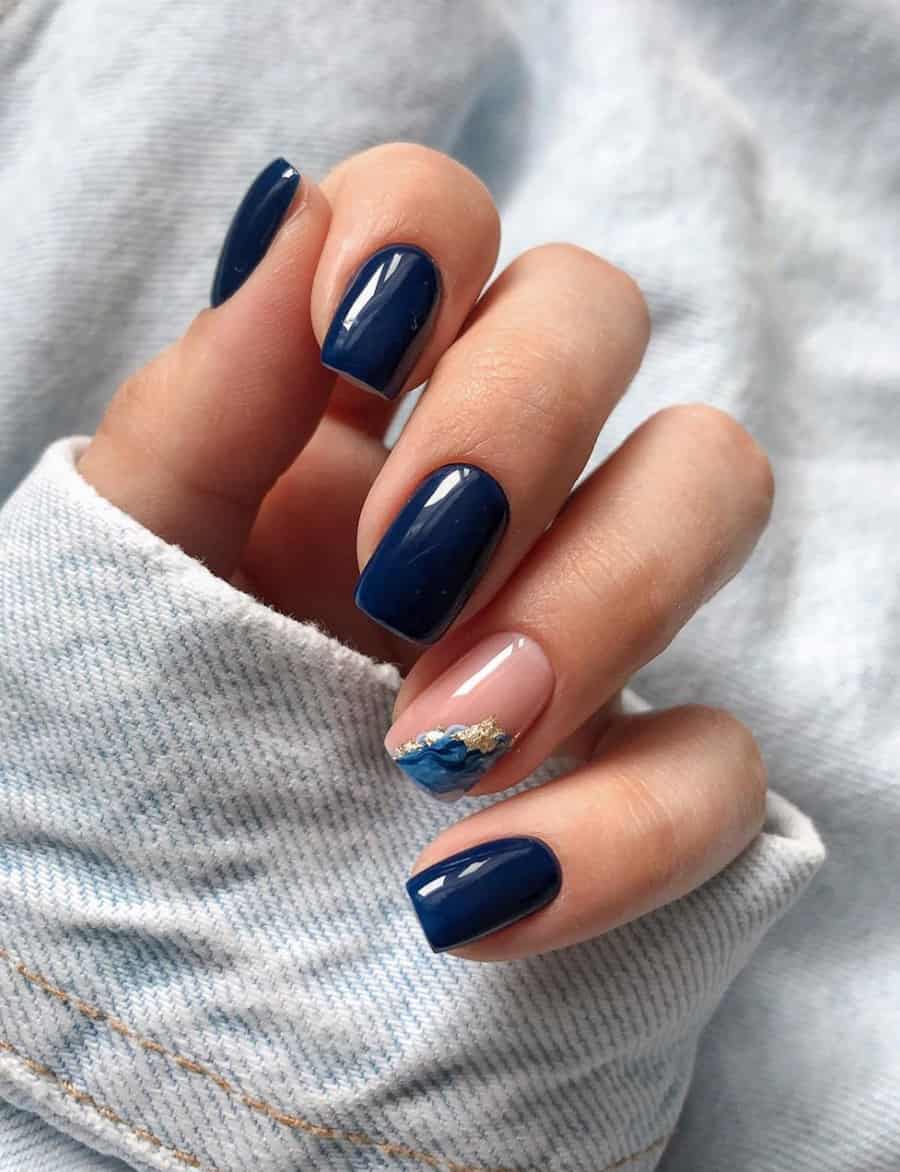 Lastly, these nails have a chic and timeless look. The richness of the blue is accented by the unique design of the ring finger.
The marbled light blue and white on the ring finger outlined with gold flecks look stunning. These adorable nails are another perfect choice for a manicure that looks great in any setting.
What color goes with dark blue for nails?
Dark blue is a color that is very easy to pair with other colors. There are so many complementary colors, especially neutral tones, including gold, silver, ivory, cream, tan, and grey. Pairing dark blue with neutrals creates a sophisticated and polished look as neutrals complement dark blue very well.
If you want something bolder, you can easily pair dark blue with more vibrant colors. Green is one of our go-to colors to pair with dark blue because they're both cool tones.
You can also pair dark blue with softer tones like blush and lilac. These color pairings have a more feminine and romantic vibe, making them a top choice for women.
Which navy blue or dark blue nail design is best?
All the gorgeous nails listed here will add a stunning accent to any look. You can use any of these manicures for nail ideas and inspiration for your next trip to the salon.
More Nail Style Guides You'll Love
28+ Stunning Baby Blue Nails & Light Blue Nails To Try
21+ Cow Print Nails That'll Make You Love This Viral Trend
21+ Pink and Red Nails For A Fun & Flirty Vibe
19+ Gorgeous Emerald Green Nails You'll Want To Copy
21+ Chic Neutral Nails For A Classy, Minimal Aesthetic
19+ Gorgeous Olive Green Nails You'll Absolutely Love
21+ *Stunning* White Christmas Nails You'll Love