Looking for a Zimmermann dress dupe in 2023? These stunning look-alike dresses have a very similar aesthetic to some of the most gorgeous Zimmermann pieces but with a budget in mind!
*this post contains affiliate links*
*Originally published Dec 2021, Updated June 2023*
8+ Seriously Stunning Zimmermann Dress Dupes
Zimmermann is a brand we've been in love with for ages here at Style Your Occasion. The beautiful, impeccably-crafted dresses come in luxurious fabrics like linen and silk and have the most stunning floral patterns.
It's no wonder Zimmermann dresses are highly sought after. But they do come at a high price!
Zimmermann dresses can easily cost $500 to upwards of $2,000, which isn't attainable for most people. Luckily, we've come across some really incredible look-alikes.
Our Zimmermann dress dupes have many of the same or similar aspects and come in at a much lower price point. So if you are looking for the perfect look-alike dress, we're sure you'll find "the one" below!
Zimmermann vs. The Dupes
Zimmermann dresses are very unique so creating this Zimmermann dress dupe list was no easy task. We made sure to focus on feminine fits, flowy silhouettes, eye-catching patterns, and an overall whimsical appeal for our dupes.
The feminine, stunning dresses are loved for good reason. There is a wide variation of patterns, colors, and fabrics that the Zimmermann sisters utilize in their dress designs, but all of them have a whimsical appeal.
shop the dupe:

We love the cheerful yellow floral pattern on this Zimmermann Postcard dress. It's perfect for a baby shower, special brunch, or casual summer wedding. The Zimmerman dupe dress is no exception.
From Australian brand Evernew, the Irina Twist Midi Dress has a very similar shape and yellow floral pattern. And it is made with a luxurious linen fabric too!
At just under $200 (CAD), this stunning look-alike dress is worth checking out!
shop the dupe:

The next Zimmermann dress dupe on our list is a pretty white number from Evernew as well. The Delphi Midi dress is a beautiful belted linen dress that looks very much like the Zimmermann Anneke belted dress.
Both dresses come in a high-quality linen fabric, with mid-length sleeves, and a round buckle belt. But, one will run you $650, and the other less than $200 (CAD). Take your pick!
shop the dupe:

If you love a good feminine, romantic floral dress, you've likely seen the Zimmermann High-Tide Puff-Sleeve mini dress. This stunning dress has a pretty pink floral pattern, puff sleeves, and a round buckle belt.
Our very affordable dupe is from Chicwish, the Bubble-sleeve Floral Dress. And while it is a midi length, this look-alike dress still has a very similar overall look to the Zimmermann. At just $65, this budget-friendly dress is a total steal and will definitely have people asking "is that a Zimmermann??".
shop the dupe:

Above is the Zimmermann Floral Linen Midi Dress from the Postcard line vs. the Bow Day Dress by Shelli Segal.
Both dresses have a beautiful blue floral pattern, an a-line silhouette, and straps that tie at the top. The dupe is a beautiful alternative and is at an excellent price point.
Two more alternative dresses to consider are the Liya Dress and Reverie Dress from Reformation.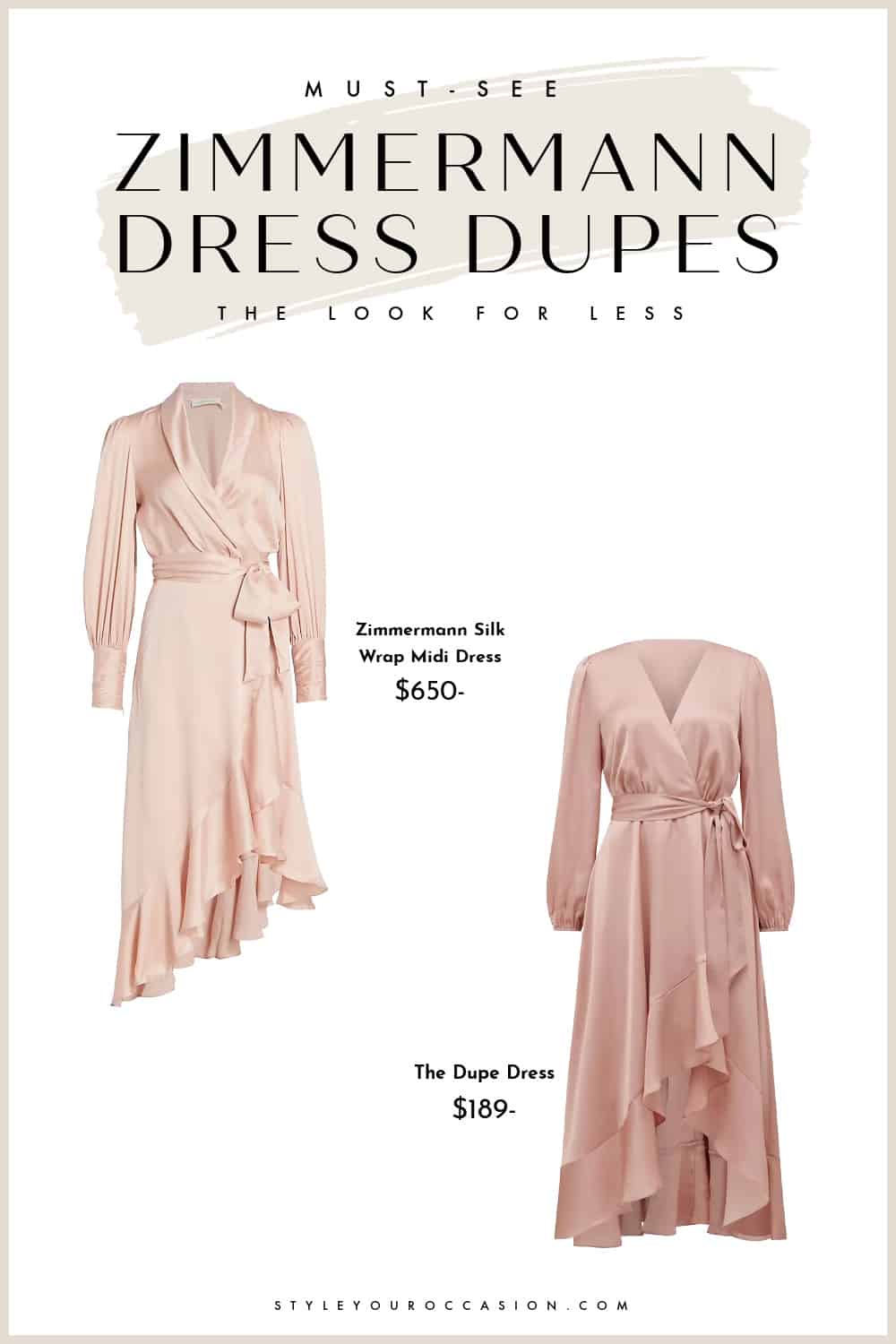 shop the dupe:

Classy, sophisticated, and super feminine, the Silk Wrap Midi Dress from Zimmermann is a beautiful piece. Perfect for a wedding, date night, or other dressy occasion.
Our Zimmermann dress dupe pick is the Susanna Dress from Evernew. It is also totally gorgeous and has a similar color tone, wrap style, silky fabric, and plunge neckline.
We also came across these affordable dupes:
shop the dupe:

Ah, the coveted tiered dress from Zimmermann. This style has come in so many different floral patterns and colors, and everyone still loves it!
We've found an excellent dupe with a very similar floral pattern, tiered style, and feminine tie-straps. The Lilac Blossom Tie-Strap Maxi dress is our dupe from Chicwish, and comes in a couple of colors (see here), and checks all the same boxes.
Both dresses are so summery, flowy, and beautiful – perfect for a warm, breezy day! Additionally, if you love blue, check out this tiered dress from & Other Stories.
shop the dupe:

If you love color you'll love either of these dresses. The Zimmermann original is a silk and linen blend ombre dress with the most gorgeous color blending. But, at $1800, it comes with some sticker shock. To find an exact dupe was impossible but the look-alike is a great alternative.
The Rococo Sand Emi Pleat Dress from Revolve has that same ombre shading but with a halter neckline and pleating details. It is still an investment but comes in at 1/4 of the price of the Zimmermann.

shop the dupe:

Last, but definitely not least, we had to include this incredible appliquéd dress on the list.
The Zimmermann Floral Appliqued Dress is a showstopper. All the little details and the puff sleeves make for a whimsical dress that is well worth its price tag.
If you are on the hunt for a Zimmermann-inspired wedding dress, the Willowby by Waters Lilia Gown from BHLDN is the one! It's just as stunning and has a longer length which makes it a touch more formal in our opinion.
While this dupe dress is an investment, it does come in at around $900 less than the Zimmermann dress.
What brands are like Zimmermann?
There are many more brands that carry beautiful dresses and apparel Zimmermann, they include:
We hope you have enjoyed this list of Zimmermann dress dupe options and look-alikes for 2023! Which one is your favorite? Happy shopping and be sure to pin the photo below to save this list for later!
Pin this!
More Look Alike Posts You'll Love: