A trench coat outfit is a chic and timeless look to sport in 2023. These 16+ trench coat outfits show how easy it is to elevate your look with this gorgeous wardrobe staple!
*this post contains affiliate links*
What clothes go with a trench coat?
The trench coat is a classic piece that is very versatile. You can style a trench with all kinds of clothing including:
jeans
trousers
leggings
skirts
dresses
classic tees
blouses
sweaters
And, they can be worn with all styles of shoes, including sneakers, loafers, ballet flats, heels, and boots. Whether you prefer to dress more casually, or wear formal clothing most days of the week, you'll find a trench coat is a worthwhile addition to your wardrobe.
How do you style a trench coat casually?
To achieve a casual look with a trench coat, pair it with jeans, a t-shirt or sweater, and sneakers. Another option is to layer a trench coat over athletic leggings and a tank top or a sweatsuit for a sporty look.
Ultimately, pairing a trench coat with clothing that has a sporty, laid-back, or relaxed feel will create a casual look that's still chic.
Chic Trench Coat Outfit Ideas
If you're looking for classic and fashionable ways to add a trench coat to your look, check out these chic trench coat outfits for some fantastic styling tips.
go shorty
get the look:

We love the crisp, bright look of this outfit featuring a trench coat and plissé pants. The light tones make this a fabulous outfit for early spring when the weather is still a bit chilly.
This chic and casual look is perfect for grabbing a coffee and taking a stroll through the park. The shorter length of the trench coat is excellent choice for this look, and you can easily swap the sneakers for boots or heels to achieve a more polished look.
business casual vibes
get the look:

This chic outfit has a business casual feel, making it a great choice for the office. The sneakers and belted trench coat add to the relaxed vibe, while the rest of the outfit has a sophisticated feel.
We love the neutral tones here but if you prefer more color, try wearing a pastel sweater instead. This look is perfect for transitional weather, and you can easily swap the sneakers for loafers to make the outfit a little more formal.
street style chic
get the look:

We are in love with this gorgeous light green trench coat. The Nike kicks, sleek trench, and cropped top give this outfit a trendy and youthful aesthetic, while the leather pants add an edgy touch.
The light green hue gives a spring vibe, although you could easily wear this look year-round. This cool and casual outfit is perfect for your next concert or a night of bar hopping with the girls.
over a matching set
get the look:

Who knew that adding a trench coat over an athletic set was such an easy way to elevate your look? The set, paired with sneakers and a baseball cap, creates a laid-back outfit, and the coat makes it sleek and stylish.
This look is perfect for running errands on a warm day. We love that you can easily change up this outfit by wearing a sports set in a bright color or with a playful pattern, altering the aesthetic to match your own personality.
pair it with leggings
get the look:

Après yoga?
Here's another laid-back and comfy trench coat outfit that we love. The long, oversized trench takes a simple look and adds a polished appeal.
This look is a fantastic choice for going on a walk through the park or running some errands around town. This cozy outfit will keep you warm when it's chilly outside, so wear this casual look during early spring, fall, or winter.
add a midi skirt
get the look:

A midi skirt is an elegant piece on its own, but pairing it with a classic trench coat takes it to another level. The skirt adds a feminine feel to this outfit, and the sling bag is a perfect addition to the look.
The sneakers keep a laid-back vibe and make it a great choice for walking around and checking out some new shops. Take the look from day to night and swap the sneakers for heels to create an elevated feel.
Elegant Trench Coat Outfit Ideas
A trench coat may seem like a casual piece, but it's our favorite chameleon that can be dressed up or dressed down to match any aesthetic. Here are some of our top elegant trench coat looks.
dress it up
get the look:

Heels will always add an elegant touch to any look. This outfit is chic and refined, and the pumps and trench coat elevate it even further.
This gorgeous look is so versatile too! It can be worn anywhere from the office to date night. You can also add some color by going for a bold red or pastel blue top or wear heels in a vibrant shade.
army green hues
get the look:

We are obsessed with the gorgeous khaki green shade of this Burberry belted trench coat. The rich army color gives it such a unique look and adds a great pop of color to the outfit.
Since the khaki green is a muted tone, it pairs well with other neutrals like white, black, and cream. However, you could easily add some bolder colors to go with this lovely shade of green.
The split hem pants, loafers, and designer handbag add to the elegant feel of this outfit. Perfect for grabbing dinner with your SO on a cool evening or browsing a gallery or museum.
for a night out
get the look:

Often a minimalistic and classic look is the way to go. This outfit has a simple look but is still so chic and stylish. The light tones throughout give this look a spring or summer feel, so it'd be perfect to wear during those warmer months.
The strappy sandals and sleek black skirt add a feminine touch. And, it's formal enough to wear to work but sexy enough to wear on date night.
legs for days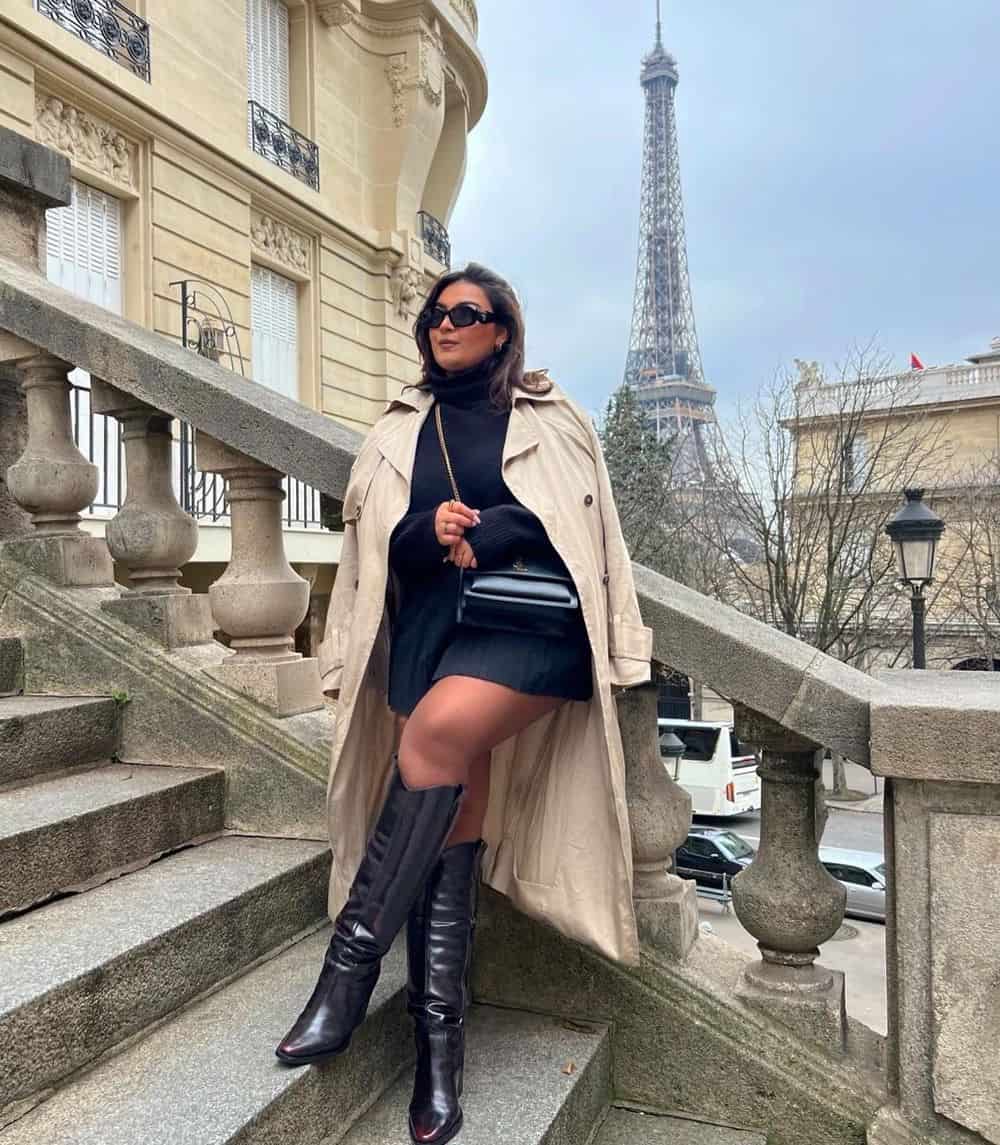 get the look:

This stunning trench coat outfit has a dark and edgy aesthetic that we adore! The full black outfit is sexy and sophisticated, and the trench adds a chic touch.
This outfit would be perfect for transitional seasons, and you can easily add black stockings for something more warm and cozy. Wear this for a night out on the town or when grabbing dinner and drinks with your friends.
Black Trench Coat Outfit Ideas
Black adds a chic and bold touch to any look, and a black trench coat is no exception. We love the look of these stunning black trench coat outfits, and we're sure you will too.
for chilly days
get the look:

We always love a casual chic look that you can spend the day in. This outfit is another excellent pick for transitional weather, like early spring or fall. It has a comfy, laid-back feel that is perfect for a casual lunch date with friends.
The black trench coat definitely elevates this minimal look, and it's easy to recreate with some wardrobe basics. You can swap out the blue jeans for a black pair if you want a more polished look, or go with a silky top instead of the white tee.
make it leather
get the look:

The black leather trench coat no longer belongs to only the punk rock crowd. This piece is now seen on celebrities and fashion influencers alike and we are here for it!
We love this outfit with its bold and edgy feel, and the chunky boots match the vibe perfectly. The beige Bershka pinstripe set adds an elevated vibe to the outfit, although a black leather trench coat is so versatile it can be worn with a dress, jeans, or any other look.
This stunning outfit is a great choice for exploring shops and cafes with your friends, and the coat will definitely keep you toasty on cool days.
add some character
get the look:

Animal print and a black trench coat make the perfect pairing. This stunning outfit will keep you warm and cozy in the winter without sacrificing any style.
We love the glam-rock vibe of this look. The combo of white boots and animal print pants has a playful and edgy feel, and the black trench coat pulls the look together.
You can keep the sweater for colder days or opt for a tee or tank when it's warm. Grab a stylish handbag, and you'll have a perfect look for your next girls' night out.
Chic French Trench Coat Looks
Of course, we can't forget to include some classic Parisian outfits on our list. A trench coat is a classic wardrobe staple for French women, and these timeless outfits are a style we know we can come back to time and time again.
vintage vibes
get the look:

This gorgeous green trench coat looks amazing styled over a shirt dress and tall boots in this outfit. The tied belt adds a feminine and classy vibe and makes the trench coat the star of this look.
The brown boots complement the green coat perfectly, and the Hatteras or Driver's cap adds classic Parisian style. If you want even more chic French outfit inspiration, don't miss this post!
classic Parisian
get the look:

This is a perfect example of quintessential Parisian style from one of our favorite French style influencers. This outfit has a refined look, but the trench coat and woven straw purse add a relaxed vibe.
We love how simple and versatile this look is. You can wear this outfit to your local farmers market or while grabbing lunch with your friends, or you can also choose a top with a higher neckline for a chic outfit to wear to the office.
Is trench coat OK for winter?
A trench coat is a perfect piece to have in your winter wardrobe if you live in a milder climate. This timeless piece can keep you looking chic while shielding you from the chilly air when layered over a thick sweater and pants.
Add a pair of boots and go with warm fabrics like cashmere, wool, and alpaca to enjoy your trench coat all winter long.
minimal + monochromatic
get the look:

This cool weather outfit has a gorgeous monochromatic look we are obsessed with. We love how this minimal outfit has an effortless style and is comfy enough to wear while running errands or hitting the newest brunch spot.
The boots, sweater, and trench coat are an ideal winter combo, and the cool grey tone of the coat gives this outfit a polished look. You can keep the baseball cap for a casual vibe or use a beanie for extra chilly days.
over a sweatsuit
get the look:

Last on the list of trench coat outfits, this laid-back, cozy look is a perfect winter option. The sweatpants and hoodie combo will keep you warm, and the trench coat adds a refined look to these basic pieces.
You can opt for more color and wear a dark blue or green sweatsuit or stick with neutrals for a minimalist vibe. This casual outfit is perfect for spending a winter day out and about, and don't forget a cute mini backpack to bring along all your essentials.
All in all, a trench coat is a gorgeous piece that can easily be styled into any look. If you plan to add this classic piece to your wardrobe, use this trench coat outfits article as a style guide to inspire stunning new looks to try in 2023!
More Style Guides You'll Love:
Effortless Spring Capsule Wardrobe
15+ Elevated Brown Pants Outfit Ideas To Make You Love This Hue
13+ Paris Outfit Ideas Inspired By The Chicest French Influencers
13+ Elevated Black Blazer Outfit Ideas For Women
18+ Outfits With Green Pants: Stylish + Elevated Looks You'll Love