Looking for stylish womens green pants outfit ideas? I'm sharing my fave elevated and chic green pants outfits, along with what colors go best with green pants!
*this post contains affiliate links*
Originally published May 13, 2022 – Updated October 24, 2023
Stylish Womens Outfits With Green Pants
I may be all about neutrals when it comes to my wardrobe, but that doesn't mean I don't love a great pair of green pants! If you find you shy away from color in your wardrobe, I want to show you how easy it is to style green pants in a wide variety of ways.
This post is all about green pants fashion, so I've created and sourced 18+ modern green pants outfit ideas to inspire you and am sharing which colors I think pair best with green bottoms.
What colors go with green pants?
Green pants go great with a multitude of colors and shades, but the best option, in my opinion, is neutral shades and muted colors including;
black
white or ivory
beige or tan
camel or brown
taupe
navy
the same or a different shade of green
pastel pink or purple
deep red
While you can wear bright, bold colors with green pants, it can be a challenge to find the right balance. So unless you are confident rocking an outfit like this, I suggest sticking to the colors above to start with!
Green Pants Outfits For Women
Below you'll see several green pants outfits I've created featuring the very comfortable Barrel Pants from Everlane in Dark Moss (they look like olive green).
black top, green pants & boots.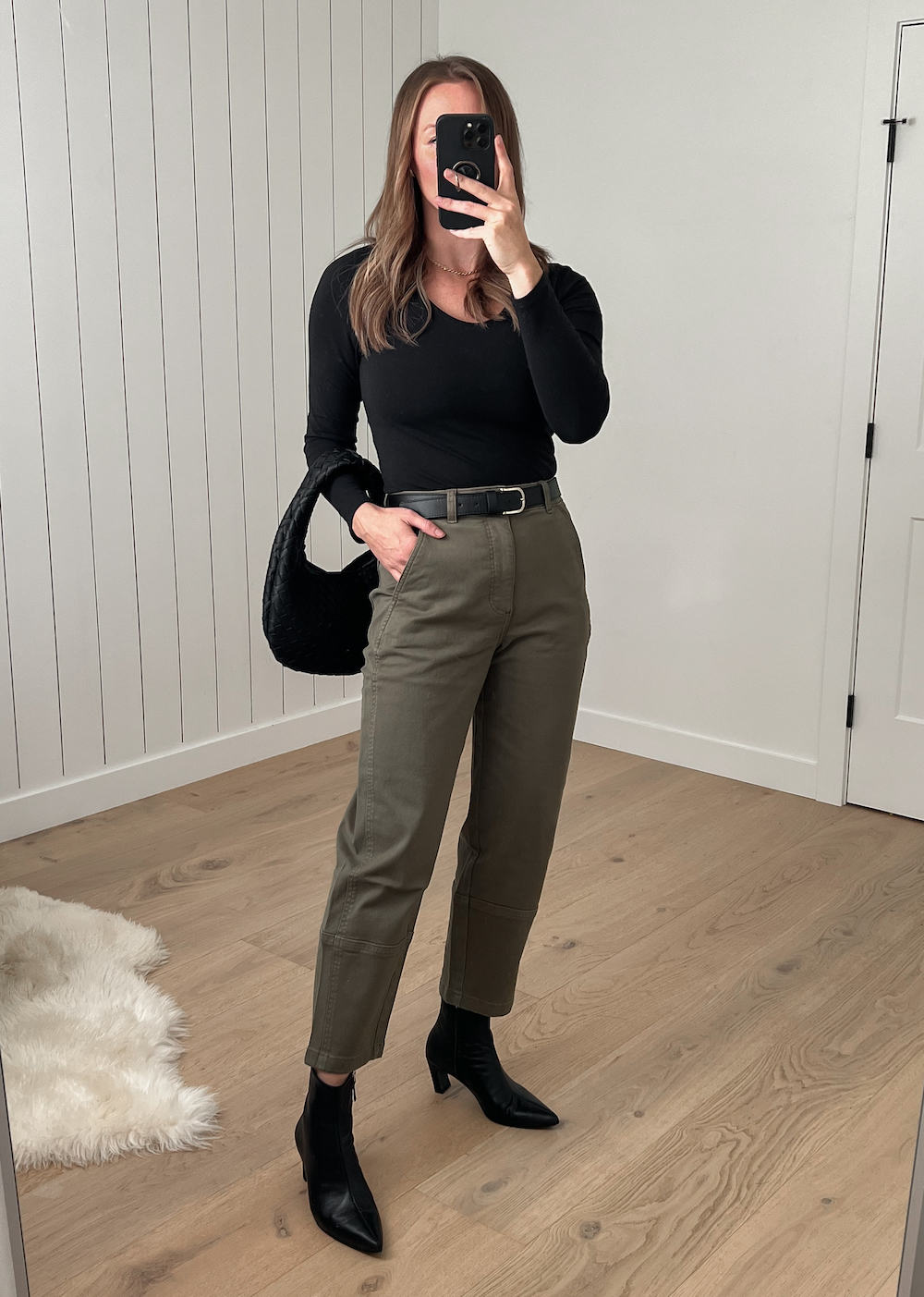 get the look:

In this first green pants outfit, I paired my Everlane pants with a simple black top and heeled black leather boots. I used the "sandwich method" – sandwiching the green pants between a black top and black shoes. The result is a balanced and chic outfit that really makes the green pants the star of the show.
I also chose to stick with a black belt and a cute black bag for consistency. Black and green is a foolproof combo that always looks timeless and classy.
You could easily add another pop of color with an orange or burgundy bag, especially if you lean to a more colorful wardrobe overall.
ivory knit, green pants & sneakers.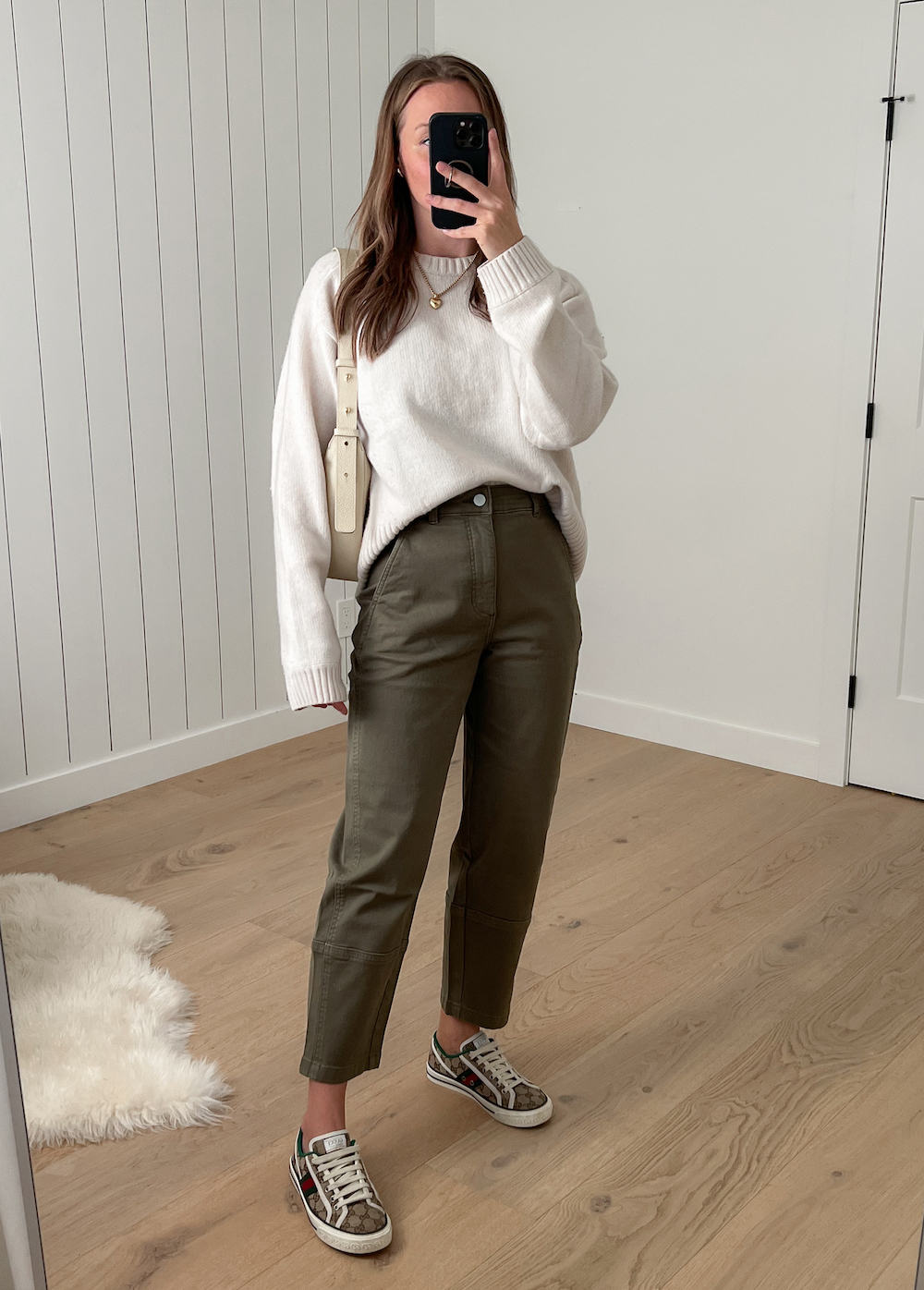 get the look:

Green and ivory are like a match made in heaven, in my opinion.
I love how the soft shade of this ivory sweater blends perfectly with the dark moss barrel pants for a casual-chic look. The tan canvas Gucci sneakers add another touch of neutrals, but you could easily go with an off-white or bright white sneaker instead.
When wearing a white or ivory top with green pants, I recommend keeping your footwear light to create balance in the overall look.
crimson red & olive green.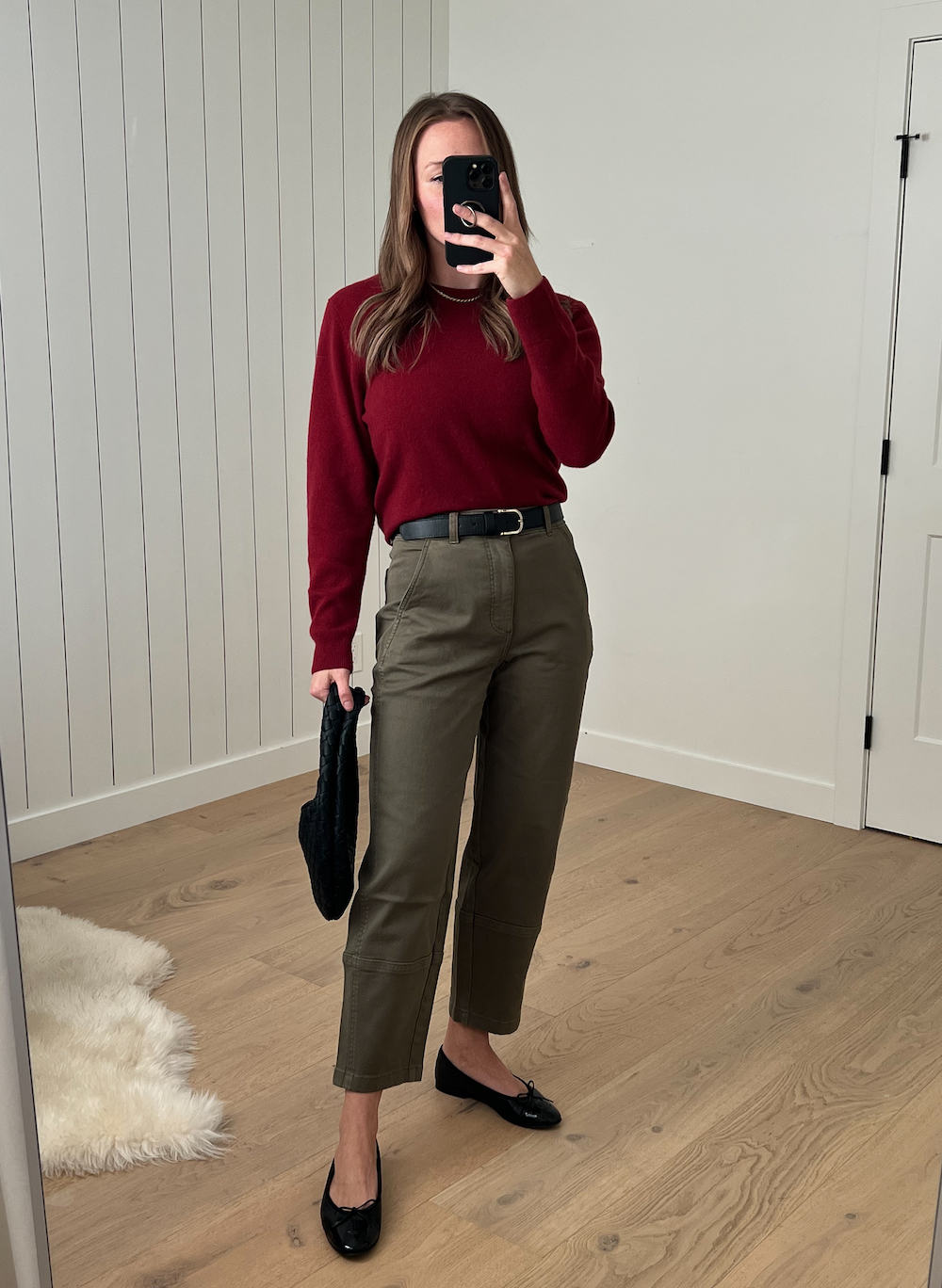 get the look:

According to Marie Claire Magazine, red is fall 2023's biggest color trend. And while I am a big neutrals fan myself, I have been drawn to deep shades of red like crimson and burgundy lately.
This crimson red crewneck sweater from Quince pairs perfectly with the Everlane dark moss pants for a warm fall look that feels modern and on-trend. I chose to stick with black accessories to not take away from the red and green.
You could easily wear this color combo in fall and winter around the holidays.
tan trench coat, green pants, & ballet flats.
get the look:

My next green pants outfit on this list is classic and sophisticated.
I paired a basic black top with my olive green pants and slipped on a pair of timeless black ballet flats. To finish the look I added my cotton tan trench coat from Mango and my all-time favorite Saint Laurent Solferino bag.
The tan and green work so well together with the anchoring black pieces. I highly recommend this outfit combo if you want to look and feel chic and put-together.
neutral plaid blazer & green pants.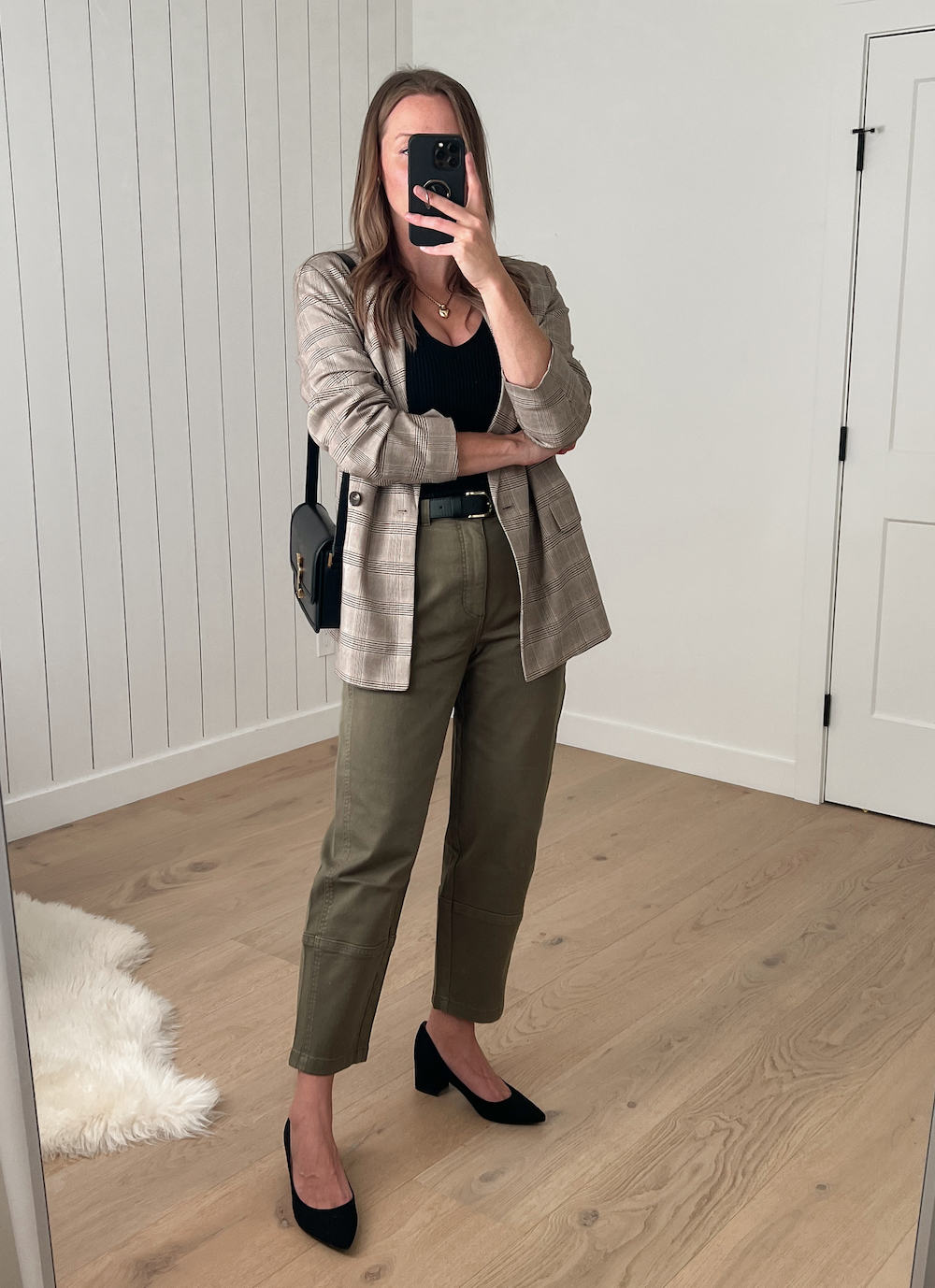 get the look:

Similar to my last green pants outfit on the list, this look combines a neutral plaid blazer with olive green bottoms. The look is cohesive and classy, showing how you can easily wear green pants in a professional setting.
I finished the look with a pair of black suede pumps and my Solferino shoulder bag. Underneath the blazer, I am wearing a black knit tank top that ties in well with the shoes.
You could also swap the black for light tones with a pair of nude pumps, an ivory top, and a nude shoulder bag.
dark brown sweater, green pants & black sneakers.
get the look:

I love this simple and casual look that shows how brown and green come together seamlessly. Because the green pants I'm wearing are an earthier shade, they work well with the chestnut brown sweater.
I wouldn't recommend pairing a dark brown sweater with bright green pants, but you could flip the look and wear a bright green sweater with brown pants like in this outfit from WhoWhat Wear.
Finally, the black New Balance sneakers and tote bag are the perfect neutral accessories to anchor the muted green and brown in this casual outfit.
simple summer green pants outfit.
get the look:

Next is a chic green pants outfit for women for the summer months. In the summer it is more common to see bright colors, but I just love the classic look of a black tank top and green pants.
Here I'm wearing a one-shoulder black knit tank with the Everlane pants and my Chloe Woody sandals. The pop of white on the sandals and the light raffia tote bag lighten up the look giving it a summer feel. But the green pants are still the star of the show!
More Green Pants Outfit Ideas For Women
Still looking for more womens green pants outfit inspiration? Scroll on to see more chic and stylish outfits I've created.
leather jacket + sneakers.
get the look:

This look pairs wide-leg olive pants, a basic black tank, and a black leather jacket with sneakers and a brown leather crossbody purse. I added a touch of gold with the hoop earrings to elevate this look which is perfectly cool and casual.
Wear this outfit in spring, on a cool summer day, or during the fall (just swap the tank for a long-sleeved black shirt).
green sweater & green pants.
get the look:

In my opinion, monochromatic outfits always look more elevated.
With this look, I combined a green knit cardigan with lighter green pants to show that pairing green with green is totally doable – and encouraged! I love taking two complimenting shades of green and putting them together for a sophisticated vibe.
The earthy brown heels and nude bag are complimenting neutrals and the gold jewelry adds a touch of elegance.
green linen pants & an ivory knit.
get the look:

You could easily wear this next outfit to brunch, running errands, or for a trip to the Farmers Market. I combined green linen pants with an ivory knit sweater, brown strappy sandals, a straw bag, and dainty jewelry.
The chartreuse pants are toned down by the other neutral colors, but they would also look great paired with a colorful raffia bag like this one by Altuzarra.
to the office and beyond.
get the look:

If you want to wear green pants to work (and for happy hour after!), try this simple and stylish outfit. The olive green pants are dressed up with sleek black loafers, a simple white button-up shirt, dainty gold jewelry, and a simple black crossbody purse.
I would recommend adding a black blazer to make the look even more professional.
denim jacket + green pants.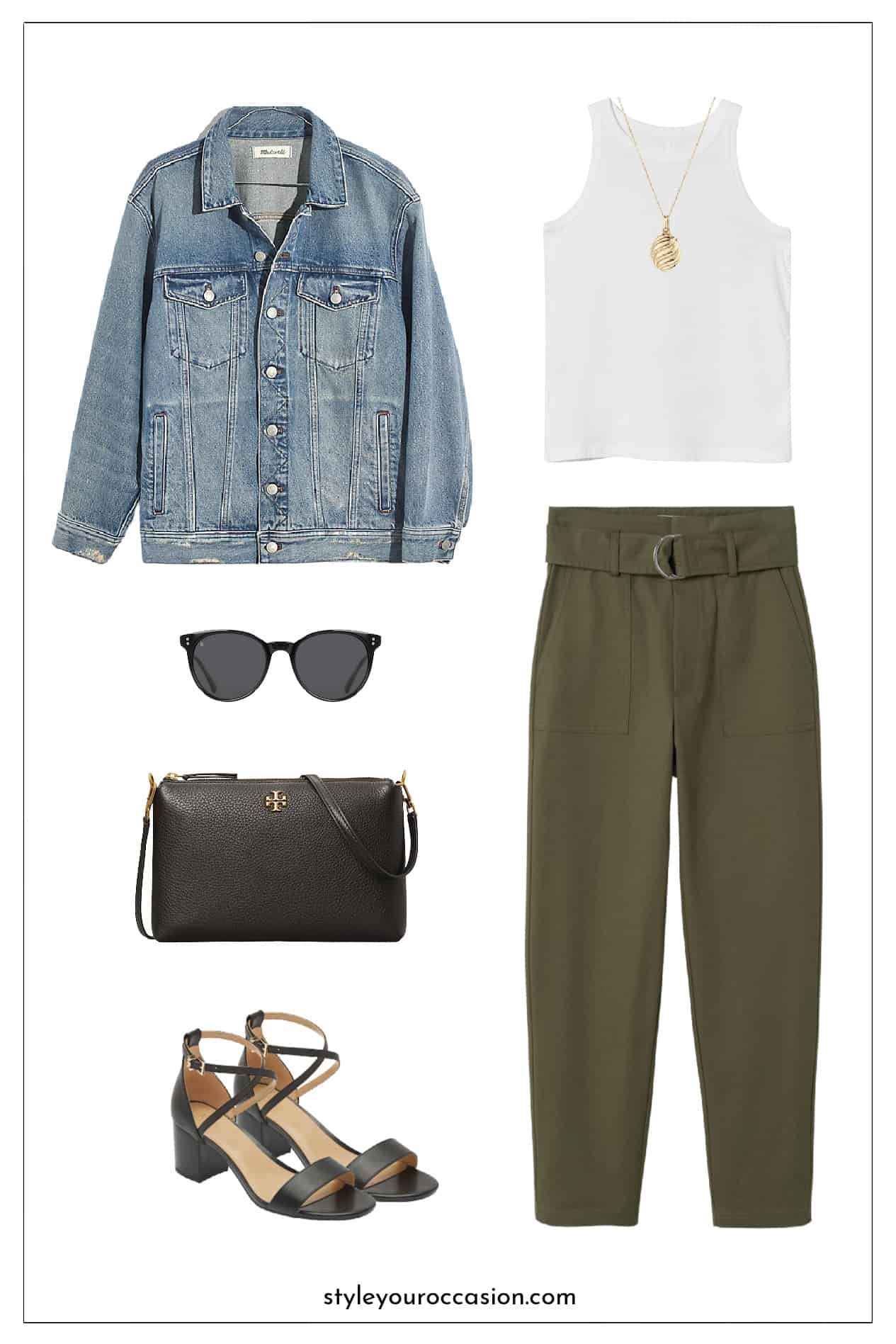 get the look:

This last womens green pants outfit is a great weekend option for a casual date night or drinks with friends. The heeled black sandals dress up the green pants and basic white tank.
If you find the denim jacket is too casual for a night out, opt for a leather jacket instead!
Chic Influencer Green Pants Outfits
I always love scouring Instagram to see how my favorite fashion influencers are styling certain pieces. Below are some great womens green pants outfit ideas I came across that I think you'll love too!
What can you wear with green pants?
When it comes to styling green pants, the options are endless. Depending on the style of your pants you can keep it casual with a denim jacket, neutral t-shirt, and sneakers. Or, dress them up with heels, a nice blouse, and a leather jacket.
Finding ways to wear green pants can be a lot of fun when you compliment them with neutrals, other green hues, or deep colors like burgundy and navy.
If you are new to styling green pants, the best option is to stick with neutrals and consider trying the "sandwich method" – matching your top and shoe color to create a stylish, balanced look. It's pretty much foolproof!
I hope you have enjoyed this list of womens green pants outfit ideas!
More Style Inspiration You'll Love:
15+ Elevated Brown Pants Outfit Ideas To Make You Love This Hue
Effortless Year-Round Minimalist Wardrobe Capsule
Are Leggings Business Casual? Here's What You Need To Know!
16+ Fresh & Chic Trench Coat Outfit Ideas
What Color Shoes To Wear With a Red Dress + 5 Simple Outfit Ideas
The *Best* Tops To Wear With Leather Leggings + Outfit Ideas To Try