Looking for the best Cartier Love Bracelet dupe in 2023? See 10+ stunning, affordable, and highly-rated Cartier bracelet dupe options that create a chic Cartier aesthetic.
*this post contains affiliate links, updated for 2023*
Finding the Best Cartier Love Bracelet Dupe
The iconic brand Cartier, founded in 1847 by Louis-François Cartier, is well-known for its stunning high-end jewelry and watches. This French luxury brand is definitely a status symbol and the Cartier aesthetic is envied by many.
Unless you have thousands (or tens of thousands) of dollars to spend on a bracelet or ring, the dream of owning an original Cartier piece is likely not a reality for you…just yet. Not to fret, you've come to the right place!
We've scoured the fashion world and have discovered 10+ fantastic Cartier bracelet dupe options that are in a much more affordable price range. Whether you have less than $100 to spend, or a few hundred, we have a great Cartier Love Bracelet dupe for you!
What is similar to Cartier bracelet?
Many bracelets are similar to the Cartier Love bracelet, including some from well-known brands like Kate Spade and Tory Burch. You can also find great Love bracelet dupes on Amazon and from independent retailers on Walmart's website, or on sites like DHgate.
Below are the best Cartier Love bracelet dupes with high ratings and great reviews.
Cartier Love Bracelet Dupe: Amazon
Amazon is always a great place to check when looking for designer dupes, so it's no surprise that we've found some great Cartier Love Bracelet dupes. While these options are not nearly the same quality as a real Cartier bracelet, they do have a similar overall look and are much more affordable.
The first dupe from Amazon is a beautiful bangle bracelet. The bracelet is stainless steel and plated with 18k gold. It has a sleek design that mimics the Cartier Love bracelet, and the high-quality Cubic Zirconia mimics sparkling diamonds.
This bracelet comes in a white gift box and has over 330 ratings with 4.5 stars and overwhelmingly positive reviews. For less than $20, it's hard to pass this one up!
The next Cartier love bracelet dupe from Amazon is a stunning bangle bracelet made with surgical-grade stainless steel. It is a durable bracelet that will not tarnish (according to the seller) which makes it great to take on vacation where you'll be at the beach or in the pool.
The circular design is similar to the Cartier Love bracelet, but also different as it has a cross in the circle, rather than one line. This makes it unique and a good choice if you don't want an exact replica of the Cartier bracelet.
With over 1,250 five-star ratings and a $12 price tag, this bracelet is a steal of a deal. Plus, it comes in a cute gift box too!
*As of 2023 the gold color has sold out (but may be restocked, so keep checking back!), but the bracelet is still available in rose gold and silver!
Another great Amazon dupe, this bangle bracelet is a great look-alike to the small and more dainty Cartier Love bracelet. It is made with durable stainless steel and set with 10 cubic zirconia diamond-like stones that make it sparkle and shine.
The bracelet has received over 190 reviews and they are overwhelmingly positive with 195+ ratings and a score of 4.5-stars. At just $17, this is a great Cartier Love bracelet dupe that is definitely worth checking out!
Cartier Love Bracelet Dupe: Real Gold Options
If you prefer a bracelet that is gold-plated, you'll love these higher end (but still really affordable) options below!
Our favorite on the Cartier Love Bracelet dupes list, this beautiful bangle bracelet from well-known designer Kate Spade has a great look that is very similar to the Cartier Love bracelet. It is made with 12k gold plated metal or 12k rose-gold plated metal, so you can choose which color you like best.
On the other hand, if you prefer silver, you can go with that option too! The bracelet is set with crystals and has a beautiful sheen. Stack with other bracelets for a stunning designer aesthetic.
Additionally, Kate Spade has regular promotions so there's a good chance you can snag this bracelet for 20% or more off!
The next Cartier bracelet dupe is from an independent retailer on the Walmart website, Aria Jeweler. Why get just one, when you can get two?!
The bracelets come as a set of two, making them great for stacking. Additionally, they are made with 14K gold plated over sterling silver, so they are of great quality.The bangles also come set with sparkling crystals and would make a great gift for someone who loves the Cartier aesthetic.
Cartier Love Bracelet Dupe with Screwdriver
If you are looking for that extra something that makes a Cartier dupe look even more authentic, you'll want it with the little screwdriver. These options below are worth taking a look at!

DHgate is a haven for designer dupes. So, it's no surprise we found a cute Cartier dupe bracelet here that comes with a screwdriver. Made with gold-toned stainless steel, this bracelet has the same Cartier-inspired circle design.
And, it is a great bracelet option for those who have sensitive skin.
The next Cartier bracelet dupe comes from another Etsy store, and it has the Cartier insignia on the inside as well as a screwdriver that comes with the bracelet.
The bracelet is made with gold-plated stainless steel, and it is hypoallergenic and will not tarnish. The seller does not have any ratings yet, and only a handful of sales, so you may want to watch this store for a bit before diving in to buy!
More Cartier Love Bracelet Dupes
In case you want a few more options, we've got more great Cartier Love Bracelet dupes to check out below!
This lovely bangle bracelet from designer Tory Burch is adorned with small Tory Burch logo medallions that have a similar look to the Cartier love bracelet circle design.
If you love designer pieces but can't afford a Cartier piece, this is a great alternative. The bracelet is made with gold-toned stainless steel and is both durable and elegant.
The next Cartier bracelet dupe is another from Tory Burch, which mimics the Cartier Love U bracelet, which is a cuff rather than a bangle. This bracelet is adorned with Tory Burch logo medallions and is made with gold-toned stainless steel.
This is a pretty designer bracelet at a much more affordable price point and definitely has a Cartier aesthetic. Again, if you prefer designer pieces, the Tory Burch bracelet is a great option for you!
*As of 2023 this bracelet has unfortunately sold out, but we recommend keeping a close eye out to see if it comes back in stock!
B.Tiff New York is a small business that launched in 1999 and makes beautiful tension-set jewelry for everyday wear. The love bracelet dupe is gold-plated surgical stainless steel and is both durable and hypoallergenic.
Additionally, it is extra shiny and set with large stones. Stack it with your other favorite bracelets for a stunning aesthetic.
This is also a great choice if you prefer to shop with small businesses over big ones!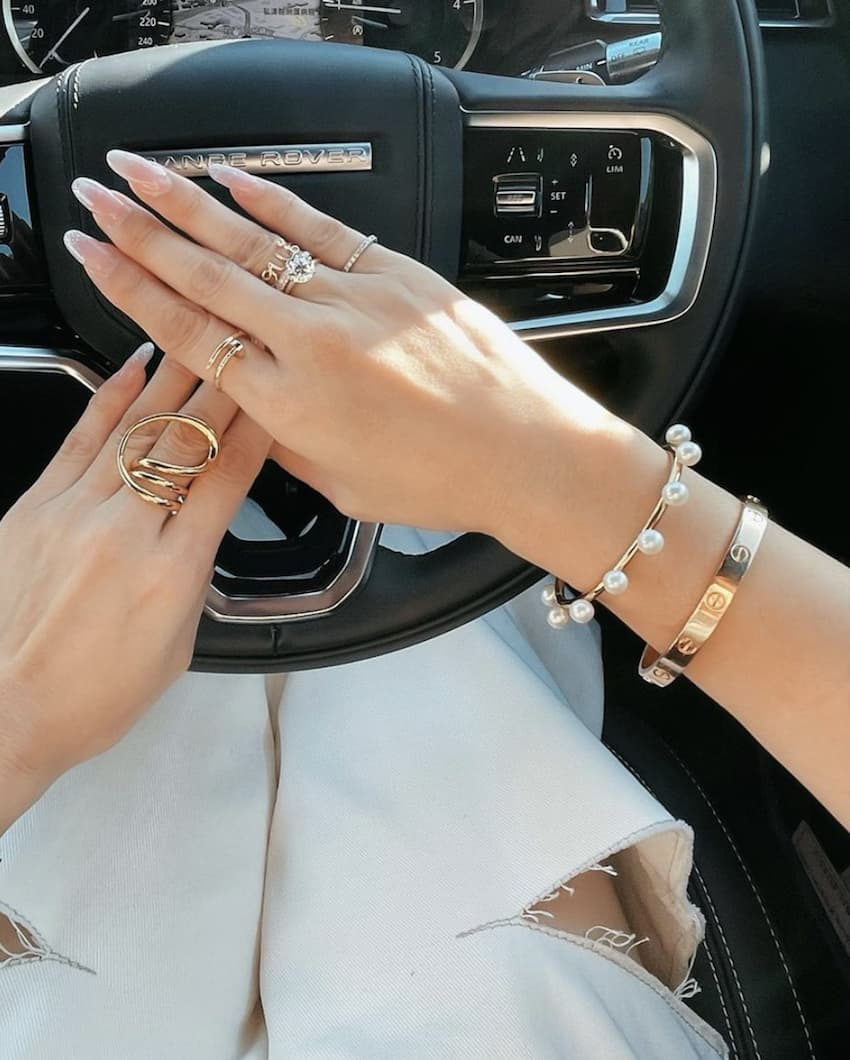 If you are considering buying a real Cartier bracelet but are still on the fence, learn about more budget-friendly options and how you can purchase a bracelet secondhand on Fashionphile, TheRealReal, or Vestiaire Collective.
What is the cheapest Cartier Love bracelet?

The cheapest Cartier Love bracelet available is the Cartier Love chain bracelet with interlocking rings. It retails for $1,790 USD, but you can also find it at secondhand retailers like TheRealReal, Fashionphile, and Vestaire Collective.
The cheapest Cartier Love bangle bracelet retails for $4,450 USD, and this bracelet can also be purchased through a designer consignment retailer for less.
Tiffany and Co. also carry a very similar bracelet with a chain and interlocking rings, which you can see here.
shop Cartier bracelets:

Is Cartier Love bracelet uncomfortable?
The Cartier Love bracelet in the bangle style can be uncomfortable to wear at first, especially if you are used to wearing chain-style bracelets. The bracelet has a firm bangle design, so it does not have any flexibility. Therefore, it is important to make sure it is sized correctly.
After a couple of weeks of wear, you will get used to the Cartier Love bracelet and the feel of it moving along the wrist.
Alternatively, the chain Love bracelet is more comfortable to wear from the start. Therefore if you are extra sensitive, this may be the Cartier love bracelet design you choose to go with.
Christal Sczebel is an entrepreneur, published author, and content creator. Over the past decade she has worked in the digital media field building successful websites for both food and fashion. She has a natural affinity for minimal, timeless fashion, neutral home decor, and styling.
Here on Style Your Occasion, Christal is the Editor-in-chief and brain behind the aesthetic. She hopes you love the this space and the inspiration you'll find!