Are you looking for a great Artizia Superpuff dupe in 2024 You're in luck! I've found the perfect dupe, along with even more budget-friendly look-alikes!
*this article may contain affiliate links*
The Best Artizia Super Puff Dupe(s)
I've been a fan of Aritzia for years. It's one of the local stores I shop often when looking for neutral basics and cute clothing for special occasions.
One of the most popular labels exclusive to Artizia is "The Super Puff", which consists of short puffer coats, long puffer coats, puffer vests, and even puffy accessories like mittens, bags, and phone cases.
However, because of the higher price tag of the Super Puff jackets ($250+), many people often search for more affordable alternatives. If you can relate, you've come to the right place! I've found the *best* affordable Aritzia Superpuff dupe out there, as well as more budget-friendly options!
Learn more about them below!
(Aritzia Super Puff left, Dupe right)
shop the dupe:

Above, I'm wearing the Aritzia Super Puff jacket in the classic style in modern taupe, and the Responsible Down Puffer Jacket from Quince. As you can see, the two jackets look incredibly similar.
Not only is the Quince dupe the same length and style, but the Taupe colorway is very similar to the Modern Taupe color from Aritzia. Also, the details are very similar between each coat including the soft knit storm cuffs with thumbholes.
The Quince Down Puffer Jacket also comes in a variety of colors like the Super Puff including shiny black, matte black, navy, blue, red, carbon grey, and light seagrass green. And, it is also made with recycled materials, which is a big bonus!
Quince compares their puffer jacket directly to the Aritzia Super Puff on their "beyond compare" chart right on the Quince website (see below).
For less than half the price, and with so many of the same details and such a similar look, I feel that the Quince puffer jacket is the best dupe out there for the classic Aritzia Super Puff jacket.
The only thing I noticed that was different between the two, is that the Aritzia Super Puff jacket is slightly softer to the touch. Both jackets are warm and toasty, stylish, and practical.
shop the dupe:

The next Aritzia Super Puff dupe is the Responsible Down Puffer Vest from Quince. This is the perfect affordable alternative to The Super Puff vest.
Just like the down coat, the vest is made with recyclable materials, looks almost exactly like the Aritzia vest, and is half the price.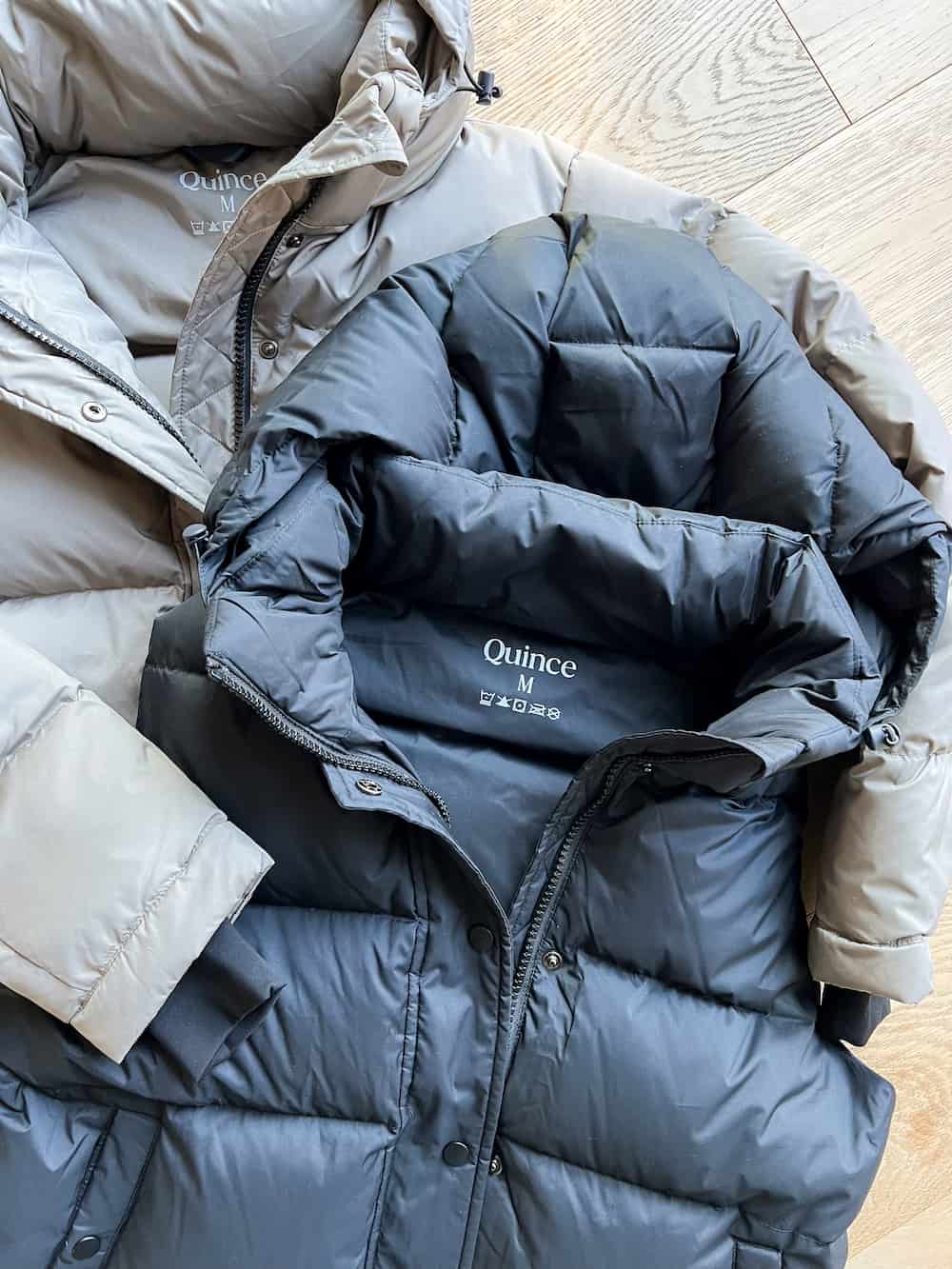 I love wearing this vest when I'm doing school drop-off in the mornings, running errands, or just going out for a nice walk. It's surprisingly warm and can be styled in so many ways!
When it comes to Aritzia dupes, this vest is another one of my favorites.
shop the dupe:

The next Aritzia Superpuff dupe is not surprisingly, from Quince as well. The Responsible Down Long Puffer is the perfect affordable alternative for Aritzia's The Super Puff Long coat.
It is extremely similar in appearance, and contains the same materials, except that the Quince coat is made from recycled materials and is both water-repellant and wind-resistant.
The dupe coat is available in several colors including matte black, shiny black, navy, carbon grey, and taupe. In my opinion, this coat is a total steal when it comes to pricing (it's just $179 – versus $350!).
shop the dupe:

Next on my list of Aritzia dupes, is the Responsible Down Cropped Puffer from Quince (clearly you are seeing a pattern here!). It is the perfect jacket for your cold-weather adventures and rivals Aritzia's The Super Puff Shorty jacket.
Once again, I love that the dupe jacket is made with recycled materials. Another bonus, the down materials are sourced responsibly to ensure best practices in animal welfare.
Quince is slowly becoming one of my favorite brands for affordable wardrobe staples – see my list of Jenni Kayne dupes – that are still very high in quality. And this dupe jacket proves that you really can get the look (& quality!) for less.
More Aritzia Super Puff Alternatives For Less
If you are looking for even more budget-friendly Aritzia dupes, I've sourced a couple more options below that are worth a peek!
5. Mango Water Repellant Quilted Coat ($139-)
6. Dynamite Lustre Puff Maxi Puffer Jacket ($179-)
7. Steve Madden Elly Jacket ($99-)
8. Levi's Maxi Puffer Jacket ($159-)
It's clear, you don't have to spend hundreds to stay warm and look stylish this winter season. I hope you have enjoyed my list of Aritzia Super Puff dupes and have found the perfect alternative for your budget and style!
pin this!
More Dupes You Need To See:
Tried & Tested Artizia Effortless Pant Dupes: My Top 7 Picks!
Where To Find The Best Golden Goose Dupes in 2024
Lululemon Belt Bag Dupes: 11+ Great Look-Alikes I Found
16+ Stores Like Artizia You Need To Know About For Elevated Style