On the hunt for an affordable Dior Book Tote Dupe? Check out these six incredible look-alikes for the iconic Christian Dior book tote bag. And, get inspired by super stylish ways to wear it!
*this post contains affiliate links*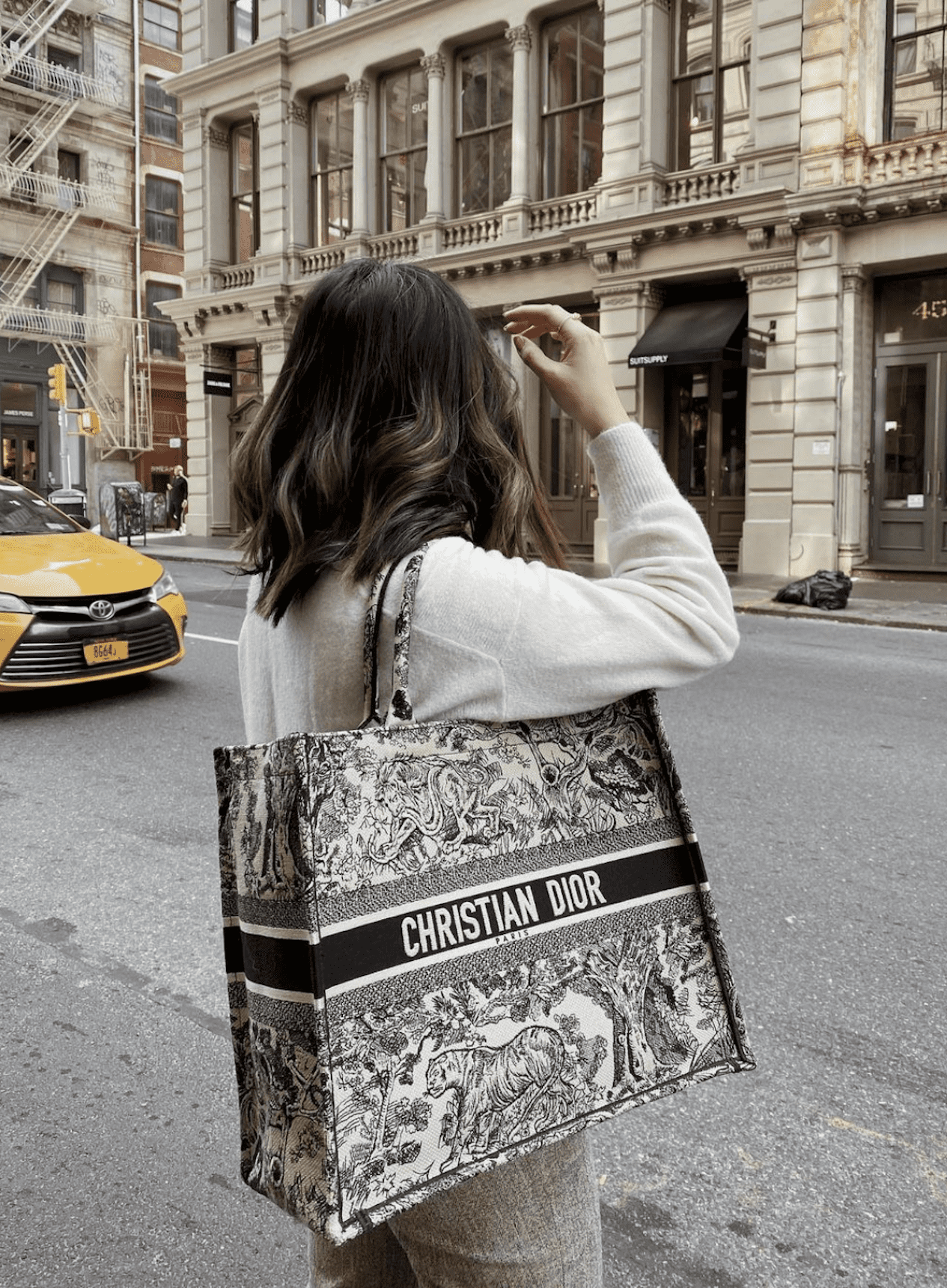 The Search for The Dior Book Tote Dupe
Christian Dior is a chic and classy high-end designer brand and name that almost every one knows of. Recognized as one of the best French luxury fashion houses, the brand designs the most gorgeous handbags, clothing, shoes, and accessories. So, it's no wonder people are constantly on the search for look-alikes that come in at a lower price point.
If you've always dreamed of owning an authentic Dior bag but it just doesn't fit your budget, don't fret! We have some great dupes in store for you so you can shop to your hearts content, and not break the bank!
We've scoured the fashion world for incredible Dior tote bag dupe options, and have come up with some great budget-friendly look-alikes.
shop authentic Dior tote bags: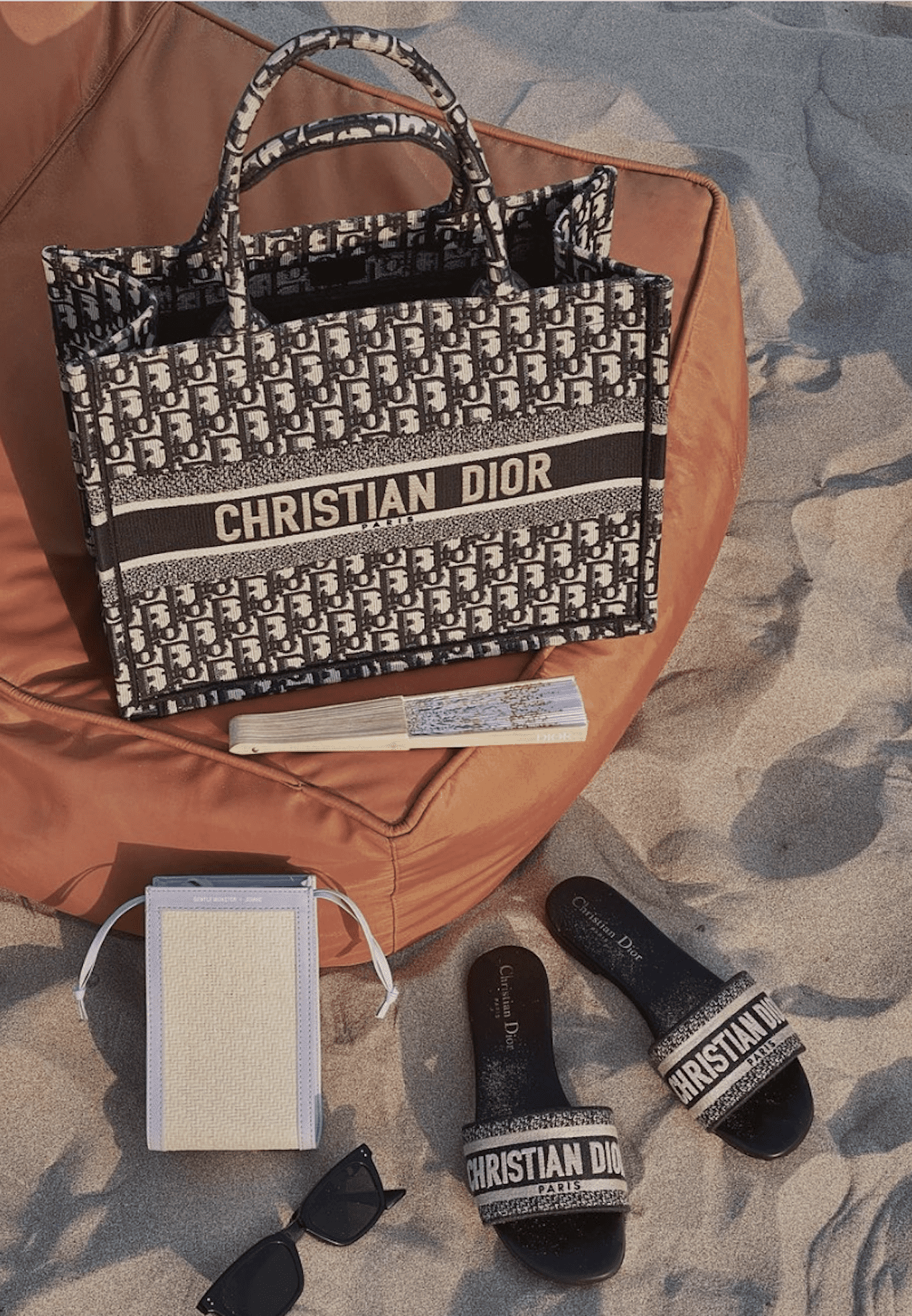 Is Dior Book Tote a trend?
The Dior book tote is a highly sought-after bag that has been adorned by fashion influencers and celebrities like Rhianna. It has been a very popular bag style since the tote made it's first debut in 2018. And, there seems to be no sign of the trend stopping as the bag has established an iconic status.
The beauty of the tote bag is that it comes in several different eye-catching prints. Our favourites include the Blue Toile de Jouy Embroidery (which we will be focusing on in this post), the classic Dior Oblique, the Black Multicolor Zodiac Fantistico Embroidery, the Latte Dior Ciel de Rêve Embroidery, and so many more!
What material is Dior Book Tote?
The Dior book tote is made with 100% canvas material and some styles and colours have different materials embroidered into the canvas including denim and even velvet.
Even though the tote bag is primarily made of canvas material, it is crafted by highly skilled makers and the embroidery is stitched with the utmost care. Not to mention, the bags are essentially piece of art – from the embroidery design to the handmade portions and impeccable stitching.
You can watch the process of a Dior book tote being made on the Dior YouTube channel here, it's truly remarkable.
The Dior book tote also comes in a calfskin material, but there is a much smaller selection of the leather totes than the canvas.
The Dior Tote Bag Dupe List
Below you'll find the best Christian Dior tote bag dupe options we could source, with a focus on the Blue Toile De Jouy style. Some dupes come with the option for personalized embroidery if you want to add a name, and others are embroidered with no text.
shop here:

At a small fraction of the price, this embroidered tote bag dupe from Goonight Macaroon looks quite similar to the Dior Blue Toile de Jouy Embroidery tote that costs $3,500 brand new.
The dupe material looks to be canvas as well with a black embroidery on a beige background. The pattern is similar with the wild cats alongside tropical plants. This bag would look great with a chic neutral outfit of white denim and a black tank top, paired with some chic Hermes sandal dupes.
In short, at just under $70, the look is similar and the bag definitely has that Dior tote vibe and aesthetic.

shop here:

The next Dior book tote dupe is this beauty from Canadian trailer, Simons. The tote is rigid and perfect for storing all of your essentials.
It is made with polyester canvas and has a beautiful tapestry print with a bold line across the centre, mimicking the Dior design. It is 12.5″ x 16″ x 6″, so it is big enough to fit a laptop inside.
At just under $100 (CAD), it is a great price for a good-looking, high-quality dupe!
shop here:

The next look-alike on the list is the Capri Sketch Shopper Bag. It is made with synthetic material and has a similar design and pattern as the Dior Blue Toile de Jouy Embroidery tote.
The dupe bag also has a cute scarf tied around the handle that has a "d" pattern similar to the Dior oblique insignia. Along with the pattern, the tote dupe also has the personalization stripe across the bag, but it's just for show as you can't actually get the bag personalized unless you do it on your own.
This bag will definitely make passer-by's take a second look as the pattern is really quite similar and the colors are alike. Not to mention, at just $40 the dupe is a total steal and worth checking out if you are on a tight budget.
shop here:

Next on the Dior book tote dupe list is this surprisingly good tote look-alike from Ego shoes. The bag looks a whole lot like the the classic Dior Oblique tote bag which is a great travel or work bag.
The dupe is made from synthetic material, hence the price point. But, for a similar look the bag is a great price for a knock-off.
This bag also has the scarf detail with the "d" pattern and the bag has the horizontal stripe for personalization if you so choose to get it personalized on your own at a tailor or seamstress.
shop here:

These lovely personalized tote bag from Etsy is a great dupe for the ever-so-popular Dior book tote bag. It has a very similar overall vibe and would be great dressed up or dressed down with so many outfits in every season.
The dupe is handmade in Singapore from canvas/gunny material and the shop that sells it has almost all 5-star ratings. As a matter of fact, this particular tote bag has great positive ratings with pictures of the personalized finished bag that customers have shared.
Compared to the Dior tote, the pattern on this bag is called "nature sketch". And, while it is different than the Dior toile pattern of wild cats, the aesthetic of the pattern is similar and we love the nature scene of deer and trees.
shop here:

Next on the list is this embroidered tote bag dupe from Etsy. Similar to the dupe from Goodnight Macaroon, this tote bag has a tropical leaves and wild animal print throughout. Yet, at just $30 it's a total steal.
The bag is made from 100% canvas material and has two different size options to choose from. The large bag size is 41″x 32″ and the mini bag size is 20″ x 17″.
Additionally, this tote has a scarf tie detail and the mini canvas tote comes with a really cute attachable crossbody strap and a pearl embellishment detail. If you are a fan of a little bling and want that Dior aesthetic, this bag is worth a try!
shop here:

Lastly, the final dupe on this list is a great look-alike for the Dior Toile book tote. The bag is made with canvas material and can be personalized with a pretty monogram lettering with a pearlized embellishment. For this reason, the price is slightly higher on this dupe at $87. But, it's still a great price!
The bag comes in a floral pattern that has the same vibes at the toile pattern. Additionally, the horizontal stripe gives it even more of a Dior look.
shop here:

This list wouldn't be complete without this final honourable mention. While this tote bag doesn't look as similar to the Dior book tote as the previous dupes on the list, it does have a similar vibe so we are including it!
The jacquard weave handbag from H&M is chic and stylish. It is made with a polyester and cotton blend so it is similar to canvas. Additionally, it has a tropical tree print in a black/blue color that mimics the Dior tote.
For just $35, and from H&M (which makes for easy returns) it's worth getting just to see if you like it in person. In short, you should probably get it!
Does the Dior Book Tote fit laptop?
Yes! The Dior book tote comes in four different sizes; mini, small, medium, and large. Both the medium and large sized totes will fit a laptop inside as the totes are 14″ and 16″ wide.
In short, if you have a MacBook Pro 13″ you can get away with the medium sized tote, and if you have a MacBook 14″ or 16″ you'll be able to fit it in the large book tote.
So, there you have it! Some incredible Dior book tote dupe bags that will definitely make you feel chic and stylish. Even if you can't get your hands on the real Dior…yet!
Don't forget to pin the photo below to save this list for later. And, check out our other Look For Less/Designer Bag Dupes articles below!
Pin me:
More Designer Dupes You'll Love:
7+ Best Louis Vuitton Dupe Bags
Celine Bag Dupe: 9+ *Must See* Celine Look-alikes For Less
YSL Bag Dupe: 11+ Top-Notch Look-alikes
Cartier Love Bracelet Dupe: 10+ *Stunning* Options You'll Love
Bottega Veneta Dupe: 5 Look-alikes You Need To See
Seriously Good Gucci Loafers Dupes (& Mules too!)
8 Chanel Dupes You Absolutely Have To See
3 Balmain Blazer Dupes You'll Go-Gaga-Over