Looking for gorgeous mint green nail designs to rock this summer? You'll love our list of 25+ mint green nails, including mint green acrylic nails and mint green ombre nails that will inspire your next mani and have you looking flawless in 2023!
Gorgeous Mint Green Nails
Is there a more perfect pastel than mint green? This shade is bright and fresh and amazing for adding a stylish and vibrant feel to your outfits!
Mint green nails are definitely going to be on-trend this year, so this shade is a must if you want to add a fun pop of color to your nails. We love that this hue can complement any look and be used in countless designs. From classic French tips to ombre nails, this color can be cool and casual or chic and elevated.
So if you've been looking for the perfect nail design to pair with mint green nail polish, you've come to the right place. Whether you want something minimal and effortless or a bold nail design, we have stunning looks and ideas below to inspire your next manicure!
Mint Green + Silver Flakes
Mint green and pastel pink are a gorgeous combo, and the silver flakes instantly elevate this nail design! The soft shades are perfect for a subtle but stylish nail design, and this elegant mani is ideal for your next date night.
Matte Mint Green w/ White Leaf Art
We love the combination of this bright shade with sophisticated nail art, and the matte finish adds another refined touch here. This gorgeous spring look is a must for a picnic date in the park or strolling through your local farmers market.
French Manicure w/ Mint Nail Polish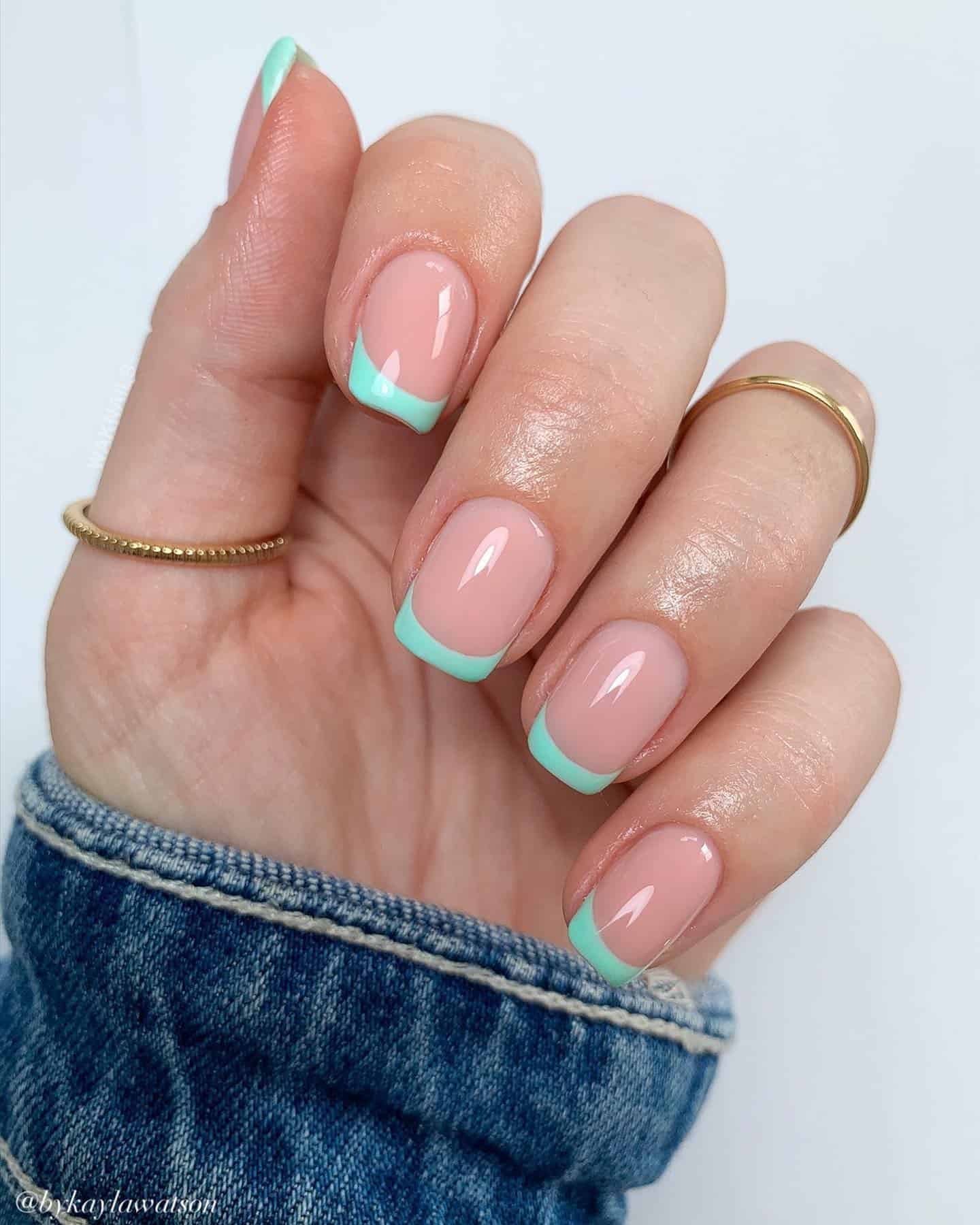 Mint green is the perfect color to upgrade a simple and classic French manicure. The design is clean and minimal, but this gorgeous shade adds a playful touch that we love!
This is a great way to add a subtle pop of color to your everyday looks.
What color goes with mint green nails?
Luckily for us, mint green is a versatile shade that can be paired with so many colors. Go with neutral shades for a clean and minimal design, or other bright colors to give a fun and bold vibe, here are some great color options:
white or cream and mint green
black and mint green
dark grey and mint green
gold or silver and mint green
pink and mint green
lavender and mint green
sky blue and mint green
pastel yellow and mint green
Mint Green Nails w/ Asymmetrical French Tips
Keep it classy with asymmetrical French tips and solid-colored accent nails! This manicure may be simple, but it's still gorgeous. Plus, pairing this beautiful shade with a modern nail design will add effortless style to your look.
Mint Frenchies + Cherry Nail Art
Ready to rock gorgeous nail designs on the beach this summer?
Cherries instantly add a summer vibe to any manicure, and this lovely mint green pops against the red gems to make these nails an eye-catching beauty. This playful design is perfect for adding a fun and youthful aesthetic to your outfits in 2023!
Mint Polish w/ Glitter Accents + Black Details
We are in love with soft mint green and dark black polish! The glitter accent nails and heart detail make this manicure so cute, and this design is a must if you want chic nails for a girl's night out.
French Manicure w/ Yin & Yang Nail Art
Who doesn't love a good retro-inspired manicure?
Yin and yang nails are perfect for a vintage vibe and remind of us 90s nails aesthetic. But the combo of white and mint green is soft and subtle, so these nails still have an elevated feel. If you love to add a playful touch to your manis, this one is definitely for you!
What does green nails mean?



Green is a stunning color that's strongly associated with spring, and green nails represent snature, peace, harmony, and renewal. This hue also represents good luck and prosperity, so it's an excellent choice to wear with a manicure if you want to bring good things into your life!
Mint Green + White Waves
Waves have been a trendy nail design in recent years, so it's perfectly fitting to pair this nail art with a trendy color. The white adds a gorgeous brightness that works so well with this light and dark mint green.
This nail design is a must for a manicure that's elevated yet still has a fun-loving vibe.
White + Mint Nails w/ Glitter
Nude pink, mint green, and white accents are a recipe for perfection! The glitter is a gorgeous addition and adds a casual but stylish aesthetic to these nails.
We love a manicure where you can mix and match the colors and nail designs – you can play around to make this manicure exactly what you want!
Mint Green Ombre Nails
This icy mint green blends beautifully into white for perfect mint green ombre nails. The bright shades are a great pick to rock in warm weather, and this manicure is chic and elegant but definitely still eye-catching!
Matte Mint Waves + Floral Nail Art
This next nail design is absolutely stunning! The pastel mint green with delicate floral art looks fantastic, and we love the splashes of orange that contrast the green swirls.
The matte finish adds a refined touch, although this would look just as gorgeous with a glossy topcoat.
Mint Green Marble Nails
Marbled nails are one of our favorite designs, and this manicure is both classy and trendy!
We adore the gold flake details, and they work so perfectly with these mint green shades. These marble nails will add a glamorous vibe to your outfits, so make sure to rock this during your next day trip or weekend getaway.
Mint Chip Ice Cream Nails
Not only does mint green have a summertime feel, but the ice cream style design is definitely a must for a cute summer mani. Speckled black polish and hot fudge French tips are everything this nail design needs to remind us of this beloved frozen treat, and you can show off these sundae nails at Sunday brunch!
Dripping Mint Nails w/ Silver Gems
Minty French tips get an upgrade with this dripping nail art and sparkling silver gems! This chic design is perfect for a special occasion but will still add a fun vibe to your look.
Glossy Mint Nails
If you're a fan of the classics, a timeless manicure is a great way to show off this stunning color. These mint green acrylic nails will look fantastic as you lounge on the beach or hit the boutiques with your friends; either way, this is a nail design that you can't go wrong with.
Mint Green Nails w/ French Tips + Flowers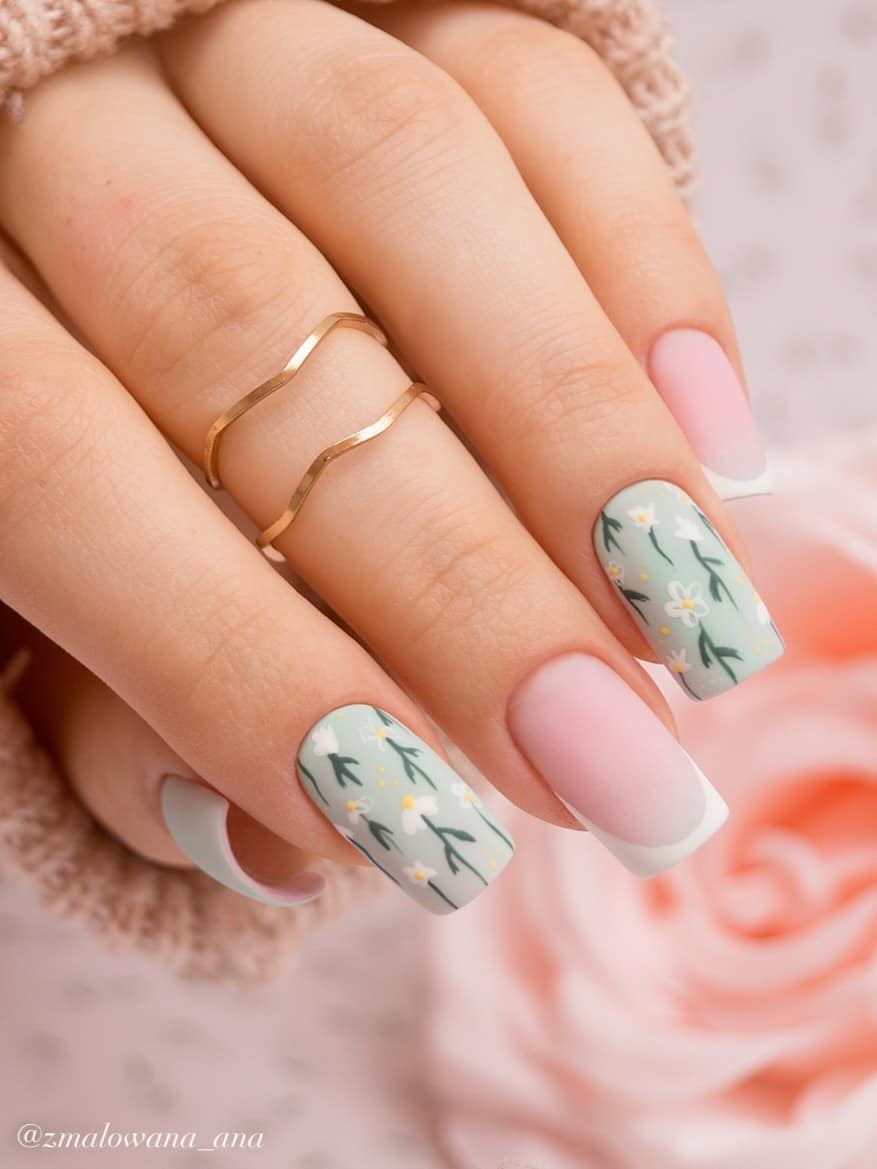 Dainty white flowers have serious springtime vibes, making them the perfect nail art to pair for these spring-ready mint green acrylic nails. The soft pink nails with white French tips look gorgeous paired with this light green, and this adorable design will have you ready for warm and sunny days in no time!
Milky White + Mint Abstract Nails
Abstract nail art is a great go-to if you want something unique but minimal. The milky white polish is a perfect base to help the green nail art stand out, and you can definitely sport this chic design for any occasion.
Pastel Mint Green w/ Gold Accents
Who knew pastel mint and bright gold would look so incredible together? The gold accents and matte finish create an elegant look on these mint green acrylic nails that's simple enough for everyday wear but stylish enough for a classy night out.
Minty Mani w/ White Accents Nails
Add a little flair to a classic manicure by adding some pretty accent nails. White is an excellent choice for this bright manicure since it adds a clean and modern aesthetic without taking the attention away from the mint green.
Mint Green Collage Nails
Collage nails are an easy way to add a playful look to your outfits. You can use whatever pattern or nail design you want to really show off your personality, and the combo of white and mint green is always a good choice.
Mint Green & Heart Accents
Go for a soft, charming manicure by pairing classic nail designs with cute heart accents! These heart details and the glossy nude pink add a feminine touch that sets this mani apart from the rest, and you can always add glitter or silver flakes if you want to add a little something extra to the look.
Matte Mint + Chunky Glitter
Simple but absolutely gorgeous, these mint green acrylic nails with chunky glitter are definitely a must this spring or summer! You can add as little or as much glitter as you want to get the exact look you want while showing off this stunning pastel.
French Mani w/ Light Green, White + Charcoal Grey
We are in love with the combo of dark grey with this light green. These colors are a perfect combo, and the playful and modern twist on a French manicure is a look that is sure to turn heads!
Cream + Mint Abstract Lines
While this manicure definitely has a minimal look, it's anything but boring. Cream and mint green abstract lines elevate this nail design without taking away from its unique and playful vibe.
Mint Green Manicure w/ Matte Finish
Pastel mint green with a matte finish is simple but elegant, and this nail design will look amazing with anything from shorts and a classic tee to a sun dress!.Sometimes, all you need is a classic look to let a beautiful color be the center of attention.
It's no secret, mint green is perfect for adding some color to your outfits during the spring and summer. And this shade can work with so many nail designs! So whether you want something timeless or trendy, mint green is a must for your next manicure.
More Nail Inspiration You'll Love:
25+ Gorgeous Green French Tip Nails You'll Love
17+ Gorgeous Sage Green Nails To Inspire Your Next Manicure
19+ Gorgeous Emerald Green Nails You'll Want To Copy