Are you looking for gorgeous emerald green nails to try? Check out our list of 19+emerald green nail designs that you'll want to try for yourself!
*this post contains affiliate links*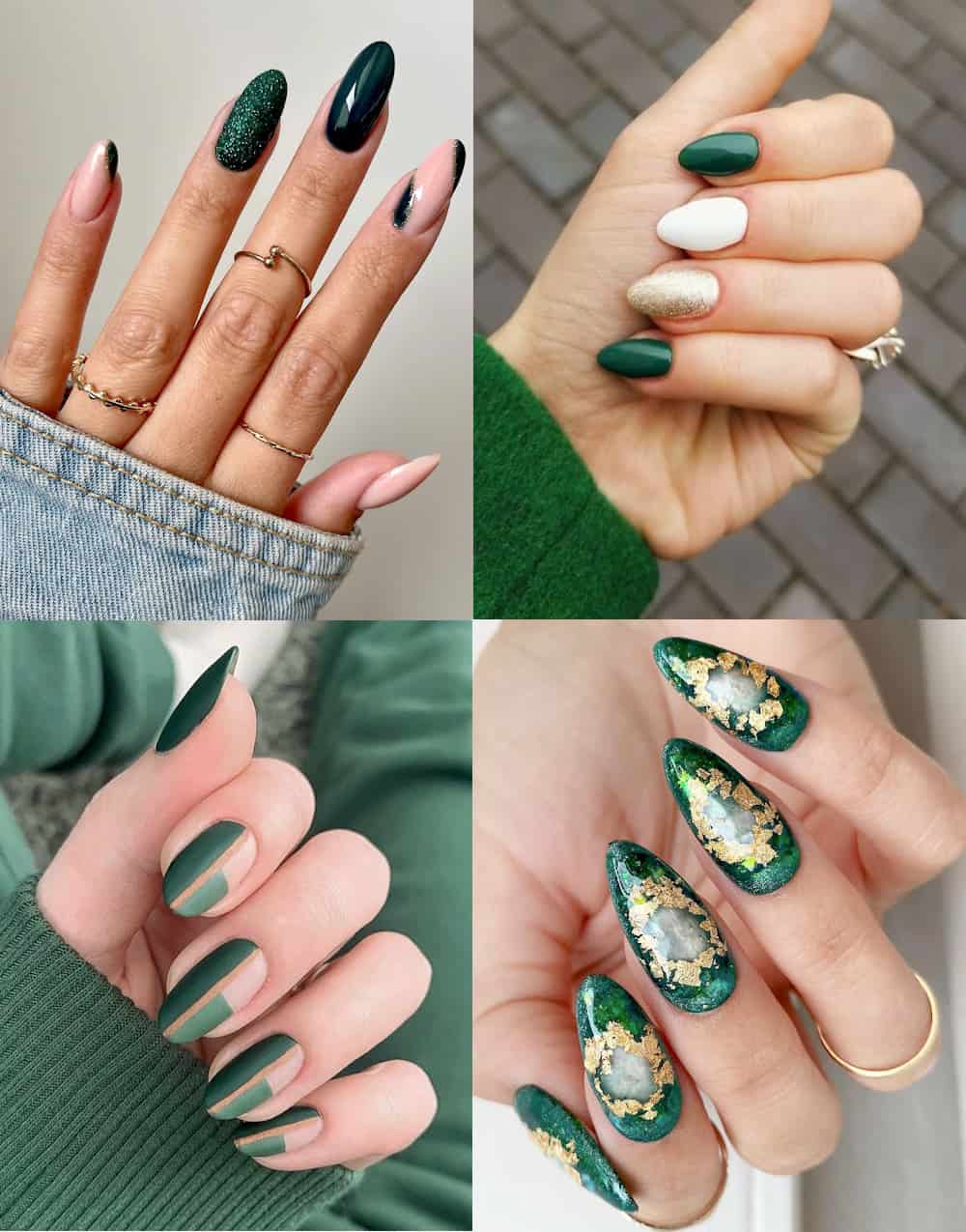 Stunning Emerald Green Nails
Emerald green is the perfect color for the winter and spring seasons when it comes to nail designs. It's a rich, beautiful, and bold color that instantly catches your eye.
If you are looking for inspiration for emerald green nail designs and want stunning nails this season, you've come to the right place!
Peek through our favorite emerald green nails and show your nail technician the next time you go for a manicure (or DIY them at home!).
Is green a good color for nails?
Green is an excellent color to use on your nails! This bold and vivid color is stunning and versatile. Green is a great choice for both minimal nail designs as well as detailed ones.
Emerald green tends to be a winter hue, but this color is truly flattering year-round. This gorgeous shade of green is rich and regal, making it a perfect nail color.
So, here are our top emerald green nail designs and ideas to inspire your next salon visit.
Emerald Green and Gold Nails

Emerald green and gold are a classic color combo. These colors are alluring and elegant, making them the perfect pair for any stylish nail designs.
Let's start with these gorgeous mid-length acrylic nails. This eye-catching design has a classic look but with a modern twist. It's sleek and stylish, perfect for your next night on the town.
The pinkish nude complements the emerald green, and the glossy polish paired with the gold accents make it pop.
These nails have us ready for our next trip to the salon. The richness of emerald green paired with the softness of baby pink is a match made in heaven.
Go for mid-length nails, giving plenty of room for charming details. We love the two-toned leaf design, and the gold gem accents are pretty and chic.
Our next look uses nude, green, and gold in a playful way. We're here for this blend of solid-colored nails, French tips, and fun wavy lines.
The shimmering gold highlights add a beautiful luster. And the shorter length and square shape give these nails an elegant feel.
If you're looking for a bold design for your next nail look, then this one is for you. These long stiletto nails use a shimmering green polish with splashes of gold on two accent nails.
We adore the use of two different patterns on the accent nails. The combination of shining gems and gold polish bordering a rich green make these nails look like gorgeous geodes. They have an ethereal vibe and are sure to be an attention-grabber.
We're into this minimal yet chic nail look. The vibrant emerald green is balanced out by pops of neutral white and shimmering gold.
These almond-shaped nails are gorgeous and classy. This look is a great choice whether you're going to an office meeting or a birthday party.
Another look reminiscent of geodes, these acrylic nails are enchanting and fantastical. The iridescent center lined with a gold flake border invokes images of quartz and other stunning crystals.
The medium length is perfect for a look with such details. And the oval shape adds a classy touch to such a lively look. You could also wear this design on coffin nails to change it up.
Matte nails just can't help but look sleek and stylish. The rich green polish is sophisticated, and the square shape also adds a classy touch.
We are in awe of these stunning gold accents. The matte polish and polished gold details add a luxurious vibe that you'll love.
Emerald Green Acrylic Nails
Acrylic nails may be the most popular option for fake nails. Acrylics are strong and durable and they work well with nail art. Take a look at these emerald green nail designs for acrylics.
This rich, luscious green has a captivating shine that is hard to compete with. These almond-shaped acrylics use a high-gloss and shimmering polish that makes these nails glow.
These rich green nails brings effortless style. This look will be breathtaking with any wardrobe and at any event.
We can't get enough of the intense green we see here. The dark emerald green is elegant and pairs well with the length and oval shape of these nails.
While this simple design has a modest and classic look, the use of this very deep green gives the nails a powerful allure.
We had to share this glamorous and edgy nail look with you. These long almond-shaped acrylics sport a timeless design, the French manicure. But this updated version has shiny, emerald-green gems that make up the French tips.
Using a classic style with fresh and bold techniques makes this look so unique. The nails are subtle enough to be worn in a professional setting yet playful enough for a night on the town.
Here's another option for those with a minimalist style. This shiny polish is a deep, emerald green and has a slightly translucent look.
This subtle difference in opacity sets this look apart from the others. It is a timeless and elegant style with a contemporary edge. The long nails elongate the fingers and the rich green gives this a simple but luxurious look.
Up next on our list we have these long and glamorous nails. We can't get over all the fabulous details we see here.
Again, we see the pleasant pairing of nude and emerald green polish. The blend of gold foil and gold beads accenting each finger creates an alluring aesthetic. These accents and the long, coffin shape of the nails help this design to stand out from the rest.
You won't be able to stop staring at this fresh and youthful design! The rich green automatically elevates this nail look. And using this pinkish nude brings balance to the deep emerald green.
We like the use of two green polishes here. The solid-colored polish is lush and intense, while the glittering green polish adds a playful touch.
Are green nails trendy?
If you are on Instagram, Pinterest, or Tik Tok, you'll see that green nails are very on-trend. This color has a glamorous aesthetic that adds style to any look. It is also a popular choice for trendy holiday nails since emerald green is frequently seen during holidays, especially Christmas.
Speaking of Christmas… the next on our list of Emerald green nails:
You'll want to save this design for when Christmas time rolls around. The long, oval nails make a great canvas for this Yuletide masterpiece.
These nails are chic and charming. The shimmering green color has the perfect holiday feel, and the intricate details add to that. The green plaid, bright snowflake, and adorable gingerbread man are sure to bring out your holiday spirit.
This stunning look is one of our favorites. Gorgeous, lavish green adds richness to the nails, while the pastel pink polish brightens them up. This color pairing, along with the almond shape, makes these nails sleek and stylish.
The soft pink and shiny clear crystal accents also give these nails a feminine and romantic feel. This look is perfect for your next date night, or if you just want to treat yourself to a new mani.
Emerald Green Nail Polish
Sometimes, classic is the way to go. You really can't go wrong going back to basics and using nail polish, especially in such a beautiful color like emerald green.
This is a nail art style that will have others stealing a longing look. The matte finish of the emerald green polish gives this look a sophisticated start. The colorful abstract details are exceptional and make the nails so vibrant.
We also love that the length and shape of these nails make them look so crisp and clean. These are perfect if you like a design that pops but want to keep short natural nails.
Our next look is for those who love the look of shimmering green but prefer nail polish to acrylics. This vivid emerald-green polish is gorgeous and lustrous.
These short oval nails are also a great natural style to wear at work. If you are looking for emerald green press on nails, this popular style can easily be found as a press-on and will look amazing.
This sleek design is unique and interesting, making it a top choice for your next nail look.
Using multiple colors, this look has depth and character. The deep green looks amazing next to the nude polish as well as the earth-toned line running down the middle. And we love the deep emerald green paired with the lighter shade.
Next on our list is this gorgeous manicure with an adorable accent nail. Shiny emerald green nail color covers all but one oval-shaped nail. The accent nail uses a nude polish with a cute and playful leaf detail painted on in dazzling green.
These nails are a classic style and can pair flawlessly with so many looks. They're also perfect for anyone who has to wear a more subtle style at work.
Last, but of course not least, is this beautiful glistening green nail look. The shimmering emerald green combined with the French tips give a whimsical and romantic vibe.
This nail design is classic yet playful. It can be worn during a day at work or on a night out. It's the perfect style to try if you're looking for modern and fun designs.
shop the post:
What can I wear with green nails?
Green nails are best paired with neutral tones that will complement the nail color. Beige, cream, tan, and ivory play well with vibrant emerald green.
You can also pair emerald green with lighter shades of green or pale pink, which makes a pleasant combination. Gold is also a popular color to use with green, and it's easy to see why. These chic shades complement each other in a way that we can't resist.
Whether you want a simple style or detailed nail art, emerald green is a gorgeous color to use on your nails. We hope this is helpful and that you find an amazing nail design to try for yourself!
More Nail Inspiration:
25+ Gorgeous Green French Tip Nails
21+ *Stunning* White Christmas Nails You'll Love
Chic Neutral Nails For A Classy, Minimal Aesthetic
28+ Stunning Baby Blue Nails & Light Blue Nails To Try
21+ Cow Print Nails That'll Make You Love This Viral Trend
19+ Stunning Navy Blue Nails & Dark Blue Nails
17+ Gorgeous Sage Green Nails To Inspire Your Next Manicure
19+ Gorgeous Olive Green Nails You'll Absolutely Love
& Check Out These Chic Style Guides:
17+ Leather Pants Outfit Ideas That Prove You Need A Pair
The Best Shoes To Wear With Long Dress for Any Occasion
15+ Baddie Winter Outfits for Next-Level Aesthetic When It's Cold